More News
Want to win yourself a $100 free bet thanks to SportingBet.com.au? All you have to do is select the highest scoring...
More Posts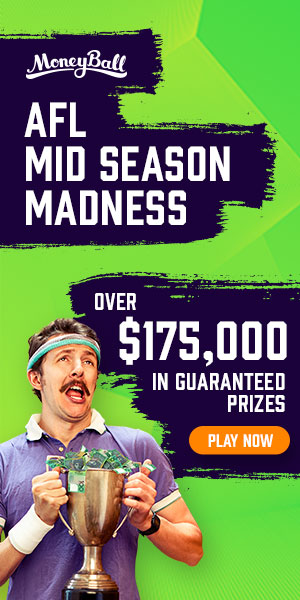 My Team
Discuss your moves and any other Fantasy related topics ahead of round 13.
Bye rounds
Recent Comments



Lockout Chat – Rd. 13 (BYES2) (53)

Petez: Really a triple downgrade. I made 37k on the rocky to macrae trade lol. I was...
Petez: Cheers man. Won't be by tomoz night. But I chose to load up for next week...
Belly: Currently sitting in top spot Pete, nice.
Beau: High job security
Petez: 2006 first bye round. Bye round 2 So far I'm 1772 with Kelly and taranto to...
grover1974: I have 6 of them ( minus Billings) and bringing Danger in this week R15 I will...
Mecca: If you could have any six forwards, which 6 would you take? At the end of the byes, I...
grover1974: I'm the same with Dusty Showing 1614 when should be 1754 Just hoping their...
Andy: B.Crouch still hasn't been updated as captain in my my team with double points....
Balsam: Gee I hope they swabbed Cripps after last week… how does he pull a 160 in the...
Fantasy Mad: +1
SEAMUS P TALLON: haha same problem here mate, ROB has the bye this week which could make the...