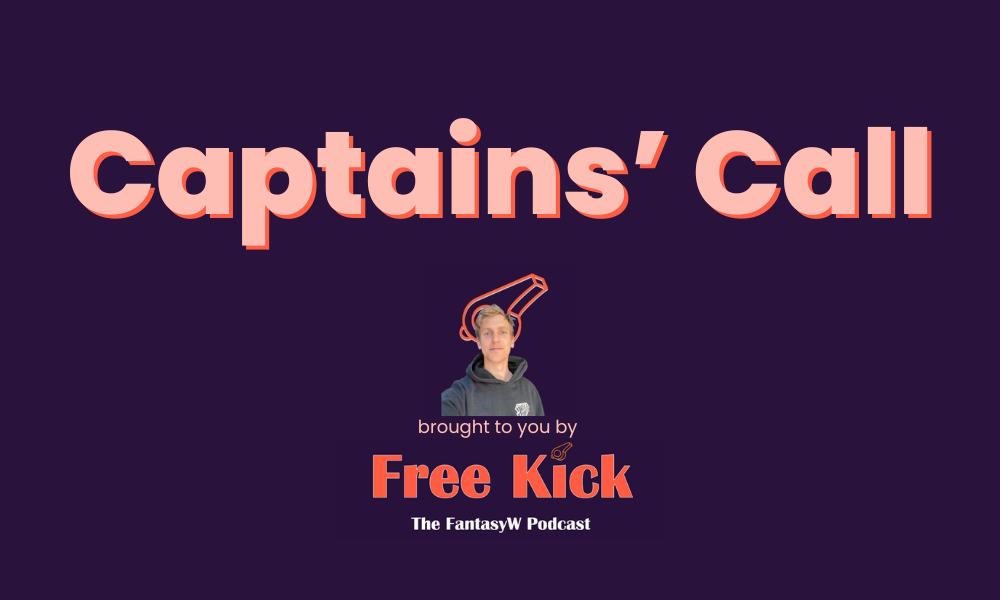 As if round 1 of any fantasy season isn't typically hard enough, AFLW threw up the most damaging of challenges on the Sunday of round 1 this year, with Kiara Bowers a late out. Turbo had started the round in 70+% of teams, but a bit of knee soreness had her out for the game, and with a swathe of teams scrambling. Hopefully most teams had one of Georgie Prepakis (147) or Ebony Marinoff (112) as their VC.
Round 2 is a doozy for captain options, with all my top options coming with at least 1 red flag, so owners beware here!
The Top Picks
No. 1 – Kiara Bowers vs Collingwood
@ Vic Park, Sun 1:05pm
I just cannot tempt fate here, even with the injury cloud and the late out in the Western Derby with knee soreness. With rain expected in Melbourne across the weekend, the image of a cold and windy tackle fest sits at the forefront of my mind. Goes up against the Pies, who are an okay match up for mids. Scored 141 against the pies in s7.
Avg vs Collingwood – 101 (4 games)
No. 2 – Ebony Marinoff vs Richmond
@ IKON Park, Fri 5:00pm
Credit to Marinoff for managing to get to 112 in a weird statistical game vs her career, with a career low 2 tackles, 5 marks (only had above 5 once in the last 3 season), but an equal career high 24 kicks. Up against the tigers, Marinoff should be able to get back to her tackling best. However, there is a tag flag: Meg Macdonald is the comps most effective tagger currently, and with Ellie McKenzie out, is near guaranteed to get a CBA role on one of Marinoff or Hatchard. I believe that Macdonald is more likely to go to Hatchard, but a definite watch here. With the early Friday game, I'd be looping her if I have a red dot.
Avg vs Richmond – 101 (1 game)
No. 3 – Jasmine Garner vs Carlton
@ Arden Street, Sun 3:05pm
Garner looked back to her best again St Kilda, even with a stoppage watch role from Hannah Priest. Don't be turned away by the low average against Carlton, they're killed by a 45 at full forward in s6, with a much more likely 119 in her last game as a midfielder. Carlton just allowed Charlie Rowbottom to score 121, and Garner has an even more well-rounded game. A very safe option
Avg vs Carlton – 68 (5 games)
No. 4 – Georgie Prespakis vs Sydney
@ North Sydney Oval, Sat 1:05pm
Gee whiz, what a r1 for Georgie. Arguably the most impactful playing for the round, the 147 signified the true 3rd year breakout. Look at a scale of hardness, and you'd think that going up against Sydney would be a blessing for Prespakis. Unfortunately, this game is at the postage stamp-sized North Sydney oval, which stifes all fantasy scoring. Whilst GPres is better than almost all that have played there before, the miniature ground, combined with the potential of Bridie Kennedy tag make her a less attractive captaincy option.
Avg vs Sydney – 101 (1 game)
No. 5 – Charlie Rowbottom vs West Coast
@ Heritage Bank Stadium, Sat 11:05am
In much the same may that she barged her way through Daisy Walker on the weekend, Rowbottom has forced her way into the discussion for best fantasy midfielders in the comp. Going up against an Eagles outfit that just played in a game with the most combined tackles of all time, Charlie's strong contested possession game makes her a great VC option for all owners.
Avg vs West Coast – 94 (1 game)
No. 6 – Emma Swanson vs Gold Coast
@ Heritage Bank Stadium, Sat 11:05am
Emma looked comfortable without looking exceptional in the Western Derby. I'm tipping that we see a top tier performance against the Suns this week, akin to the 98 point, 17 touchm 11 tackle game she had against Gold Coast in the corresponding fixture last season.
Avg vs Gold Coast  – 83.8 (2 games)
No. 7 – Amy McDonald vs Sydney
@ North Sydney Oval, Sat 1:05pm
Don't let the Prespakis monster distract from the 127 from Amy McDonald, who has been Geelong's best scoring mid for the last two seasons. With GPres' emergence, she isn't going to see a tag, and should enjoy the downhill sledding against Sydney, but might not see the lofty 120+ heights at North Sydney.
Avg vs Sydney  – 101 (1 game)
The Roughies
Ash Riddell vs Carlton – Averages her highest scores at Arden St, and has a 98 and 113 in her last two games against the blues. Won't see a lick of attention with Garner in MVP form, and that leaves her free to get involved in the kicking game.
Anne Hatchard vs Richmond – My pick of the Adelaide mids to cop the attention from MegMac. If she doesn't see that attention, might not see her ceiling, with Richmond severly limiting the marking game of Brisbane's mids in round 1 (Svarc 2, Anderson 1, Dawes 1).
Emily Bates v WBD – WBD just allowed Prepakis and Mcdonald to amass 23 tackles between them. Bates had a career high 15 tackles in round 1 against the Dons, and this week she will be without the other high tackling mid at Hawthorn, with Tamara Smith missing via suspension.
Thats all for this week, but if you want more AFLW Fantasy content, be sure to listen to the Free Kick's latest episode, our Round 1 review.
For more content:
Give Liam a follow on Twitter at @LiamAFLWFantasy
Subscribe to Free Kick: The AFLW Fantasy Podcast wherever you get your podcasts
Check out DFS Australia for advanced stats (CBAs, Kick-ins, Ruck Contests, Market Share) and live scoring