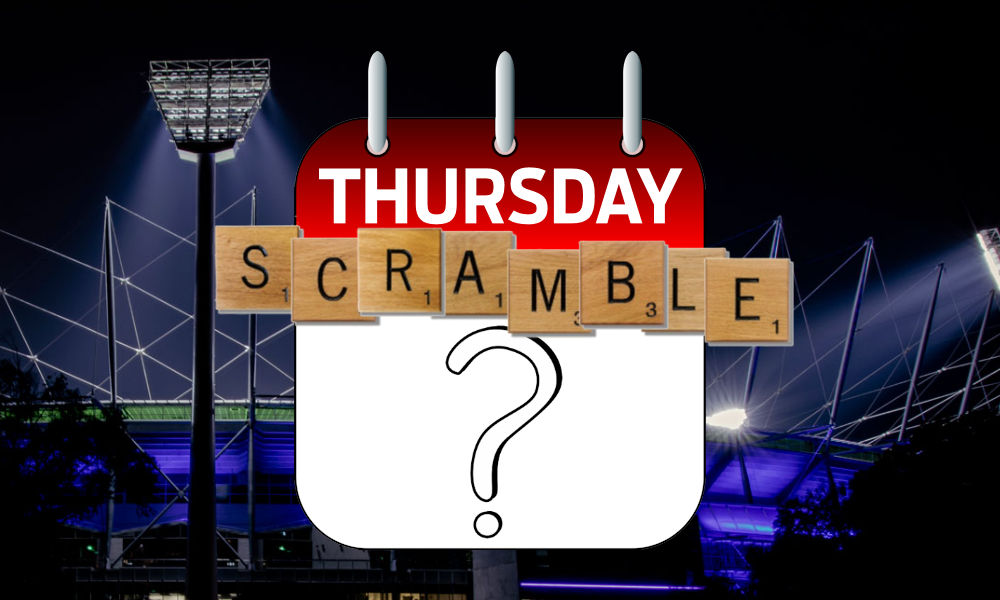 We've made it! Finals time (for standard leagues). It's been a long season and half the teams in your league (at least) have fallen by the wayside and now it is time to push forward to glory!  But there are plenty of hurdles that will get through before we get to that point. Let's Scramble
The Tagger is Back!!
We haven't seen them much throughout the season but for some reason the coaches have started to use them again And that is of course is bad news for us Fantasy coaches.  The big one that is on our radar is that of Nick Daicos as he comes up against the Hawks and Finn Maginness who did the job on him in the preseason game and scared a lot of coaches off of picking Daicos in their starting side. It would be an incredibly risky play to trade him out based on this chance that he may get tagged and as we saw last week, the Hawks released the tag early after they were getting badly beaten so if the Pies get on top we may see the same thing happen again.
We have also seen in the last couple of weeks Jack Sinclair  and James Sicily get tagged which is also a concern for owners and whilst those games are gone, we are likely to see other coaches think, hey that guy got taken out of the game by their tagger, maybe we will do the same.  The other bloke that did a tagging job last week was Touk Miller who took Lachie Neale  out of the game before getting up close and personal with Zorko. With the Suns in Adelaide this week don't be surprised if he goes up against and tries to shut down Jordan Dawson or Rory Laird. We an only hope that these guys can work through the tag.
But should we be really all that worried? Probably not. Most of these guys that are getting tagged are in the vast majority of sides and hence if you are suffering with the player getting tagged, then odds are any team you are trying to beat is having the same problem.
Time for a big move?
The move to make a week or two ago was the flip of Marshall to big Max Gawn who has gone on quite a streak since Grundy has been left out of the team. These are hard things to line up and do because it is essentially you betting that one bloke will be better than the other. But as I have said a few times in recent weeks, the closer that we get to the end of the season then the less risk these types of moves will have. You will only have a few weeks (4 if you pull the trigger this week) for it to pay off or come back to bite you. If you are in a position where you need to get a win or you really want to differentiate yourself from other teams and lift yourself up the rankings then you really have nothing much to lose and you should go for it and take that risk. But really, your team should be full of premiums now (not all of us have that luxury) and that is the time to make yourself that little bit different to get the win.
When you are doing this just have a look at the run home of the player you want to bring in and if they have a great run according to the Scale then you can make that move with confidence. We have a heap of data for this season now and this should aid in your decision as you can see what they did against the same side earlier in the season.
Now if you are playing the limited trade forms of the game (both of which I recommend as a different challenge to AFL Fantasy, all three games have their own unique challenges) you would need to have 3 trades left to do one of these luxury big moves, 2 trades left at the very least. If you are down to 1, then forget about it, save that trade for an injury.
Did you heed my warning?
A few weeks ago I mentioned to you all that you should not put the E on heaps of players and just leave it there, but only use it when you need it. I nearly got caught out this week (and I know a few people that did) by having the VC on Tim English and then having the C on Nick Madden from the Giants with Marshall on the bench with the E on him. Now this is fine from the E perspective, but Madden is a Giant and that is who English played, so you were basically locking yourself in to English if you did this. It was also the case that a number of the red dot rookies played on the Friday night or at the same time as the Dogs on Saturday afternoon. Just make sure you study that fixture so that you are all over what you need to do with your VC loop (for me I will be going English again on the Friday night so I should have heaps of options).
Things to Remember
First week of finals, get that win no matter what! If you are just in it for leagues, study your opponent and maybe that might help with trade plans.
Don't overthink things. Don't worry about the little things and trust your gut.
Don't give up if you get knocked out of your league. You've come this far, see it through.
Hope your team gets a win on the weekend (My fantasy and real footy teams both need wins badly!). We have seen some pretty good footy in recent weeks and some massive fantasy scores.  Have a great weekend and see you next week.