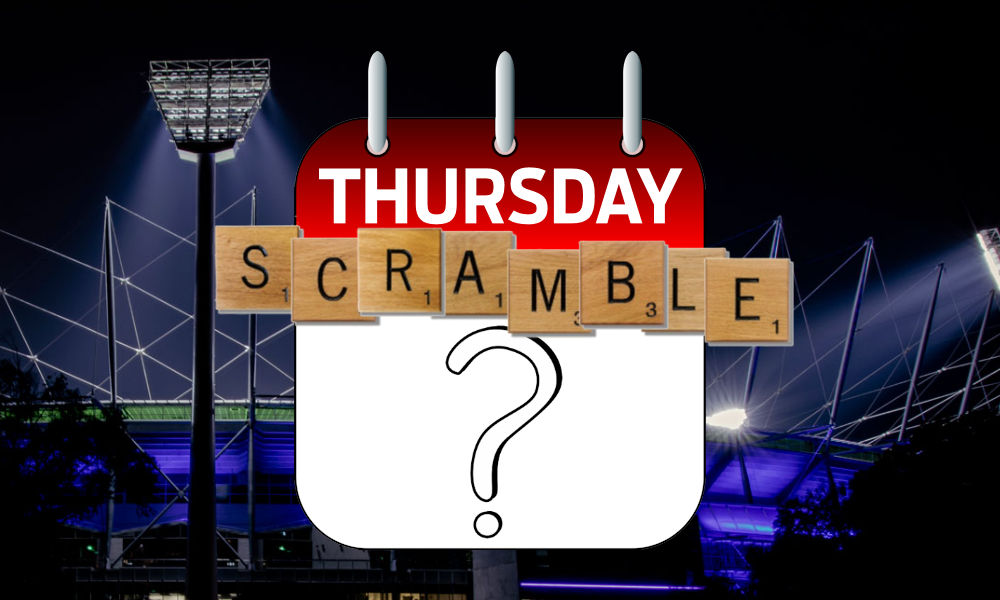 Well at least that week wasn't quite so dramatic as the previous round. This made things a little less stressful, but the weekend still threw up a few issues for us! Ridley and Walsh are just the latest injury problems and then e have the fun of wondering if Laird will get up.  Sounds to me like it is time to Scramble!
A bit of Draft Chat
Draft leagues are starting to reach their conclusion with some starting finals already and I am sure you have a few ghost ships in your leagues and you may have had that for a while. But don't despair, this is quite normal. Until you get to the finals then you should continue to push hard because you never know what will happen. The draft game can throw up all sorts of funny outcomes as those last few guys on your field can throw up a massive score or if your opponent can get a dud score for their premiums. This is often the case with us relying on some less popular guys than we do in the classic game and they can be far more random in their scoring.
A bit of a keeper league thought. As we start to head towards the end of the year and you fall out of contention of finals or get knocked out your thoughts should turn immediately to next season. Time to start looking at players that you think are going to be the up and comers for season 2024. Trade out those guys that you think are going to either retire or will start to drop off and pick up these players you want to have on hand for next season. This way you don't have to hope that you pick them up at the draft you will already have them and the toughest question you will have is who to keep.
Trading Strategy on the run home
With just one week til most League Finals and only 5 games left for the season our trading strategy needs to reflect this. Now clearly here I am referring to AFL Fantasy because if you are anything like me you are just about out of trades in RealDreamteam and SuperCoach and any trades you have left are being held for injuries (like Ridley, Walsh and maybe Laird).
So what are we going to do?  Well our great mate John (@SinceUBeenGawn) asked is it ok to trade out players based on being potential late outs. Now I had to think about this for a little bit and I came to the conclusion that there is a world where this is most definitely the right play to make. If you have a week where you don't have a million bullets to dodge like we have had recently and you have no issues with any rookies on your field then you are in a position to start using your two trades a week as luxury trades (I am envious of everyone that has that situation).
Now if you do have these luxury trades available to you then you should be looking at your side in exactly this fashion. What can hurt me and what can I do about it. Let's take a practical example. We now know that there was a huge cloud over Rowan Marshall last week and there was a chance he didn't play. Thankfully for us he did. But what that means is that now we have to think, wow, if he is banged up at the moment, is there a chance that he doesn't play this week. But we are prepared for this right, we have Darcy Cameron sitting in our forward line that we can swing into the rucks to cover off on Marshall.  Yup, that's great, only problem is that this week Cameron plays in the first game of the round and RoMar plays in the first game on the Sunday which means you are only going to be able to do this if you set up for it on Friday night. Now unless Marshall is named out tonight there is no chance you are going to do this. So that leaves you with two options.
You trade out Marshall (probably to Gawn) before the round starts and then just sit back and relax knowing that if he is a late out you don't have to worry about it.
You hold one of your trades until Sunday before that first game and then pull the trigger to Gawn then (thankfully he is also playing on Sunday this week) and you are sitting pretty at that point.
However, if we get to that Sunday and Marshall does play, you now have a trade to use and you are really limited as there are only 6 teams worth of players that you can still use it on. So this is quite the conundrum.
What am I saying here? Well in a really round about way I am saying that I don't mind the idea of using your trades to pre-empt a late out and take that stress right out of your team, but it is just the way you go about it and the options that you leave yourself that you need to consider when making this type of play.
The only other trade topic I wanted to cover here was the one I mentioned earlier regarding the guys missing this week. Any injury now, no matter how long, is a trade. Last week I pulled the trigger and traded Laird out, I still don't know if he was just missing one week, but at this time of the year I don't want to get stuck with that much cash on the bench because the points I miss out on by playing a rookie in his place are much harder for him to make up with only 3 or 4 games left when he comes back. You are much better off taking another premium in his place and cashing in those points straight away.
Things to Remember
Use the Scale of Hardness. I know I keep on about this but the fewer games to go in the season the more important the scale becomes. If you have a team that has both North and WC in its run home then that is just gold.
Watch out for resting/sending a guy off for surgery for those teams out of contention. It will happen and it will have an impact, especially in draft.
Get your team set up for league finals. If you are locked in already then set your team up for that first week and don't worry about the result this week.
Have a great weekend folks and let's hope that the fantasy gods are kind to us at the selection table tonight. Not long to go now, it's been a really long season and there is no point giving up now, lots of coaches will but if you persist you will rocket up the rankings!