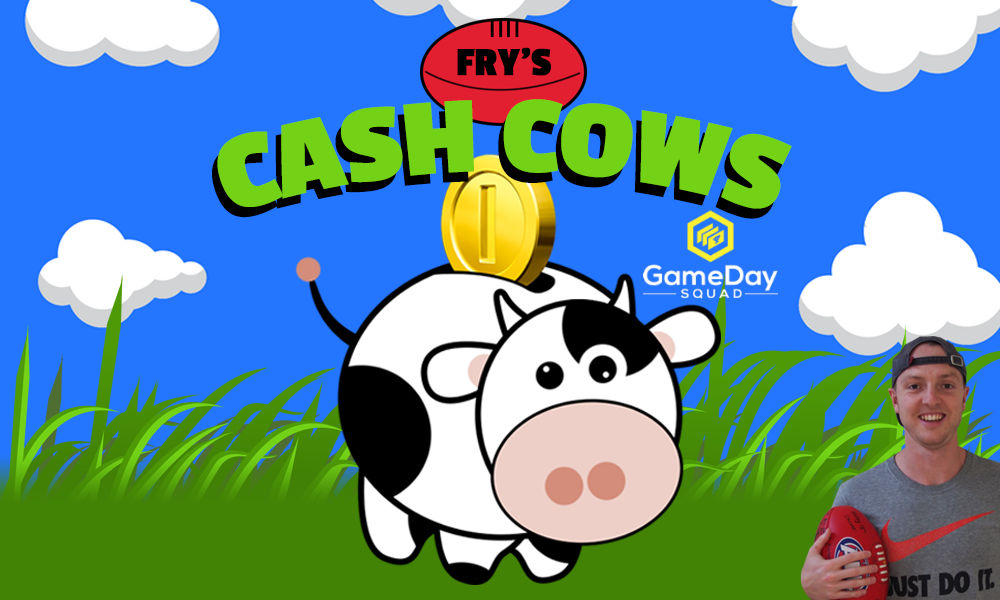 Nine down, 15 to go!
Get rid of the rookies. I've been petitioning for coaches to make the smart move all season and ditch the cash cows who have done their job. Naturally, the most traded-out player Reuben Ginbey started the weekend by challenging the club record for tackles, restarting his cash generation for those who held the future star. Everyone has these stories throughout the season "traded out (insert rookie) and he score 80!" Remember though, the mantra exists for a reason. Some opted to keep Kade Chandler due to his friendly matchup with the Hawks instead and he flopped, leaving his owners looking for answers at the trade table. It's still important to delist the cash cows as they peak in value with a lot of the fantasy season still remaining.
Rookie/cash cows are defined as players who started the season priced at $300,000 or lower
---
Mooooving On
Part of our weekly trade focus is to remove the rookie-priced players who are no longer making money. When a cash cow sees their average fall in line with their breakeven or they find themselves on the outside looking in for multiple weeks at a time, that's a good time to give them the axe.
Fattened cash cows
Mattaes Phillipou, Saints ($432K, AVG 52, BE 51)
Kade Chandler, Demons ($501K, AVG 65, BE 70)
Cam Mackenzie, Hawks ($430K, AVG 56, BE 61)
Alwyn Davey Jr, Bombers ($310K, AVG 39, BE 61)
Judd McVee, Demons ($396K, AVG 48, BE 53)
Injured/non-playing rookies
Fergus Greene, Hawks ($361K, AVG 42, BE 71)
Will Phillips, Kangaroos ($405K, AVG 53, BE 51)
Lachlan Cowan, Blues ($327K, AVG 41, BE 30)
Matt Roberts, Swans ($223K, AVG 28, BE 18)
Bodhi Uwland, Suns ($257K, 47, BE 11)
Cash Cow King – Round 9
A herculean effort on Friday night saw Reuben Ginbey (96) and Bailey Humphrey (94) put up the best scores of their young careers against one another. Seamus Mitchell (95) was also impressive against the Dees in just his fifth game, with the overwhelming favourite for this award, Harry Sheezel (81) just sneaking his way into the top-5. With all that said, Will Ashcroft (109) will likely take the cake as the CCK this weekend as the only rookie who produced a triple-figure score.
Loading ...
Round 9 Power Rankings
After 9 weeks of action, these are the top cash cow performers in season 2023!
Making Moves
Money makers
The points continued to flow at the Gabba for Will Ashcroft ($672K, 109, BE 57) in Round 9 as he topped all cash cows by scoring over 100. Ashcroft has an average of 97.5 playing in Brisbane to start his career, raising the bat in both of his last two home games. He wasn't the only Lions rookie that caught the eye of coaches, with Harry Sharp ($290K, 70, BE -7) giving Chris Fagan a good reason to keep him in the side. Producing 17 touches against Essendon now means Sharp is the only player in the comp with a negative breakeven and he's got a good chance to maintain his form against Gold Coast.
The coaches who took the punt on Seamus Mitchell ($414K, 95, BE 8) following his debut in Round 5 probably haven't been utilising him on the field over the past five weeks. That might change if Mitchell keeps scoring at the same rate he did over the weekend, smashing his previous best score against Narrm and helping himself to 27 disposals. He and Luke Pedlar ($488K, 80, BE 40) saw their stocks rise the most as fieldable rookies, with Pedlar now 6th in positive price change over the season at $275K. Kicking multiple goals for the third straight round could be considered a flag, but it's clear the Crows rookie isn't going anywhere – making him a decent hold for a few more weeks.
It's ridiculous to consider that 22 disposals and 81 points were both close to season lows for Harry Sheezel's ($782K, 81, BE 97). We've come to expect some stupid scores from Sheez and he's no certainty to the norm with 30 against Sydney. I've still got faith in him being the goods with Dylan Williams ($416K, 62, BE 11) another one worth holding on to. Coming off a 90, Williams looked on track for another strong score only to chalk up five points in the last quarter. I've got faith that the Yartapuulti defender can come out and record another 60-70 next round, despite a tougher matchup on Friday night. The rise for fantasy relevance continued for Samson Ryan ($452K, 71, BE 20) with the Richmond tall taking his four-round average to 71.7 points. Toby Nankervis' possible inclusion this week means Ryan's monopoly on the Tigers' ruck work will subside, but owners will be thankful for his handy price bump either way.
Keep the faith
There was a feeling in the gut of coaches who traded Reuben Giney ($506K, 96, BE 36) out that he could burn them and score well against the Suns. No one expected 'The Boy' to come out and lay 16 tackles and flirt with the best score from a rookie last weekend though. While he only managed 12 disposals, Ginbey proved that he can still score at a rapid rate if West Coast is playing him closer to the ball. The points dried up for Carlton duo Ollie Hollands ($525K, 59, BE 47) or Alex Cincotta ($397K, 22, BE 34) vs. the Bulldogs but there's no reason to panic, yet. It's worth pointing out, Cincotta's place in the side is far from assured and another quiet game could see him sent back to the two's.
Unlucky to not crack the money makers section, Bailey Humphrey ($360K, 94, BE 3) has already been traded in by 2,500 coaches on the back of his game against West Coast. His performance last weekend saw him land the Rising Star nomination and hopefully a handy loophole score for his owners. These types of scores are why I was so high on Humphrey in the preseason and while there are bound to be some more low scores, it's not crazy to pay up for him.
Those who haven't traded Darcy Wilmot ($385K, 59, BE 39) out yet can't be unhappy with his score in Round 9 and the return of Anthony Caminiti ($380K, 64, BE 32) may have benefited some coaches. After copping a three-week ban, it's highly likely that most of the 11% of coaches who the Saints forward have punted the season. However, if Caminiti happens to still be in your lineup you won't be mad about his pricing rising before chopping him out. Similar could be said about Josh Weddle ($333K, 57, BE 16) who isn't turning heads with his scores, but continues to tick up in price while playing his role for Hawthorn.
Cut them loose
Smart coaches thanked Kade Chandler ($501K, 41, BE 70) for his services last week at the trade table, with the rest of the competition eager to follow suit. A score of 41 on the weekend won't save him and Chandler's teammate Judd McVee ($396K, 39, BE 53) can be culled as well. It's a tough spot to be in if your funds are limited, although there are value options out there. Max Michalanney ($461K, 46, BE 57) should be ditched too and the budding Crow wouldn't reside in many fantasy sides anymore. Tom Doedee's potential concussion won't change his scoring output and Michalanney has done his job. The likes of Alwyn Davey Jr ($310K, 11, BE 61) and Fergus Greene ($361K, DNP, BE 71) can also be found amongst the popular trade-out targets this week and there's no issue offloading either, or perhaps both of them.
GameDay Squad – Create. Coach. Compete.
Thin Ice
Making sure I cover all bases, Cam Mackenzie ($430K, 58, BE 61) could still be floating around in a few teams and he wasn't bad on Saturday against Narrm. I still think the optimal move is to cash him in given his precarious role at the Hawks, while Mattaes Phillipou ($432K, 52, BE 51) can also be traded by his owners, albeit for different reasons. St Kilda's budding cult figure is entrenched in the team, however an average under 50 in his last four isn't going to cut it. Keeping him on the bench in your FWD line isn't the end of the world and Demons key forward Jacob van Rooyen ($363K, 65, BE 27) fits that mould too.
After a week in the headlines, JVR managed to produce decent numbers against Hawthorn, even though he only had one shot at goal. As long as he's in Narrm's team then there's no reason to ditch him yet. Miller Bergman ($343K, 41, BE 26) falls into that category as well, with mounting injuries for the Roos aiding his chances of staying in the team. Fantasy coaches are almost ready to give Bergman the flick, but as long as the North youngster is in the 22, he'll keep his cash generation going.
Wait and see
I thought that Essendon may have given untried tall Rhett Montgomerie a gig last week after his strong VFL form. Instead, they turned to Kaine Baldwin ($278K, 64, BE 10) who looked fine in their backline, filling up the box score to inflate his score. I'd be worried about investing in him for the long-term, as there's every chance Ridley reclaims his spot in the side this week and Baldwin is squeezed out. Despite weeks of worrying about his place in the Giants' side Ryan Angwin ($283K, 42, BE 25) continues to feature only to put up dud scores.
One score that did raise eyebrows on the weekend came from Geelong's Mitchell Knevitt ($337K, 70, BE 9) with the 2021 draftee making the most of his chance in their senior outfit. Let's see if he can keep that up against Walyalup in Round 10, who could recall Matthew Johnson ($280K, DNP, BE 0) now that he's served his two-game ban. Neil Erasmus and Nat Fyfe have excelled in the last fortnight without Johnson in the side and the Dockers prospect may be sent back to Peel Thunder to regain his spot first.
Sub status
Subbed On – Jhye Clark, James Tsitas, Marc Sheather, Alwyn Davey
Subbed Off – Ollie Dempsey, Ollie Hollands, James O'Donnell, Jack Bytel, Reef McInnes
There wasn't a lot to take away once again from the vested players, with debutant Jhye Clark ($287K, 36, BE 34) the one to keep an eye on. Geelong may not give Clark the extended fantasy run that coaches want, but he could become an option should he squeeze his way into the best 22. Ollie Hollands being subbed was a bummer and the coaches who took the punt on James O'Donnell ($200K, 10, BE 48) wouldn't have been stoked to see him exit in the fourth quarter. If Josh Bruce fails to get up he may be given another chance and Jack Bytel ($284K, 29, BE 58) may get the same opportunity depending on Jack Steele's fitness. Bytel has proven that we can't trust him as a cash cow, although he is still pretty cheap. Just saying.
Reserves Watch
A few AFL affiliates were on the bye last weekend which meant no VFL action for some of the popular cash cows to put their case forward for a recall. Without that opportunity, it's hard to see omitted Hawk Fergus Greene or Carlton youngster Lachie Cowan making their way back for Round 10. There is a lot more optimism around Geroge Wardlaw earning his first AFL game following a 90-point effort against Frankston with 19 disposals, 5 tackles and two goals. His health has always been the big question with Wardlaw, so don't be surprised if the Roos hold him back for another week or two.
In the WAFL a pair of Walyalup defenders could find themselves in the mix after their compelling performances vs. West Coast's reserves. Karl Worner was the main ball winner for Peel with 36 disposals, 11 marks and a booming 132 points, while discarded rook Corey Wagner managed to score 85 from 24 touches. On the other side of that game, Campbell Chesser returned to action and could be a sub-candidate for the Eagles this week. Chesser only chalked up 55 points, but as the 6th most-owned player, no one would really complain if he was back in the fray. Touted cash cow Angus Sheldrick had another day out, thriving as a pure midfielder to chalk up 36 touches and a score of 130. A calf injury to Callum Mills paves the way for a Sheldrick call up and a lot of coaches will be hoping he makes the most of a second chance.
The rich vein of form from Josh Fahey continued as the uncapped Giant scored 102 points from his 26 disposals against Collingwood. There isn't much more Fahey can do to try and secure an AFL gig, with Harry Rowston another GWS player who could come into calculations after he chalked up 33 disposals and 104 points. From the SANFL, Hugh Jackon kept up his consistency for Yartapuulti by racking up a team-best 24 disposals for a score of 84 int heir five-goal win. Keep an eye on him in case the Power opt to give Jackson a berth in the future.
Remember the Name
In no particular order, here are some of the other rookie-priced players to consider throughout the season.
DEFENDERS
Jake Stein (Suns, $288K)
Josh Fahey (Giants, $200K)
Rhett Montgomerie (Bombers, $200K)
Jaokb Ryan (Magpies, $246K)
Sam Banks (Tigers, $200K)
Sam Durdin (Blues, $213K)
Darragh Joyce (Lions, $241K)

MIDFIELDERS
Connor Blakely (Suns, $235K)
Billy Dowling (Crows, $216K)
Elijah Tsatas (Bombers, $292K)
Ed Allen (Magpies, $264K)
Hugh Bond (Crows, $202K)
Jaspa Fletcher (Lions, $278K)
George Wardlaw (Kangaroos, $294K)
Henry Hustwaite (Hawks, $228K)
RUCKMEN
Jacob Edwards (Kangaroos, $200K)
Lachlan McAndrew (Swans, $200K)
Alex Mirkov (Blues, $200K)
Hamish Free (Kangaroos, $200K)
Harry Barnett (Eagles, $256K)
Max Heath (Saints, $200K)
Dante Visentini (Power, $200K)
FORWARDS
Josh Sinn (Power, $233K)
Thomas Berry (Suns, $286K)
Jaxon Binns (Blues, $238K)
Joe Richards (Magpies, $206K)
Finlay Macrae (Magpies, $290K)
Patrick Voss (Bombers, $200K)

---
FOLLOW ME ON TWITTER: @SportsbyFry for all things AFL Fantasy (and more)! Feel free to hit me up with any questions you have throughout the season. Good luck! ✌️