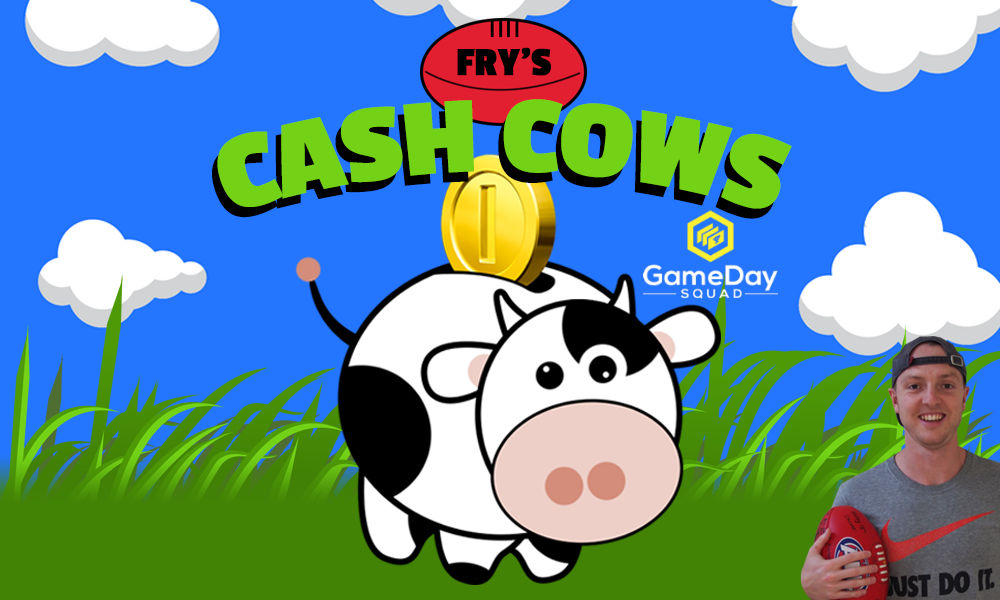 Eight down, 16 to go!
It's very possible some coaches reading this had half a dozen players score over 150 points on the weekend. That's absurd! How absurd you ask? There had only been two scores over 150 (can you guess them?) prior to Round 7. We've had nine in 18 games since. If you were able to nail the picks around these massive point totals then you can see it's easy to make a quick leap up the rankings. For most coaches though, their squad is being weighed down by those pesky cash cows who have topped out in value. Watching Ginbey, Chandler and Pedlar fail to reach 150 points combined would've stung over the weekend and as you make your final batch of trades before the byes, remember to get rid of the rookies.
Rookie/cash cows are defined as players who started the season priced at $300,000 or lower
---
Mooooving On
Part of our weekly trade focus is to remove the rookie-priced players who are no longer making money. When a cash cow sees their average fall in line with their breakeven or they find themselves on the outside looking in for multiple weeks at a time, that's a good time to give them the axe.
Fattened cash cows
Fergus Greene, Hawks ($361K, AVG 42, BE 70)
Reuben Ginbey, Eagles ($478K, AVG 64, BE 59)
Darcy Wilmot, Lions ($376K, AVG 48, BE 48)
Kade Chandler, Demons ($511K, AVG 68, BE 57)
Jacob van Rooyen, Demons ($344K, AVG 47, BE 40)
Injured/non-playing rookies
Cam Mackenzie, Hawks ($434K, AVG 56, BE 66)
Will Phillips, Kangaroos ($405K, AVG 53, BE 50)
Lachlan Cowan, Blues ($327K, AVG 41, BE 29)
Matt Roberts, Swans ($223K, AVG 28, BE 18)
Angus Sheldrick, Swans ($200K, 18, BE 34)
Cash Cow King – Round 8
The rest of the field tried their best, but Harry Sheezel (98) couldn't be caught. Dylan Williams (92) came from nowhere to steal top honours from the Rising Star favourite with Carlton pair Ollie Hollands (86) and Alex Cincotta (75) getting close as well. Samson Ryan (69) earned a nom for his effort against the Eagles, however non of them outscored North Melbourne's young gun for the sixth time in seven weeks.
Loading ...
Round 8 Power Rankings
After 8 weeks of action, these are the top 10 cash cow performers in season 2023!
Making Moves
Money makers
It wasn't the fantasy feast some of us were expecting, but Harry Sheezel ($784K, 98, BE 88) was still head and shoulders above his rookie peers. He found his 30 touches and still looks like a keeper. Will Ashcroft's ($639K, 61, BE 66) numbers weren't as great against Carlton but expect him to bounce back next week. We've seen down scores from Ollie Hollands ($504K, 86, BE 32) as well, although he produced career-best fantasy numbers on Friday night. 21 touches and a goal mean that he'll keep rising in value for the bulk of the competition.
On the cheaper side, Dylan Williams ($367K, 92, BE -5) is one who has turned heads with his last fortnight. He looked right at home in Port's backline in Round 8, recording the second-most intercept possessions in the game against the Bombers. Kane Farrell's potential inclusion could put pressure on his spot, but if Williams is in the best-22 he might be a genuine play. Almost everyone has Alex Cincotta ($371K, 75, BE -12) by now and a large group of coaches would also own Samson Ryan ($404K, 69, BE 7) as he benefits from Toby Nankervis' injury. It may only be for the short term, so enjoy Ryan's numbers while you can. Downgrade options Harry Sharp ($246K, 56, BE 9) and Blake Drury ($221K, 53, BE 6) could make some handy cash, with Drury my favourite pick of the two. Sharp may not be in Brisbane's side for long and the Roos rook has a clearer path to fantasy relevance.
Keep the faith
He avoided the vest this week and there are enough good signs to think Seamus Mitchell ($358K, 54, BE 18) will keep playing his role for the Hawks and fantasy coaches. Those who persisted with Bailey Humphrey ($313K, 66, BE 30) and/or Mattaes Phillipou ($427K, 66, BE 47) were rewarded with the MID/FWD's scoring at a decent clip over the weekend. It's hard to trust them on your field each week, although Humphrey and Phillipou seem to have solidified a spot in their respective best 22's. A score of 64 thanks to seven marks helped Max Michalanney ($461K, 64, BE 48) deliver for his owners against Geelong and forgotten backman Miller Bergman ($319K, 57, BE 9) made his return with a season-high 57. If a cheaper option becomes available, it's wise to still offload Michalanney. Bergman on the other hand should keep rising in value, provided he can stay in North's team.
Cut them loose
I can't blame you if you're one of the 5% of coaches who swung the axe and rage-traded Fergus Greene ($361K, 6, BE 70) out after his dud showing vs. Freo. I'm one of them. It's worth pointing out, Greene should still hold his place in the Hawks side although scoring 24 points in two combined games means plenty of people will still give him the flick. Some coaches opted to do that last week with Reuben Ginbey ($478K, 60, BE 59) and featuring on the half-back line for West Coast won't solve his fantasy scoring woes.
Ginbey did attend 41% of the centre bounces, but the talented Eagle did most of his scoring from defence. Time for an upgrade. Sticking with the backline, Darcy Wilmot ($376K, 34, BE 48) can go thanks to his yo-yo scoring and Alwyn Davey ($336K, 34, BE 48) should probably be cashed in before too long as well. Another popular bench pick Judd McVee ($398K, 44, BE 44) has served his rookie purpose and it's not a terrible idea to explore a downgrade involving the Demons defender.
GameDay Squad – Create. Coach. Compete.
Thin Ice
Let down performances from Luke Pedlar ($464K, 45, BE 48) and Kade Chandler ($511K, 37, BE 57) mean their days in most fantasy sides are numbered. Both of the FWD cash cows have given us enough reasons to leave them on the field, however, if they dish up another shocker we may have to act quickly. Chandler is already the third most traded player, with Luke Pedlar a bit down the list at No. 8. One place above him is Melbourne tall Jacob van Rooyen ($344K, 41, BE 40) who had his two-game suspension upheld by the tribunal tonight meaning he'll be out for the next fortnight. When he's back in Round 11, there may be others ahead of him in the pecking order, so expect JVR's ownership to decrease.
Wait and see
If you were amongst the 7.7% who took the punt on Ryan Angwin ($267K, 24, BE 21) it was rough to watch him go out and record just 10 disposals without a mark or tackle against the Dogs. He's avoided the vest so far this season, but we could see Angwin demoted vs. Collingwood. A few potential inclusions for Hawthorn could also see Josh Weddle ($304K, 46, BE 18) left out of the side, even though his numbers have been solid through two games. If Mitchell really wants to stick with the youth it makes sense to give him another go.
Sub status
Subbed On – Zane Trew, Ollie Dempsey, James Tsitas, Jye Menzie, Francis Evans, Jack Bytel
Subbed Off – Aaron Cadman, Fergus Greene, Marc Sheather
A lot of cheap players found themselves vested over the weekend, but they continue to remain a non-factor with the top scorer recording 24 points. That score came from Zane Trew ($252K, 24, BE 31) who was given 62% of game time after Jai Culley went down. He couldn't make the most of his opportunity against the Tigers and there are no assurances he'll continue in the role. After hyperextending his knee, second gamer Marc Sheather's (200K, 21, BE 57) absence could create an opportunity for one of the Sydney youngsters. It's probably wise to avoid them at first though.
Reserves Watch
A lot of memorable names were amongst the best state league scorers on the weekend, with coaches eagerly waiting for viable rookies to make themselves known. Quick shoutout to Harley Reid (touted to be the No. 1 pick in the 2023 draft) for being the top scorer in the first VFL game of the weekend – posting 116 points from 21 touches, 8 marks and 9 tackles. In the same game, Lachie Cowan and Jaxon Binns did their best to stand out although they may have slipped down Carlton's depth chart. One defender who is quickly rising and continues to tease fantasy coaches is Josh Fahey with the Giants youngster performing well, again.
His numbers read 20 disposals and 78 points – low by his standards. Since moving to the wing though, Fahey continues to impress for GWS and his chance is bound to come soon. Please. Former cash cow favourites Cam Mackenzie and Will Phillips scored well over the weekend, with the Hawks draftee a chance to replace Josh Ward in Round 9. He gathered a game-high 30 touches for a score of 129 while Phillips recorded 91 points thanks to 25 disposals and 7 tackles. The mythical Will Gould could be in Sydney's calculations after 20 touches (95 points) and Sam Sturt put his best foot forward for a recall with 24 touches, 7 marks and 1.3 in front of goal for a score of 97.
Port Adelaide's Hugh Jackson was the best rookie out of SA on the weekend, chalking up 101 points from 23 touches with 10 tackles. It's hard to envision him getting a game on the back of this effort, but it's a good sign. Finlay Macrae was amongst the action again (124 points) with 26 disposals and 11 tackles, along with Essendon's Rhett Montgomerie. Now that Jordan Ridley has been ruled out with a concussion, the door may open for the mature-aged Bomber, who has decent form behind him. Fresh off 11 marks with 25 touches and a score of 110, Montgomerie has averaged 88 points and 20.8 touches in 6 VFL appearances. I won't be stunned if we see him make an AFL appearance soon.
Remember the Name
In no particular order, here are some of the other rookie-priced players to consider throughout the season.
DEFENDERS
Jake Stein (Suns, $288K)
Josh Fahey (Giants, $200K)
Rhett Montgomerie (Bombers, $200K)
Jaokb Ryan (Magpies, $246K)
Sam Banks (Tigers, $200K)
Sam Durdin (Blues, $213K)
Darragh Joyce (Lions, $241K)

MIDFIELDERS
Connor Blakely (Suns, $235K)
Jhye Clark (Cats, $286K)
Billy Dowling (Crows, $216K)
Elijah Tsatas (Bombers, $292K)
Ed Allen (Magpies, $264K)
Hugh Bond (Crows, $202K)
Jaspa Fletcher (Lions, $278K)
George Wardlaw (Kangaroos, $294K)
Henry Hustwaite (Hawks, $228K)
RUCKMEN
Jacob Edwards (Kangaroos, $200K)
Lachlan McAndrew (Swans, $200K)
Alex Mirkov (Blues, $200K)
Hamish Free (Kangaroos, $200K)
Harry Barnett (Eagles, $256K)
Max Heath (Saints, $200K)
Dante Visentini (Power, $200K)
FORWARDS
Josh Sinn (Power, $233K)
Thomas Berry (Suns, $286K)
Jaxon Binns (Blues, $238K)
Joe Richards (Magpies, $206K)
Finlay Macrae (Magpies, $290K)
Patrick Voss (Bombers, $200K)

---
FOLLOW ME ON TWITTER: @SportsbyFry for all things AFL Fantasy (and more)! Feel free to hit me up with any questions you have throughout the season. Good luck! ✌️