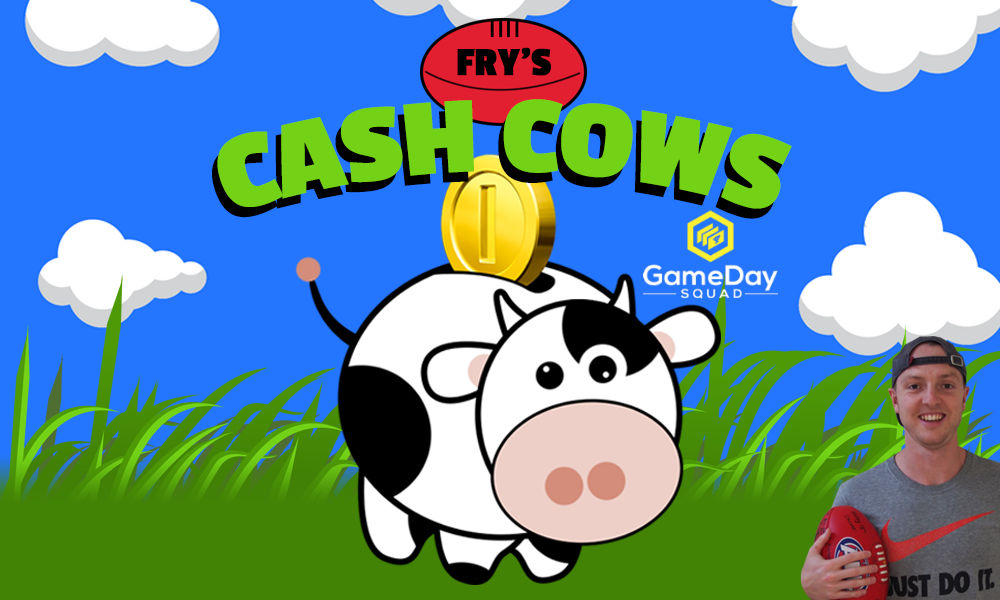 Seven down, 17 to go!
It's not often I write this weekly article and my team scores 2250+. It's even rarer to be sitting here after a big points total and be disappointed in my squad, but here we are. Even the rookies got in on the heavy scoring in Round 7 and as a result, there are a few cash cows coaches can trust on the field moving forward. However, that number of reliable rooks is quickly dwindling and with a lack of fresh faces filtering through right now, it's important to make sure you hold onto the right cash cows and get rid of the dead weight.
Rookie/cash cows are defined as players who started the season priced at $300,000 or lower
---
Mooooving On
Part of our weekly trade focus is to remove the rookie-priced players who are no longer making money. When a cash cow sees their average fall in line with their breakeven or they find themselves on the outside looking in for multiple weeks at a time, that's a good time to give them the axe.
Fattened cash cows
Mattaes Phillipou, Saints ($416K, AVG 50, BE 52)
Reuben Ginbey, Eagles ($482K, AVG 64, BE 67)
Max Michalanney, Crows ($448K, AVG 56, BE 49)
Fergus Greene, Hawks ($386K, AVG 47, BE 43)
Darcy Wilmot, Lions ($379K, AVG 50, BE 40)
Injured/non-playing rookies
Cam Mackenzie, Hawks ($434K, AVG 56, BE 66)
Will Phillips, Kangaroos ($405K, AVG 53, BE 50)
Alwyn Davey Jr, Bombers ($340K, 46, BE 42)
Matt Roberts, Swans ($223K, AVG 28, BE 18)
Lachlan Cowan, Blues ($327K, AVG 41, BE 29)
Cash Cow King – Round 7
Order was restored in Round 7, with the heavy-hitting rookies producing eye-popping scores. Harry Sheezel (126) looked like himself again in a heavy loss, while Will Ashcroft (115) starred for the Lions in their win over Freo. Kade Chandler's (106) massive score wasn't as expected with the Melbourne small coming close to doubling his score from the previous round. Any other week Alex Cincotta (77) and Luke Pedlar (75) would've received a higher portion of the votes, but a high-scoring round across the board means they'll probably have to battle it out for 4th and 5th.
Loading ...
Round 7 Power Rankings
After 7 weeks of action, these are the top 10 cash cow performers in season 2023!
Making Moves
Money makers
The two most popular cash cows Harry Sheezel ($770K, 126, BE 83) and Will Ashcroft ($618K, 115, BE 36) refound their mojo in Round 7 to record two of the best rookie scores of the season. They were ably supported by another first-year player in Kade Chandler ($505K, 106, BE 31) who a lot of coaches gave the flick over the last fortnight. That trio will keep trending in the right direction for coaches and it's likely that at least Sheezel and Ashcroft will survive through the bye rounds and beyond.
Cheaper rookies are hard to come by right now, however Alex Cincotta ($301K, 77, BE -20) has found a home in Carlton's senior side. After biding his time in the VFL, Cincotta has scored 77 points in back-to-back games and will likely now reside at D6 for a large portion of the fantasy community. Hawthorn duo Seamus Mitchell ($322K, 44, BE 6) and Josh Weddle ($282K, 55, BE 17) could also be lurking in defence for coaches, with both of them harder to trust than Cincotta. Mitchell had hardly put a foot wrong through his first two and a half games, but being subbed out against the Bulldogs hurt nearly 10% of coaches who had him on their field.
Weddle hasn't had the same stretch of success, although he did manage 5 marks and 5 tackles during his AFL debut. With Jack Scrimshaw performing solidly as the sub once he came onto the park, team selection for the Hawks will be watched closely by fantasy coaches on Thursday night. At the opposite end of the ground, Ryan Angwin ($251K, 45, BE 3) is still cheap enough to invest in, but it's hard to see him scoring much more than 50 on a weekly basis. He may be the best of a bad bunch of downgrade targets at the moment.
Keep the faith
Job security is crucial for fantasy rookies and as red dots start to accumulate on our bench, it's important to highlight the cash cows who have solidified their spot in an AFL side. A dud score from Fergus Greene ($386K, 18, BE 43) will cause some concern, while Darcy Wilmot ($379K, 65, BE 40) restarting his cash generation isn't extremely noteworthy either. If you can, it's not a terrible idea to hold onto these pieces as convenient cover throughout the upcoming bye period, however, trading them out to launch into an upgrade is still the preferred way to go. I have a similar amount of faith in Judd McVee ($389K, 51, BE 33) who continues to consistently fight his way to 50 each week and hold onto his place in the Demons' side without concerns about his job security.
Ollie Hollands ($468K, 66, BE 38) and Luke Pedlar ($450K, 75, BE 28) could be mentioned in the above section as money makers, especially after their efforts in the last fortnight. Residing on the field for the large majority of their owners, both have averaged 70+ in the last two games and there's optimism that they can keep scoring in healthy doses. The scores haven't been as consistent from Port Adelaide backman Dylan Williams ($305K, 67, BE 8) but he's starting to trend in the right direction. Shaking the sub vest led to a career-best score of 67 against St Kilda, although he's probably too dear to invest in right now.
Cut them loose
Currently traded out by over 10,000 coaches, time has run out for Reuben Ginbey ($482K, 50, BE 67). West Coast's young star is one of just four players to record at least 50 tackles so far this season, but a disposal average of just 10.3 in his last three matches has led to a mediocre fantasy output. Subpar scores have been the norm for Mattaes Phillipou ($416K, 31, BE 52) this year, which has led to a high number of coaches giving him the flick as well. Trading Ginbey and Phillipou out this week and landing a premium talent is a perfect move, but with a lack of reliable downgrade options emerging you'll need to have some cash in your pocket to facilitate that type of trade.
The non-playing trio of Cam Mackenzie ($434K, DNP, BE 66), Alwyn Davey Jr ($340K, DNP, BE 42) and Will Phillips ($405K, DNP, BE 50) can all be offloaded, with Mackenzie the only one who played in the VFL over the weekend. Davey and Phillips were unable to audition their case for a recall, making it hard to see them getting selected for Round 8 – similar to Lachie Cowan ($327K, DNP, BE 29). Carlton's young defender was 'managed' last weekend and even if he does come back into their team, it's not a terrible idea to move him on. Max Michalanney ($448K, 52, BE 49) has served his purpose as a cash cow as well and if he's on your field, it's time to part ways.
GameDay Squad – Create. Coach. Compete.
Thin Ice
The three players that have fallen into this section all find themselves in interesting positions. The first rook is Jacob van Rooyen ($341K, 40, BE 38) who isn't making a ton of cash any more and could be axed in the near future. As long as he holds his spot in Melbourne's senior team, I'd give him another chance with another rookie FWD Noah Long ($322K, DNP, BE 12) still 2-3 weeks away for West Coast. Missing the last fortnight due to soreness/hamstring problems, Long did enough when he was in the team to maintain a spot in fantasy sides unless an appealing downgrade target pops up. The Eagles' crosstown rivals are going to be forced to make at least one change this week with MID cash cow Matthew Johnson ($280K, 63, BE 0) slapped with a two-game ban after dumping Dayne Zorko into the turf. The youthful Docker has accepted the ban and a lack of reliable rooks will likely see coaches hold onto him…for now.
Wait and see
Key forwards Ollie Lord ($220K, 29, BE 18) and Aaron Cadman ($289K, 32, BE 39) are performing the way we expect them to early on in their AFL careers. It takes a special type of tall FWD to capture the attention of fantasy coaches and it's wise to ignore them currently. Similar can be said for Hawthorn ruckman Max Ramsden ($203K, 28, BE 23) who was able to break through for his first pro game in Round 7. With Lloyd Meek dominating at VFL level, I expect him to take Ramsden's spot in the 22 as they travel to Perth. The forward theme continues with small's Sam Sturt ($253K, 29, BE 18) and Arthur Jones ($250K, 50, BE 10) failing to fire as fantasy prospects. Sturt may lose his spot in the Dockers' side if Michael Frederick overcomes his abductor issue and despite kicking his first AFL goal over the weekend, I wouldn't suggest a trade for Jones following an average of 29.5 in his first month of footy.
Sub status
Subbed On – Marc Sheather, Harry Rowston
Subbed Off – Sam Sturt, Angus Sheldrick, Aaron Cadman, Seamus Mitchell
Despite performing reasonably well throughout close to three-quarters a lot of coaches were bummed to see Seamus Mitchell ($322K, 44, BE 6) evicted for Jack Scrimshaw in Round 7. The Hawks have a lot of similar players in the mould of Mitchell and I wonder if this is foreshadowing his exit from their best-22. He's performed well enough to hold his spot, but time will tell. The other noteworthy fantasy cash cow who was forced off the ground early in Angus Shedrick ($200K, 18, BE 34) didn't fill coaches with the same amount of optimism, although I still have high hopes for the young Swan. There are no guarantees he'll be in the senior side to clash with Collingwood, but my fingers are crossed.
Reserves Watch
Another week of VFL action saw another stellar performance from Jaxon Binns as he chalked up his 5th consecutive 100+ score. The same story exists though with the Blues unlikely to make too many changes to a team that won by 108 against West Coast. His teammate Lachie Cowan sat out all levels of footy and there weren't as many noteworthy point totals from the VFL with almost half of the AFL affiliates resting up during their bye. One player that did step up from a scoring perspective was former Docker Connor Blakely, with the now Gold Coast Sun amassing 35 disposals, 9 marks and 10 tackles for a score of 155! It doesn't appear likely that his efforts will translate to a club debut, with plenty of Suns starring against Richmond, including James Tsatas who managed to kick 5 goals for his 105 points.
Prized North Melbourne draft pick George Wardlaw suffered a knee knock in a practice hitout with Sandringham that may slow down his chances of an AFL debut. He has been cleared of any serious damage, but you'd expect Wardlaw to wait another few weeks before a callup. As injuries mount for the Roos, we could see Blake Drury given a chance this weekend against St Kilda, having averaged 65.8 points from his 5 VFL contests this season. Wardlaw and Drury's draft peer Jhye Clark continues to stake his claim for a senior berth after totalling 29 touches for a score of 107 last weekend, while popular Hawthorn rookie Cam Mackenzie responded strongly to being dropped with 95 points fuelled by 28 disposals.
The news isn't as promising for mature-age Docker Corey Wagner after he managed just 16 touches for Peel Thunder. It's hard to see him earning a recall anytime soon, but we may have another DEF/MID rookie enter the fold in the near future. Josh Fahey has put up some stellar scores (117.8 AVG) in his 2023 VFL campaign, and Giants head coach Adam Kingsley is taking notice. He mentioned that Fahey is still behind Whitfield and Ash in the pecking order, but GWS trialled using the former 42nd overall pick on the wing last weekend as he managed 20 touches, 12 marks and 94 points. He's inching closer to a debut and there's a strong, realistic chance we see him finally integrated into the Giants' AFL side during the month of May.
Remember the Name
In no particular order, here are some of the other rookie-priced players to consider throughout the season.
DEFENDERS
Jake Stein (Suns, $288K)
Josh Fahey (Giants, $200K)
Rhett Montgomerie (Bombers, $200K)
Jaokb Ryan (Magpies, $246K)
Sam Banks (Tigers, $200K)
Sam Durdin (Blues, $213K)
Darragh Joyce (Lions, $241K)

MIDFIELDERS
Connor Blakely (Suns, $235K)
Jhye Clark (Cats, $286K)
Blake Drury (Kangaroos, $200K)
Billy Dowling (Crows, $216K)
Elijah Tsatas (Bombers, $292K)
Darcy Jones (Giants, $260K)
Ed Allen (Magpies, $264K)
Hugh Bond (Crows, $202K)
Jaspa Fletcher (Lions, $278K)
George Wardlaw (Kangaroos, $294K)
Henry Hustwaite (Hawks, $228K)
RUCKMEN
Jacob Edwards (Kangaroos, $200K)
Lachlan McAndrew (Swans, $200K)
Alex Mirkov (Blues, $200K)
Harry Barnett (Eagles, $256K)
Max Heath (Saints, $200K)
Dante Visentini (Power, $200K)
FORWARDS
Josh Sinn (Power, $233K)
Thomas Berry (Suns, $286K)
James Tsitas (Suns, $200K)
Jaxon Binns (Blues, $238K)
Joe Richards (Magpies, $206K)
Ollie Dempsey (Cats, $200K)
Finlay Macrae (Magpies, $290K)
Patrick Voss (Bombers, $200K)

---
FOLLOW ME ON TWITTER: @SportsbyFry for all things AFL Fantasy (and more)! Feel free to hit me up with any questions you have throughout the season. Good luck! ✌️