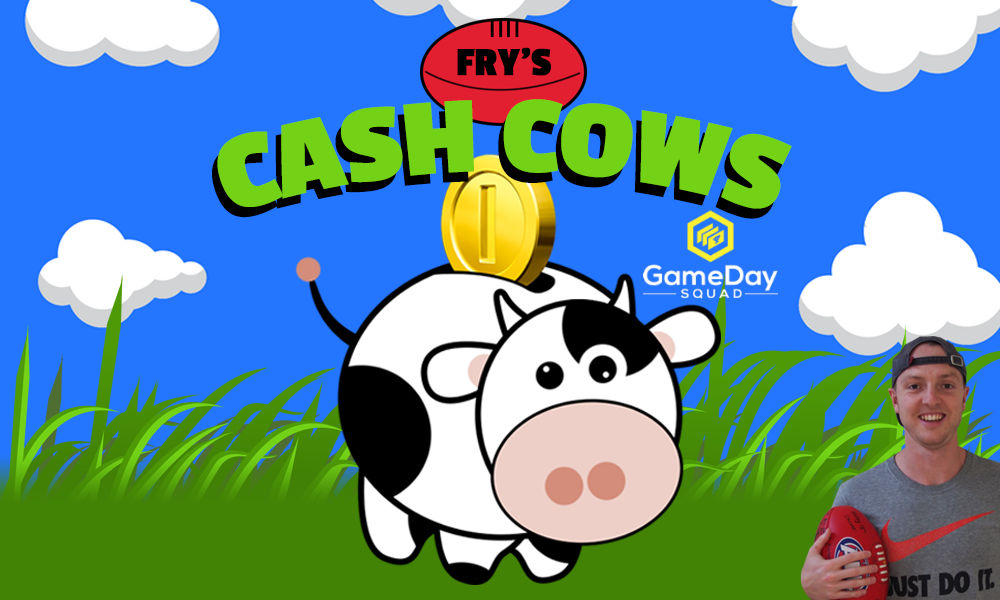 10 down, 14 to go!
Coaches find themselves in a tricky position one week out from the bye rounds. A lot of the rookies we started the season with are gone and if they haven't been offloaded yet, then trading them out will likely be a priority. No, Sheezel and Ashcroft don't count. With those cash cows topping out in value, everyone wants to invest in a reliable rook that has an assured role in an AFL outfit. It would be a bonus if said rookie was capable of scoring well during the byes too. A recent debutant for the Kangaroos may fit the brief, although it's hard to find a cash cow that checks all the boxes right now. As we prepare for best-of-18 rounds and coaches shuffle rookies throughout, be sure you're acquiring cash cows who can help you once the dust settles in Round 16.
Rookie/cash cows are defined as players who started the season priced at $300,000 or lower
---
Mooooving On
Part of our weekly trade focus is to remove the rookie-priced players who are no longer making money. When a cash cow sees their average fall in line with their breakeven or they find themselves on the outside looking in for multiple weeks at a time, that's a good time to give them the axe.
Fattened cash cows
Ollie Hollands, Blues ($515K, AVG 60, BE 76)
Reuben Ginbey, Eagles ($499K, AVG 63, BE 68)
Kade Chandler, Demons ($501K, AVG 65, BE 65)
Luke Pedlar, Crows ($493K, AVG 61, BE 59)
Judd McVee, Demons ($387K, AVG 47, BE 56)
Injured/non-playing rookies
Fergus Greene, Hawks ($361K, AVG 42, BE 71)
Lachlan Cowan, Blues ($327K, AVG 41, BE 29)
Matt Roberts, Swans ($223K, AVG 28, BE 18)
Alex Cincotta, Blues ($397K, AVG 62, BE 34)
Bodhi Uwland, Suns ($257K, AVG 47, BE 12)
Cash Cow King – Round 10
The free-flowing scores at the Gabba continued for Will Ashcroft (127), with the Lions cub leading all cash cows over the weekend for points. Rebounding Hawk Josh Weddle (102) did his best to challenge the Brisbane rookie, while Weddle's teammate Cam Mackenzie (94) added the second 90+ score of his season. Bailey Humphrey (90) also achieved that feat last week, producing at least 90 points for the second straight game, a few mark/kick combos short of Harry Sheezel (112), who may have to settle for second in Round 10.
Loading ...
Round 10 Power Rankings
After 10 weeks of action, these are the top 10 cash cow performers in season 2023!
Making Moves
Money makers
The pendulum is swinging in the 2023 fantasy campaign, with a new (ish) batch of rookies leading the money-making charge. Sure, the usual suspects like Harry Sheezel ($795K, 112, BE 83) and Will Ashcroft ($723K, 127, BE 45) can be found here, but we've reached the point where fantasy coaches aren't counting these two as rookies anymore – Sheezel and Ashcroft are averaging 103 and 87 respectively. One of the fresh faces we saw last weekend was debutant George Wardlaw ($327K, 82, BE 6), with the notable No. 4 draft pick hardly putting a foot wrong in his first match. Displaying all the facets of his game, Wardlaw helped himself to a game-high nine tackles while adding 16 touches and six clearances against Sydney. The North MID has already been added to about 29,000 teams, with that number only expected to grow.
Last week at the trade table, a lot of coaches were tossing up on whether they should trade for the Roos rook or instead, invest in Brisbane's Harry Sharp ($332K, 52, BE 5). Despite being subbed at three-quarter time and producing just three points in the first frame, Sharp showed enough in the middle portions of the game to suggest he can keep his label as a decent cash cow. Some are also looking at Swans ruckman Lachie McAndrew ($230K, 66, BE -2) as another cheap trade target who can be an asset through the bye rounds. He'll take Round 12 off, but after 20 hitouts and five tackles last weekend there's enough to suggest McAndrew can churn out a few 50's during the best-of-18 rounds.
There's another healthy group of established cash cows that continue to produce strong point totals for their owners. Hawthorn duo Josh Weddle ($395K, 102, BE -4) and Seamus Mitchell ($470K, 85, BE 14) both thrived in the blowout win over the Eagles, taking turns to burn off the back line with pace and precision kicking down in Tassie. There's no reason why they can't challenge 70+ again this round with a date against St Kilda on the cards. Dylan Williams ($468K, 82, BE 15) is another young defender making his presence felt in the fantasy community. A virtual lock to gain DEF status at the end of the round, Williams has been excelling in Yartapuulti's back-6 over the past month with a fantasy average over 75. But wait, there's more! Gold Coast draftee Bailey Humphrey ($423K, 90, BE -3) has also found his mojo recently, scoring a team-high 90 vs. the Lions. Accumulating 26 disposals and gaining more metres than any other player in the contest are encouraging signs for Humphrey's fantasy ability moving forward.
Keep the faith
Outside of the top shelf rookie prospects, there are still a handful of cash cows assisting coaches that aren't ready to be traded. Yet. Everyone at one point or another probably had Hawthron's Cam Mackenzie ($454K, 94, BE 31) in their lineup, with the first year MID still boasting an ownership over 20%. There's reason for optimism on the back of Mackenzie's score against West Coast, although a matchup against the Saints this week will tell us a lot more. Other mainstream bench pieces Darcy Wilmot ($410K, 74, BE 25) and Mattaes Phillipou ($446K, 70, BE 40) are staking their case for a spot in our teams throughout the bye rounds with the pair producing career-best fantasy scores in Round 10.
Both Wilmot and Phillipou have their limitations, however they are fairly entrenched in the best 22 for Brisbane and St Kilda. I think it's smart to hold onto them if you haven't given them the axe yet, along with Roos youngster Miller Bergman ($365K, 56, BE 28). Tying a career-high for marks last week against Sydney, Bergman should continue to get opportunities and there's some hope he can keep rising in value before you need to move him on. Owned by less than 1% of coaches, there probably aren't many reading this with Mitch Knevitt ($372K, 57, BE 14) as a member of their 30-player squad. With Dangerfield out and Max Holmes set to undergo surgery, Knevitt should continue to get play in the Cats' senior side, even if I'm sceptical over his long-term job security.
Cut them loose
With Max King back in full flight, the scoring dried up rapidly for Anthony Caminiti ($389K, 44, BE 41) last weekend. Even though his owners wished there was another price rise before they eventually flicked Caminiti out, it seems like his time has come. Will Phillips ($408K, 54, BE 52) is another prime example of a cash cow that coaches were trying to squeeze for a few more dollars, but a handball-happy game killed his scoring potential. Don't be influenced by Phillips recording a season-high for time on ground either.
Loyal rookies since Round 1, Ollie Hollands ($515K, 32, BE 76) and Reuben Ginbey ($499K, 24, BE 68) have both scored their last points for a lot of teams. Sitting 2nd and 3rd respectively as the most traded out players, both 2022 draftees can be moved on now that they've reached their peak value. It was a bummer to see the first-year Blue subbed against the Pies and there won't be many coaches happy with Ginbey's finale. The week before though, West Coast's gun came close to his first fantasy century and Hollands wasn't too far off the pace in Round 8. You take the good with the bad when it comes to rookies. Now it's time to thank them for their services and move on.
GameDay Squad – Create. Coach. Compete.
Thin Ice
Forward duo Kade Chandler ($501K, 68, BE 65) and Luke Pedlar ($493K, 46, BE 59) could also be viewed as prime trade candidates after indifferent scoring has seen them stall in cash gen. Chandler didn't need to kick a bag for Naarm last Friday to put up solid numbers, instead helping himself to five tackles in the wet conditions, while Pedlar wasn't able to score at the same rate in his clash with the Bulldogs. In a perfect world, coaches can keep the pair of them until their Round 14 bye. In reality, they need to go before then.
Both Chandler and Pedlar have been given a longer leash by fantasy coaches thanks to their ability to score at a high rate. That isn't the case for Jacob van Rooyen ($375K, 43, BE 37), with the Dees FWD a traditional 'slow burn' key forward who churns out scores in the 50's until he eventually maxes out. Some have already traded out JVR and a dud score against the Dockers may see the rest of his owners abandon ship. The price rise for Samson Ryan ($472K, 47, BE 46) was always going to halt at some point and it's no shock that Ryan's scoring slowed with Toby Nankervis returning. I wouldn't call Ryan a must-trade right now, although it appears to be the perfect time to cash him in before he starts sliding in price.
Wait and see
Climbing to 30% ownership over the past three weeks, there isn't a ton of faith in Blake Drury ($234K, 14, BE 31) anymore as a viable rookie. Amassing just six touches meant that he actually went backwards in price, with coaches choosing to get him out rather than invest in the North youngster. Even with their injury issues, there's a chance Drury is left out of the 22 to take on Collingwood and Ryan Angwin ($289K, 32, BE 35) is no certainty to remain in the Giants' team either. Angwin and his teammate Cam Fleeton ($220K, 41, BE 12) could be sent back to the VFL any week now and neither of them has displayed a great fantasy ability to date.
The inability to put up decent point totals is still the case with Campbell Chesser ($257K, 37, BE 14) as well. Chesser is the 6th most popular player in the game and he could still get regular games for West Coast, but any consistent scores near the 60-point threshold will be a gift from the fantasy gods. Speaking of 60-point outings, Kaine Baldwin ($317K, 64, BE 2) kept up his run of solid scoring, and yet, I still can't endorse a play for the versatile Bomber. Even with Ridley back in action, Baldwin helped himself to nine marks and an eerily similar stat line to the week before, keeping himself in the mix despite his awkward price.
Sub status
Subbed On – Angus Sheldrick, Matthew Johnson, Ollie Dempsey, Tom Berry
Subbed Off – Blake Drury, Harry Sharp, Ollie Hollands
Spare a thought for the coaches out there who saw three of their rookies subbed out during Round 10, with Drury, Sharp and Hollands all ending their day in the vest. They at least got the chance to start the contest and put up as many points as possible, with the sub candidates once again faltering. There's still a glimmer of hope for Matthew Johnson ($309K, 40, BE 14) however, his opportunity will hinge on the health of Nat Fyfe. Neil Erasmus won't give up a spot in Freo's midfield easily either, but it's still worth watching Johnson and his owners can enjoy his incremental growth for the time being.
Reserves Watch
Let's not try and bury the lead here. Josh Fahey had another DAY OUT in the two's scoring a VFL round-high 163 points against Sandringham. With a debut looming (come on Adam Kingsley, pull the trigger), Fahey helped himself to 43 touches and a whopping 14 marks – his second score of 160+ in 2023. In the same game, his teammate Harry Rowston keeps searching for a callup and 27 disposals for a score of 124 won't do his chances any harm. Suiting up for the Dragons to take on GWS, Jack Bytel was in the thick of the action with 106 points from 36 touches, although it'll be hard to trust him should St Kilda give him another crack.
With the WAFL and SANFL competitions on hiatus, the focus was squarely locked on the VFL last weekend and a few other budding cash cows stood out. Carlton's Jaxon Binns has been a consistent performer for a string of games and another 30 touches (21 kicks) for 114 points will keep him in the selection frame. His Blues teammate Lachie Cowan managed just 11 disposals against Williamstown and it's fair to say he's slipped down the depth chart of Carlton defenders. Another popular starter that may still sit on the bench for coaches is Fergus Greene, with his outlook also bleak. Kicking 1.3 in front of goal and scoring 45 points last round means that Greene will probably be playing for Box Hill instead of assisting fantasy teams during the bye rounds.
Greene's Box Hill teammate and Hawthorn draftee Henry Hustwaite had his best game of the season against Southport with 26 disposals and a score of 102. He may have to bide his time before earning his chance in the AFL along with his draft peers Jaspa Feltcher and Cooper Harvey. Entering the ranks as father-son selections, both of the teenagers might not break through in 2023 although they're starting to find their feet. In a clash with Coburg, Fletcher filled up the stat sheet with 27 touches, 12 marks and 2 goals fuelling his score of 131. Harvey didn't have as much of the footy in North's loss to Casey, but he did manage to kick five and put up a season-best 98 points.
Remember the Name
In no particular order, here are some of the other rookie-priced players to consider throughout the season.
DEFENDERS
Jake Stein (Suns, $288K)
Josh Fahey (Giants, $200K)
Rhett Montgomerie (Bombers, $200K)
Jaokb Ryan (Magpies, $246K)
Sam Banks (Tigers, $200K)
Sam Durdin (Blues, $213K)
Darragh Joyce (Lions, $241K)

MIDFIELDERS
Connor Blakely (Suns, $235K)
Billy Dowling (Crows, $216K)
Elijah Tsatas (Bombers, $292K)
Ed Allen (Magpies, $264K)
Hugh Bond (Crows, $202K)
Jaspa Fletcher (Lions, $278K)
George Wardlaw (Kangaroos, $294K)
Henry Hustwaite (Hawks, $228K)
RUCKMEN
Jacob Edwards (Kangaroos, $200K)
Lachlan McAndrew (Swans, $200K)
Alex Mirkov (Blues, $200K)
Hamish Free (Kangaroos, $200K)
Harry Barnett (Eagles, $256K)
Max Heath (Saints, $200K)
Dante Visentini (Power, $200K)
FORWARDS
Josh Sinn (Power, $233K)
Jaxon Binns (Blues, $238K)
Joe Richards (Magpies, $206K)
Finlay Macrae (Magpies, $290K)
Patrick Voss (Bombers, $200K)

---
FOLLOW ME ON TWITTER: @SportsbyFry for all things AFL Fantasy (and more)! Feel free to hit me up with any questions you have throughout the season. Good luck! ✌️