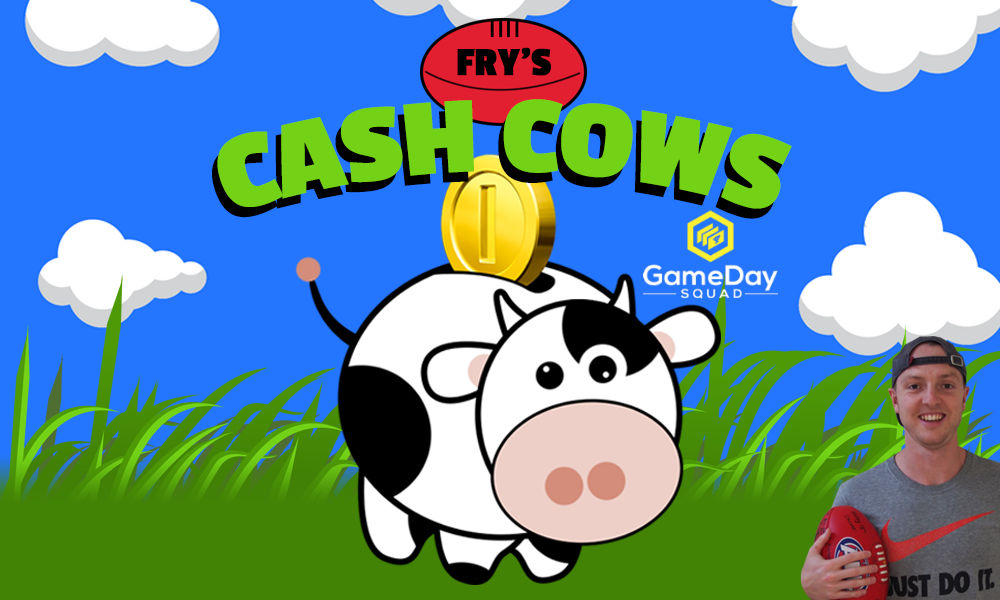 Once again; a preseason full of team changes, podcast downloads, Twitter refreshing and overanalysis is almost behind us with a new fantasy campaign just days away. Paranoia is setting in for a lot of the fantasy faithful and as we start to get debutant announcements and team sheets dropping, it's important to keep a level head. Below you can find my rookie rankings for the upcoming fantasy season, however, these are purely just one balding Australian's thoughts. If you really believe that Will Phillips can outscore Will Ashcroft this season, who am I to tell you you're wrong? As we make the final roster tweaks for Round 1, remember to trust your instincts, pay up on the bench and invest in the right rookies if you want to be successful in season 2023.
Make sure to also cast your eyes over:
My DT Talk 2023 Preseason Watchlist
My SBF article – The 20 most important rookies/cash cows for 2023
Rookie/cash cows picks are defined as players who are priced at $300,000 or lower
---
DEFENDERS
1. Reuben Ginbey, Eagles
AFL Fantasy Price: $284,000
Preseason Score: 68 from 56% TOG
2022 Average: 35 from 4 WAFL League games
West Coast's first pick in the 2022 draft looks every bit like a pillar for the future. Reuben Ginbey's hulking frame puts him in a good position to try and play 20+ games for the Eagles in his rookie season, which comes as a bonus for fantasy coaches. The Dunsborough local got a taste of senior footy last year playing for East Perth in the WAFL, with his numbers hardly a true reflection of his talent. There is bound to be a handful of games where Ginbey scores poorly and West Coast cops an L, and yet, I think he will be one of the last on-field rookies that coaches remove. Lock and load.
2. Alex Cincotta, Blues
AFL Fantasy Price: $200,000
Preseason Score: 73 from 80% TOG
2022 Average: 71.6 from 20 VFL games
Everyone loves a mature-ager and Alex Cincotta is shaping up as the newest, established footballer who will matter this year. Pinched from the Blues' reserves team, Cincotta earned a spot on their list after an impressive season at VFL level in 2022. He proved that he can score decent fantasy numbers as well, producing an average of 70+ a year ago and replicating that in the practice match hitout against Sydney. Even if he misses selection against the Tigers, I still think Cincotta is a handy basement DEF worthy of being added to your side.
3. Campbell Chesser, Eagles
AFL Fantasy Price: $200,000
Preseason Score: 35 from 61% TOG
2021 Average: 63.3 from 3 NAB League games*
Finally owning a clean bill of health, Campbell Chesser is ready to excel for the fantasy community. The dynamic Eagle is poised to make his AFL debut early this year, with West Coast confirming he will feature in their Round 1 outfit. Should Chesser push up the ground and onto a wing the way he did throughout the summer, you'd think reasonable point totals will flow. Don't be surprised if there's a big swing between his best and worst games, but that shouldn't stop you from adding Chess to your squad.
* last healthy season was 2021
4. Darcy Wilmot, Lions
AFL Fantasy Price: $200,000
Preseason Score: 43 from 76% TOG
2022 Average: 65.1 from 18 VFL games
Job security may be a concern, but let's not forget that the Lions played Darcy Wilmot in three finals last season. Making his debut against the Tigers in an epic elimination final triumph, Wilmot produced scores of 51, 61, 52 before Brisbane's season ended. There's optimism that the 2021 draftee can squeeze his way into their best 22, although I'm not confident Wilmot will be there all season. Still, reliable rookies are scarce down back to begin the season, making him a decent starting pick.
5. Lachie Cowan, Blues
AFL Fantasy Price: $242,000
Preseason Score: 47 from 72% TOG
2022 Average: 99.6 from 12 NAB League games
As a long-term prospect, I'm extremely keen on what Lachie Cowan can produce. Leading last year's draft class in kicks (20.2 per game), Cowan could become a +6 machine for Carlton if given the chance. We already know he's going to be in uniform to take on Richmond in the first hitout of the season, although there's some scepticism and doubt over his job security. He may have to fight for his spot in the Blues' senior side, but if Cowan can feature regularly you need to have the former Tassie captain in your team.
Best of the rest – Defenders
Before I sift through the other cheaper options, let's address some of the defenders slightly over the $300K price bracket. As it stands right now, Charlie Constable (Suns, $332K) is in over 33% of sides having seemingly found a home in the back-6 for Gold Coast. His 76 points against GWS came from 89% game time and while I have faith that Constable can put up some solid numbers, I won't be shocked if he's back in the VFL a month from now when their list is healthy. Newborn Dog, Liam Jones (Bulldogs, 321K) isn't as popular but still finds himself in 10% of teams after he took 11 marks and gathered 19 touches for a score of 88 against North last fortnight. I'm not as convinced that you can teach an old dog new tricks, so I'd avoid the temptation to select Jones.
Outside of the $300K+ choices, coaches will intently be watching Josh Weddle (Hawks, $266K) after his solid preseason since being drafted 18th overall. I still have my doubts over his scoring ability, but Weddle looks poised to play a fair bit of senior footy for Hawthorn this year. Selected one pick earlier, Adelaide's Max Michalanney (Crows, $268K) doesn't entice me at his price either given he'll likely play as a lockdown type. Similar could be said for Judd McVee (Demons, $200K) who is in the mix to debut against the Bulldogs, proving he can play a strong defensive role for Melbourne. However, that won't lead to a lot of fantasy points.
Deeeeep Dive
Not every cash cow can be in the mix for a Round 1 game, however, that doesn't mean their names aren't worth remembering. In no particular order, here are some of the other rookie priced defenders to consider throughout the season.
Jake Stein (Suns, $288K)
Josh Fahey (Giants, $200K)
Will Gould (Swans, $200K)
Rhett Montgomerie (Bombers, $200K)
Jaokb Ryan (Magpies, $246K)
Corey Wagner (Dockers, $285K)
Sam Banks (Tigers, $200K)
Sam Durdin (Blues, $213K)
Darragh Joyce (Lions, $241K)
Tylar Young (Tigers, $200K)

GameDay Squad – Create. Coach. Compete.
MIDFIELDERS
1. Will Ashcroft, Lions
AFL Fantasy Price: $298,000
Preseason Score: 97 from 83% TOG
2022 Average: 117.9 from 14 NAB League games
Surely you've heard everything that you need to know about Will Ashcroft and his dazzling junior career, but did you know:
He grew up as a Geelong fan, claiming that Joel Selwood is his favourite player
Will's younger brother Levi could join him at the Lions next season, shaping up as one of the top prospects in this year's draft class
Not only did Will's dad Marcus win three flags playing with Brisbane in the early 2000's, but he is second only to Simon Black (322) for career games with 318 appearances as a Lion
Chris Fagan said late last season that if Ashcroft was on their list now, he would've been in their AFL side as a 17-year old
None of these facts have much to do with his footballing ability, however, any fantasy coach who doesn't have Cashcroft on field to commence the season isn't taking this game seriously.
2. Cam Mackenzie, Hawks
AFL Fantasy Price: $288,000
Preseason Score: 92 from 73% TOG
2022 Average: 86.6 from 10 NAB League games
With Jaeger O'Meara and Tom Mitchell out the door, there is a void in Hawthron's engine room that needs to be filled. Enter Cam Mackenzie, who will understandably fall below James Worpel, Jai Newcombe and Josh Ward in the pecking order, but should still get his fair share of midfield snaps. Mackenzie didn't look out of place against the Magpies a fortnight ago and I expect him to churn out some noteworthy scores in his first season wearing brown and gold. The newest Hawk isn't a confirmed starter for this weekend yet, although I don't think that should scare coaches off.
3. Will Phillips, Kangaroos
AFL Fantasy Price: $270,000
Preseason Score: 56 from 78% TOG
2022 Average: 51.3 from 3 VFL games
After battling multiple health issues, it seems like Will Phillips is ready for a breakout. The 20-year-old has had a bumpy start to his AFL career, but he's on the cusp of putting that behind him and building on his fantasy career average of 43.5 points from 16 games. In recent times, a handful of coaches have opted to move Phillips onto their bench out of fears his scoring won't be as prolific as first thought. While he's bound to have some lean days, his career output to date has been affected by multiple sub appearances and I can see a world where Phillips produces a 60+ average this season. It'll be tough to do if Luke Davies-Uniacke and Jy Simpkin are firing though.
4. Ollie Hollands, Blues
AFL Fantasy Price: $280,000
Preseason Score: 68 from 84% TOG
2022 Average: 94 from 5 NAB League games
Primed to debut under the bright MCG lights, Ollie Hollands is quickly finding his way into a lot of classic teams. Carlton's first pick in 2022 will now look to secure a regular role in their best-22, with his versatility putting him in good stead. In his last year with the Murray Bushrangers, Hollands split his time between the midfield and the halfback line, excelling as an outside player while averaging 23.8 disposals a contest. Currently, he's only 13% owned but that percentage should only continue to climb as Thursday night draws closer.
5. Elijah Tsatas, Bombers
AFL Fantasy Price: $292,000
Preseason Score: N/A
2022 Average: 115 from 6 NAB League games
It's a shame that Elijah Tsatas suffered an MCL sprain back in January because if he didn't, there's a chance he may have been ranked as high as 2nd in this group. Essendon opted to draft the skilled MID in the top-5 and even though he'll miss a portion of the year, I still rate Tsatas very highly. He shows flashes that remind me of his new teammate Nic Martin, and the entire fantasy community would love to see Tsatas replicate Martin's fruitful rookie numbers in 2023. We have to be patient, but the Dons youngster is worth monitoring as a future downgrade target.
6. Matt Roberts, Swans
AFL Fantasy Price: $200,000
Preseason Score: 67 from 69% TOG
2022 Average: 90.7 from 19 VFL games
Scoring was hard to come by at the AFL level for Matt Roberts last year. Against the Tigers in Round 11, the Sydney cygnet managed just one kick, one handball, one tackle and gave away a free kick for a score of 6 on debut. That didn't stop him from putting up impressive averages in the VFL, with Roberts now in the mix for an early berth thanks in part to a strong summer. He displayed a healthy score in the practice game vs. Carlton which has seen some coaches place him on their MID bench – a move that I'm also considering.
7. Elijah Hewett, Eagles
AFL Fantasy Price: $268,000
Preseason Score: 5 from 31% TOG
2022 Average: 57 from 9 WAFL League games
There's no denying Elijah Hewett's talent, I just don't know how much he'll play for fantasy coaches. The Eagles draftee spent the last year playing sporadic senior footy in the WAFL and it appears as though he'll start his season there for his new club. Hewett showed glimpses of stardom in the preseason clashes and there's no doubt he'll appear for the AFL side as the year unfolds. Still, there are no guarantees he'll appear regularly, or that Hewett will be able to score rapidly once he gets a place in West Coast's senior team. One to consider, but hardly a home run cash cow choice.
Best of the rest – Midfielders
Just outside of the stereotypical cash cow budget, Jack Bytel (Saints, $305K) is drawing some attention as a starting choice thanks in large part to St Kilda's significant injury woes. His averages look poor, but Bytel turned some heads in 2021 in the games he wasn't forced to rock the sub vest. I'd rather invest in one of the aforementioned rookies, but I see the appeal. There are 11% of coaches that have similar hope for Matthew Johnson (Dockers, $200K) in year two at Freo, however he will be forced to bide his time before he gets a serious chance at midfield minutes. North Melbourne draftee George Wardlaw (Kangaroos, $294K) is another player worth remembering with the No. 4 pick still working his way back to full fitness. If he can piece together a good run of VFL footy, Clarko may reward him with a string of games.
Deeeeep Dive
Not every cash cow can be in the mix for a Round 1 game, however, that doesn't mean their names aren't worth remembering. In no particular order, here are some of the other rookie priced midfielders to consider throughout the season.
Connor Blakely (Suns, $235K)
Jhye Clark (Cats, $286K)
Blake Drury (Kangaroos, $200K)
Angus Sheldrick (Swans, $200K)
James Tunstill (Lions, $292K)
Billy Dowling (Crows, $216K)
Darcy Jones (Giants, $260K)
Ed Allen (Magpies, $264K)
Hugh Bond (Crows, $202K)
Jaspa Fletcher (Lions, $278K)
Henry Hustwaite (Hawks, $228K)
RUCKS
1. Samson Ryan, Tigers
AFL Fantasy Price: $200,000
Preseason Score: 42 from 24% TOG
2022 Average: 80.8 from 15 VFL games
There were a few times this preseason when Samson Ryan impressed me. Unfortunately for him and the fantasy community, he'll start the season out of the AFL side and you can't even utilise Ryan as a loophole option in Round 1. The only way he can squeeze into the Tigers' senior side is if an injury strikes the likes of Tom Lynch or Toby Nankervis, which means the Richmond RUC/FWD will probably remain a non-factor. If that opportunity does come though, I expect Ryan to step up and score reasonably well.
2. Lachlan McAndrew, Swans
AFL Fantasy Price: $200,000
Preseason Score: 33 from 38% TOG
2022 Average: 31 from 11 VFL games
Boasting an ownership percentage over 18%, Lachlan McAndrew has quickly emerged as a popular R3 choice to start the season. If his scoring numbers are anything to go by then McAndrew won't be making us a ton of cash, although the Swans may give him regular games with Tom Hickey under an injury cloud. It's worth highlighting that McAndrew laid six tackles against Carlton a fortnight ago, while producing 10 hitouts from his 21 ruck contests. Those stats didn't equate to a massive score, but the Swans tall is shaping up as the only basement-priced ruck who will be playing AFL footy on the weekend.
3. Max Heath, Saints
AFL Fantasy Price: $200,000
Preseason Score: N/A
2022 Average: 56.2 from 15 VFL games
We didn't get to see Max Heath strut his stuff in the practice match, but that hasn't stopped coaches from investing in him on the bench. An ankle complaint spoilt any chance Heath had of pushing for a spot in the starting 22 to clash with Fremantle and you'd expect the 20-year-old to primarily spend the year in the VFL. As he continues to develop, we could see the Saints reward him throughout the season, but the real bonus in picking Heath comes when you combine him with Rowan Marshall. Pairing the two Saints together not only gives you an easy weekly loophole play, if anything (god forbid) were to happen to Marshall your R3 could benefit greatly.
Deeeeep Dive
Not every cash cow can be in the mix for a Round 1 game, however, that doesn't mean their names aren't worth remembering. In no particular order, here are some of the other rookie priced ruckmen to consider throughout the season.
Jacob Edwards (Kangaroos, $200K)
Alex Mirkov (Blues, $200K)
Ned Moyle (Suns, $200K)
Harry Barnett (Eagles, $256K)
Dante Visentini (Power, $200K)
FORWARDS
1. Harry Sheezel, Kangaroos
AFL Fantasy Price: $296,000
Preseason Score: 75 from 87% TOG
2022 Average: 88.5 from 14 NAB League games
Poised to become of the key rookies in fantasy circles, it's now confirmed that Harry Sheezel will take to the field against West Coast this weekend. It's no real surprise to see North giving Sheezel a gig, with the excitement machine capturing the attention of many throughout the summer. His natural ability to hit the scoreboard has been on full display, with Clarkson opting to deploy Sheezel behind the ball in defence as well this preseason. I won't be mad about the prospect of Sheezel gaining DEF status, but even if he doesn't, be sure to start him at F5 or F6 and thank me later.
Showtime.

Harry Sheezel will debut in Saturday's season opener against the @WestCoastEagles 🎬

📝: https://t.co/A8HTbRMv6P#Kangas pic.twitter.com/UaSjnsuUpo

— North Melbourne FC (@NMFCOfficial) March 14, 2023
2. Bailey Humphrey, Suns
AFL Fantasy Price: $290,000
Preseason Score: N/A
2022 Average: 100 from 11 NAB League games
Reports surfaced today that Bailey Humphrey may have to wait another week or two before living out a childhood dream and making his AFL debut. When he does, it would be wise to invest in the Gold Coast talent before he rises too much in value. Considered the most well-rounded prospect in last year's draft by many, Humphrey showed during his days with Gippsland Power that he can either throw his frame around at midfield stoppages or instead, push forward and hit the scoreboard thanks to his dangerous goal sense. Humphrey is capable of amassing some big scores and I'm excited to see what he has in store for his first season with the Suns.
3. Mattaes Phillipou, Saints
AFL Fantasy Price: $282,000
Preseason Score: 47 from 80% TOG
2022 Average: 123.1 from 8 SANFL U-18 games
In five years' time, we could look back and realise that St Kilda got an absolute steal with Mattaes Phillipou. The ultra-gifted teen is set to feature early and often under Ross Lyon, already emerging as a fan favourite and a popular character. Fantasy coaches will only want to see him score well, and even though he chalked up some MONSTER numbers in the U-18 SANFL comp, it'll be harder to replicate a 120+ score at the game's top level. I still have faith that you can play Phillipou on your field most weeks, but there are bound to be some duds along the way.
4. Fergus Greene, Hawks
AFL Fantasy Price: $200,000
Preseason Score: 67 from 81% TOG
2022 Average: 68.1 from 17 VFL games
Bagging 50+ goals in the VFL a season ago saw Fergus Greene gain an AFL lifeline this summer. Originally drafted by the Bulldogs, Greene managed five games across a four-year period with the club before he was released and landed at Box Hill. The Hawks will happily welcome him to their forward mix this season and you'd expect Greene's spot in the side to be relatively safe. A slow-burn cash cow, Greene might not score over 65 on a regular basis, but he can provide coaches with a low-risk, cheap choice on your bench.
5. Sam Sturt, Dockers
AFL Fantasy Price: $200,000
Preseason Score: 56 from 84% TOG
2022 Average: 55.8 from 17 WAFL League games
With just four AFL games to his name, it's tough to forecast what Sam Strut will produce in 2023. A full season of WAFL footy last year was a welcome change for the oft-injured Docker, as Sturt managed 17 games for Peel Thunder kicking 26 goals. At times this preseason, we've seen Sturt push up the ground rather than feature as a traditional small forward closer to goal. If he can keep working his way out of the attacking arc, then his scoring should only increase. There are a plethora of FWD options around the $200K mark, but if Michael Walters remains out of the side and Michael Frederick fails to get up, Sturt could start the season with a bang.
Best of the rest – Forwards
The name that is likely at the forefront of everyone's mind is confirmed Eagles debutant Noah Long (Eagles, $200K), who has made a quick impression after being drafted 58th overall. With the season start imminent, I don't think I can squeeze Long into my team, but the smaller mid/forward could feature in a reasonable number of games this year for West Coast. You'd expect Luke Pedlar (Crows, $213K) to fall in the same category, with Adelaide eager to get games into their homegrown prospect. Pedlar was forced to play primarily as a small forward in the preseason, but he has the ability to win his own footy if he's used further up the ground.
Another basement rook who finds himself stuck up forward is Kane Chandler (Demons, $200K), who has regularly been utilised as an unused substitute spending the entire game on the pine. He might crack into Melbourne's outfit early and could be worth a shout after scoring 45 in the practice match vs. Richmond. But wait, there's more! Essendon duo Alwyn Davey Jr (Bombers, $212K) and Jye Menzie (Bombers, $283K) could give us additional options up FWD, although I'm not overly keen on either of them. Davey could score a 30 and emerge as a one-hit-wonder, while Menzie's inflated starting price makes me want to look elsewhere for bench picks.
Deeeeep Dive
Not every cash cow can be in the mix for a Round 1 game, however, that doesn't mean their names aren't worth remembering. In no particular order, here are some of the other rookie priced forwards to consider throughout the season.
Josh Sinn (Power, $233K)
Arthur Jones (Bulldogs, $200K)
Thomas Berry (Suns, $286K)
Bailey Laurie (Demons, $200K)
James Tsitas (Suns, $200K)
Joe Richards (Magpies, $206K)
Ollie Dempsey (Cats, $200K)
Finlay Macrae (Magpies, $290K)
Aaron Cadman (Giants, $300K)
Anthony Caminiti (Saints, $200K)
Jacob van Rooyen (Demons, $200K)

---
FOLLOW ME ON TWITTER: @SportsbyFry for all things AFL Fantasy (and more)! Feel free to hit me up with any questions you have throughout the season. Good luck! ✌️