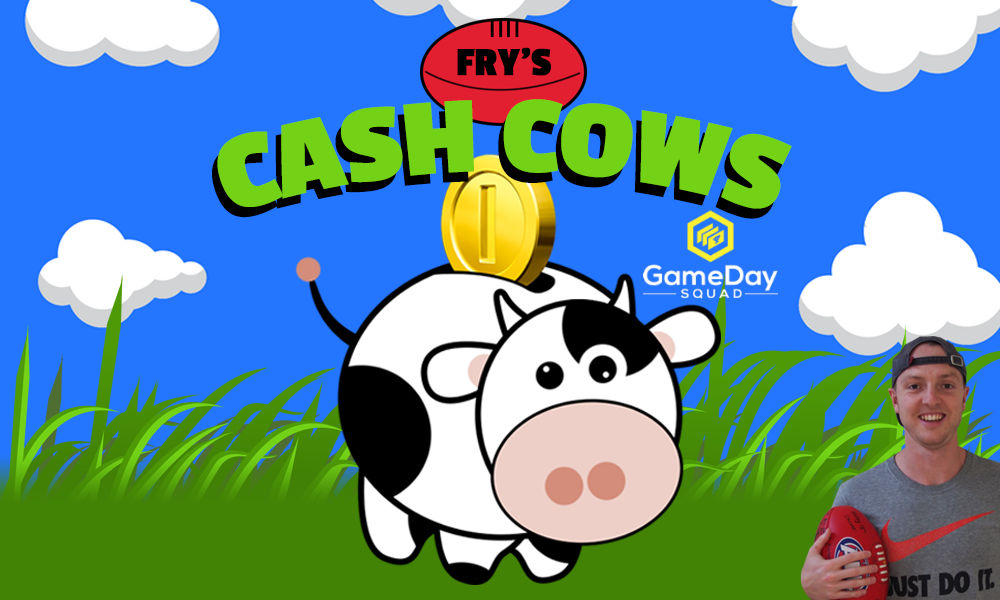 One down, 22 to go!
The fantasy season unannounced itself with a bang as almost every coach was forced to deal with one issue or another over the weekend. Whether it was Elliot Yeo that threw you a curveball, Will Phillips named as the sub, or falsely trusting the trio of Tom Stewart, Tristan Xerri and Josh Kelly –  Round 1 tested a lot of the fantasy community. Some of the popular rookies came to play and helped boost their coaches up the rankings, but we were left with some unimpressive scores along the way as well. There's a lot to ponder at the trade table heading into Round 2, with cash cows once again a primary focus for those of us that want to be successful.
Make sure to also cast your eyes over:
My DT Talk 2023 Rookie Guide
My DT Talk 2023 Preseason Watchlist
My SBF article – The 20 most important rookies/cash cows for 2023
Rookie/cash cows are defined as players who started the season priced at $300,000 or lower
---
Cash Cow King – Round 1
There was Harry Sheezel (118) and everybody else in Round 1. The versatile North draftee looked right at home in blue and white, chalking up a ridiculous 34 touches while patrolling the backline. In the same game, Reuben Ginbey (92) put in a strong performance with his 12 tackles the second-most ever by a debutant. Kade Chandler's (104) complete game surprised a few, myself included, and is bound to see him earn some votes, while Hawthorn midfielder Cam Mackenzie (75) and Roo ruck Charlie Comben (80) round out the top-5.
Loading ...
Round 1 Power Rankings
After 1 week of action, these are the top 10 cash cow performers in season 2023!
Making Moves
Money makers
It shouldn't have to be said, but if you don't own all of the mainstream rookies like Sheezel, Ashcroft, Phillipou, Ginbey and Mackenzie, I'd make it a priority to acquire them. St Kilda's youngster probably sits at the bottom of the pile with some concerns over his scoring ability, but Mattaes will still be a prominent cash cow that all coaches should aim to own – even if he's sitting on the bench. Currently the most traded in player, it's no secret that fantasy coaches want Kade Chandler ($260K, 104, BE -27) in their team after his mammoth score against the Bulldogs. I was one of the coaches tossing up whether to pick him or not prior to bouncedown and while I missed the boat last week, it's not too late if you can pounce now.
Outside of Chandler, another pair of FWD cash cows Luke Pedlar ($246K, 70, BE -4) and Jye Menzie ($313K, 74, BE 8) put their hands up as potential targets. Menzie was dangerous around goal for Essendon in just the 3rd game of his career, while Pedlar impressed at times during an ugly Crows performance. It's safer to keep both of them on the bench and while I'd prefer the extra cash by grabbing Pedlar, Menzie's scoring should be higher. Alwyn Davey Jr ($237K, 58, BE 5) already finds himself in 51% of teams, but if you avoided him, then he is shaping up to be a fine bench piece too.
Down back, lifelong Gold Coast fan Bodhi Uwland ($233K, 68, BE -4) is the most sought after rookie following his 20 touches against the Swans. Scoring 33 points in the last quarter helped save his score and I'm worried that he'll make way with Lachie Weller returning. However, if Uwland can keep his spot in the Suns' team he should keep generating cash in the short term. Judd McVee ($219K, 49, BE 8) fits that mould as well, with an average close to 45 on the cards for as long as remains in Melbourne's best-22.
Cut them loose
It's a bummer for the fantasy coaches that rolled the dice on Jack Bytel ($340K, 83, BE 6) with the Saints midfielder performing well in Round 1. Running with Caleb Serong at times, Bytel still managed to produce the second highest score of his 17-game career by laying 7 tackles and gathering 15 touches. A knee injury is set to rule him out for an undetermined amount of time, making him a must-trade for now. Given his injury history, I'd be wary of bringing him back in, but Bytel could become a downgrade target again once he's fully fit. Could.
Thin Ice
At this stage, it's too early to pull the trigger on trading out a rookie following their one game effort. If they fail to make the cut when teams drop on Thursday, then things change. There were moments in the Eagles/Kangaroos game where both Noah Long ($211K, 38, BE 15) and Campbell Chesser ($207K, 32, BE 19) stood out, although they could certainly be on the chopping block. I can see a world where Long ends up as the sub against GWS, or worst excluded from the team, but I have more faith in Chesser's ability to stay in West Coast's side. Another player that showed flashes of promise was Anthony Caminiti ($204K, 29, BE 20) who is lucky St Kilda's injury list is so extensive. For the 7,500 people out there with him in their squad, let's hope Caminiti can take it up a notch in his second game.
GameDay Squad – Create. Coach. Compete.
Keep the faith
Seeing Ollie Hollands ($289K, 44, BE 27) and Lachie Cowan ($247K, 35, BE 25) score poorly in the first game of the year wasn't ideal. It is worth noting that both debutants played better than their scoreline suggests and I'm assuming they'll stay in Carlton's side to take on the reigning premiers. Cowan's place in the team could come into question after he was subbed out against Richmond due to cramping issues, but I'm joining 37% of the competition and crossing my fingers for Vossy to give him another chance.
Second-year Lion Darcy Wilmot ($219K, 49, BE 8) did his job as a bench rook despite Brisbane copping a heavy loss, with Fergus Greene ($205K, 30, BE 20) somewhat of a disappointment at the other end of the ground. You know what you sign up for with key forwards and low scores should be expected. That hasn't stopped nearly 3,500 coaches from chopping Greene out – probably for Kade Chandler. If you're making a move for Chandler, go for it, otherwise I'd give the mature-age Hawk another chance.
Wait and see
There weren't a lot of coaches that took a punt on Adelaide defender Max Michalanney ($282K, 50, BE 21) given his track record of low scores throughout his junior days. The key back still managed to keep pace with his elite fantasy teammate Rory Laird (too soon owners?) but I wouldn't be investing in the Crows backman, especially given his inflated price tag. North Melbourne tall Charlie Comben ($296K 80, BE 0) also started the year above basement price and he turned plenty of heads by scoring 80 points last weekend. With Tristan Xerri going down early, Comben attended 40 ruck contests and I'm not sure he'll have the same workload when Todd Goldstein likely enters the fray to play the Dockers. I'm also taking a cautious approach with young Roo Miller Bergman ($217K, 46, BE 10) who could be a placeholder in North's team for Darcy Tucker and/or Aaron Hall. I'll change my tune if he excels against Fremantle, but I want to get another look at him before investing.
Sub status
Subbed On – Reef McInnes, Will Phillips and Matt Roberts
Subbed Off – Lachie Cowan and Bailey Laurie
A large number of cash cows were affected by the sub vest in Round 1, with Will Phillips ($281K, 46, BE 24) the biggest casualty. After a strong preseason, Phillips found himself locked in the midfield for roughly half of the coaches in the game before he was named as North's substitute. He managed to score his 46 points from just 53% TOG, although I'd want to see him in their starting 22 before I trade Phillips into my side. The other inclusions via the vest Reef McInnes ($283K, 36, BE 32) and Matt Roberts ($204K, 29, BE 20) didn't get a real crack at producing a noteworthy score and it's hard to envision either of them coming into their respective sides. Roberts remains intriguing after scoring 29 in just 12% TOG, but he'll either keep the vest or be playing for Sydney's VFL side this weekend. I've already addressed Lachie Cowan being subbed out of the Carlton game and hopefully he can stay in the side – I don't have the same optimism for Bailey Laurie ($200K, 17, BE 35) though. Expect his name to be amongst the Demons' outs on Thursday.
Reserves Watch
There was no VFL, SANFL or WAFL action outside of some practice hitouts last weekend, however the Victorian state league will return on Friday. The SANFL will recommence the following weekend, with the WA league starting up one week later, giving us plenty to look forward to when it comes to analysing cash cows at the lower level. Hardcore fans will know that I've been extremely bullish on Bailey Humphrey ($290K, DNP, BE 36) and his chances of scoring at a decent clip right away, however he may have to earn his place in Gold Coast's side. Humphrey will return this week from an infected foot and likely play in the VFL, but it's smart to stockpile some cash for his impending debut. Keep an eye on Alex Cincotta ($200K, DNP, BE 25) as well after Carlton's mature-aged backman failed to squeeze himself into the Round 1 team. If Cowan struggles this weekend and Cincotta stars, then I could see the Blues making a straight swap.
Remember the Name
In no particular order, here are some of the other rookie-priced players to consider throughout the season.
DEFENDERS
Jake Stein (Suns, $288K)
Josh Fahey (Giants, $200K)
Will Gould (Swans, $200K)
Rhett Montgomerie (Bombers, $200K)
Jaokb Ryan (Magpies, $246K)
Corey Wagner (Dockers, $285K)
Sam Banks (Tigers, $200K)
Sam Durdin (Blues, $213K)
Darragh Joyce (Lions, $241K)
Tylar Young (Tigers, $200K)
MIDFIELDERS
Connor Blakely (Suns, $235K)
Jhye Clark (Cats, $286K)
Blake Drury (Kangaroos, $200K)
Angus Sheldrick (Swans, $200K)
James Tunstill (Lions, $292K)
Billy Dowling (Crows, $216K)
Darcy Jones (Giants, $260K)
Ed Allen (Magpies, $264K)
Hugh Bond (Crows, $202K)
Jaspa Fletcher (Lions, $278K)
Henry Hustwaite (Hawks, $228K)
RUCKMEN
Jacob Edwards (Kangaroos, $200K)
Alex Mirkov (Blues, $200K)
Ned Moyle (Suns, $200K)
Harry Barnett (Eagles, $256K)
Dante Visentini (Power, $200K)
FORWARDS
Josh Sinn (Power, $233K)
Arthur Jones (Bulldogs, $200K)
Thomas Berry (Suns, $286K)
Bailey Laurie (Demons, $200K)
James Tsitas (Suns, $200K)
Joe Richards (Magpies, $206K)
Ollie Dempsey (Cats, $200K)
Finlay Macrae (Magpies, $290K)
Aaron Cadman (Giants, $300K)
Anthony Caminiti (Saints, $200K)
Jacob van Rooyen (Demons, $200K)
---
FOLLOW ME ON TWITTER: @SportsbyFry for all things AFL Fantasy (and more)! Feel free to hit me up with any questions you have throughout the season. Good luck! ✌️