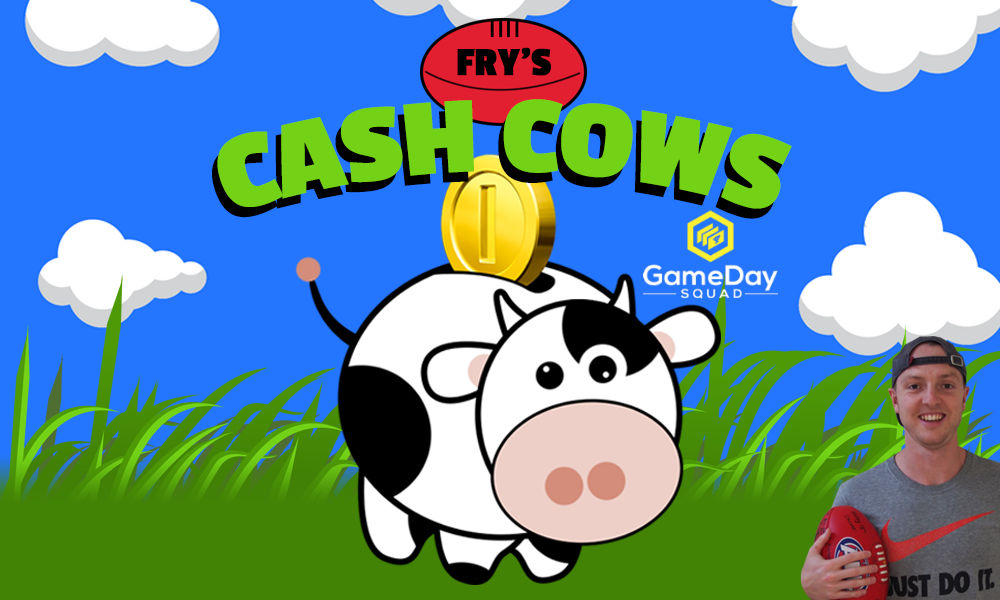 Two down, 22 to go!
We're only a fortnight into the fantasy season and a line is already being drawn in the sand regarding the cash cows we can trust. Through two weeks, a group of rookies have stood up and established themselves as players we can trust on our field – thank god for Harry Sheezel. With the good comes the bad though, as some of our bench picks struggle to score and find themselves on the chopping block as a result. There's a long way still to go, but it's not to late to ensure you've invested in the right cash cows.
Make sure to also cast your eyes over:
DT Talk 2023 Rookie Guide
DT Talk 2023 Preseason Watchlist
SBF – The 20 most important rookies/cash cows for 2023
Rookie/cash cows are defined as players who started the season priced at $300,000 or lower
---
Cash Cow King – Round 2
Second-game Blue Ollie Hollands (77) kicked the weekend off with an impressive score that benefitted a lot of coaches, however, there was once again a clear winner for the CCK in Round 2. Will Ashcroft (90) and Reuben Ginbey (71) did their thing as they keep climbing in value, while Anthony Caminiti (79) deserves a mention for his ripper score. No one could get close to Harry Sheezel (127) though, with the versatile North Melbourne teenager proving his Round 1 antics were no fluke by dropping another 120+ score. Ridiculous.
Loading ...
Round 2 Power Rankings
After 2 weeks of action, these are the top 10 cash cow performers in season 2023!
Power Ranking 2023 #AFLFantasy Cash Cows Round 2

1. Harry Sheezel ↔️
2. Reuben Ginbey ⬆️ 1
3. Will Ashcroft ⬆️ 4
4. Kade Chandler ⬇️ 2
5. Jye Menzie ⬇️ 1
6. Luke Pedlar ⬆️ 1
7. Cam Mackenzie ⬇️ 3
8. Ollie Hollands (NR)
9. Darcy Wilmot (NR)
10. Mattaes Phillipou ⬇️ 2 pic.twitter.com/JrrfPgENQ3

— SportsbyFry (@sportsbyfry) March 28, 2023
Making Moves
Money makers
There's Harry Sheezel ($466K, 127, BE -40), then a vast amount of daylight. The Roos rook has hardly put a foot wrong two weeks into his career, gathering 64 disposals and recording what can't be too far off a record breakeven of -40. The second-most popular player in the game Will Ashcroft ($369K, 90, BE -3) picked up the Rising Star nom thanks to his stellar performance last Friday, with another top tier cash cow Reuben Ginbey ($384K, 71, BE -3) doing his job in a win over the Giants. Early on, it feels like this trio are the most important rookies for coaches, but Kade Chandler ($328K, 64, BE -21) had another good game to ensure his value keeps trending upward too. A suspension to Kysaiah Pickett will buy him some more time, although as the season progresses I become more confident in his ability to hang around.
Last year, Chandler put up a respectable 86.4 points from 17 games in the VFL and his solid start to the season may keep him in the best 22 for the foreseeable future. It stings if you're in the 65% of non-owners as he costs an extra $128K now, but this is the final chance to grab him. Bench placeholders Luke Pedlar ($290K, 55, BE -4) and Darcy Wilmot ($257K, 58, BE -3) did their job at opposite ends of the ground with Ollie Hollands ($260K, 77, BE 5) chalking up 20 touches for the first time in his career. He and Cam Mackenzie ($347K, 44, BE 18) seem like safe, fieldable players in the midfield right now, even though Mackenzie dropped a stinker against the Swans. A ripper game from Anthony Caminiti ($248K, 79, BE -11) has seen him become a top-10 trade target this week. I don't expect him to churn out 60+ regularly, but the injury woes at the Saints mean Caminiti should be around for most of April.
Keep the faith
As any dedicated fantasy coach knows, key defenders are not worth mentioning when it comes to rookie picks. Still, there were some impressive moments from Crows backman Max Michalanney ($304K, 48, BE 18) over the weekend as he recorded a team high 7-intercept possessions. He could have some bright moments going forward for 4.7% of fantasy sides, but it'll be a bumpy ride. It was also nice to see Fergus Greene ($229K, 51, BE 6) rising in price despite kicking 0.4 over the weekend. Greene should continue to be a handy bench piece for coaches, along with Alwyn Davey Jr ($269K, 47, BE 3) who started with a bang only to fizzle out with an 11-point second half.
The pair of cheaper FWD's aren't a trade priority yet, nor is Jye Menzie ($355K, 62, BE 7) who keeps rewarding the small portion of coaches who started with him. Jake Stringer could potentially return this weekend for Essendon, which may see Davey Jr or Menzie squeezed out – or worse, forced to play as the sub. However they've done enough to hold their place in our teams until that eventuates. The owners of Miller Bergman ($246K, 48, BE 4) may also be sweating after Aaron Hall amassed 38 touches in North's VFL hitout. Bergman hasn't lit the world on fire yet with a pair of 40's, although thanks to his low breakeven there's no reason to panic just yet. Should he survive the axe.
Speaking of, there are currently over 1,500 coaches who are giving Mattaes Phillipou ($315K, 42, BE 23) the flick following his 7-touch game on the weekend. With St Kilda light on for marking targets up forward, Phillipou is spending more time inside-50 than coaches would like at the moment and his cash growth has stalled. Hell, the likes of Tom Cole and Adam Tomlinson have made more money than Phillipou this season! I'm still backing him in to produce some stunning scores in 2023 – we just might have to be patient before we get them. Hold.
Cut them loose
Unless a cash cow misses selection on Thursday and becomes a red dot, there aren't too many players that demand our trade attention yet. If I had to pick one though, it would be North Melbourne tall, Charlie Comben ($312K, 19, BE 25). He should still outperform his breakeven while serving as Goldy's sidekick, but we won't see Comben demand enough of the ruck work to score consistently. He's already sitting at an inflated price and I'd prefer to flick him to one of the aforementioned players and potentially save a few dollars in the process.
GameDay Squad – Create. Coach. Compete.
Thin Ice
Two weeks in and already some of our mainstream bench picks are in danger of being omitted when the teams drop. Subbed out at three-quarter time against GWS, Campbell Chesser ($214K, 27, BE 20) could be excluded from the Eagles' Round 3 side along with first-year teammate Noah Long ($226K, 34, BE 14). I'm hopeful that Adam Simpson will continue to embrace the youth movement, but neither of the West Coast teens has shown an ability to score through two games. Let's hope they can still make us some extra cash before they become red dots.
I don't have the same optimism for Bodhi Uwland's ($257K, 27, BE 10) moving forward, with his place in Gold Coast's side also under fire. I thought he showed promise on debut, but last weekend Uwland managed to touch the footy just five times which could see him dropped. Judd McVee ($234K, 26, BE 17) had a similarly quiet game on Friday night, although he's not known for his high-scoring ceiling. Still, coaches that invested in McVee were hoping he could remain in the Dees' outfit long enough to make some decent coin. The potential inclusion of Steven May and 36 disposals from Michael Hibberd in the VFL means he may become the odd man out. Lachie Cowan's ($260K, 40, BE 21) place in Carlton's side seems to be more secure, although he's running out of chances in the fantasy community. We need to see more.
Wait and see
As I mentioned before regarding key backmen, investing in them usually leads to limited cash generation. Tylar Young ($200K, 23, BE 25) displayed that in his first AFL game by failing to reach his breakeven, although his teammates Samson Ryan ($225K, 57, BE 3) could offer much more upside for coaches. He managed half a dozen hitouts from his 14 ruck contests and kicked three goals while sitting at R3 for roughly 38% of the competition, although I'm against trading him in right away. First-gamers Harry Rowston ($261K, 19, BE 41) and Elijah Hewett ($253K, 4, BE 51) made their debut on the same field last week, but neither of them will be trade in options this week. Rowston's stay will be short for the Giants as they welcome back Josh Kelly and Lachie Whitfield and he returns to the two's. However, Hewett may not be shown the door so swiftly with the chance West Coast opts to utilise him as their substitute again in the Western Derby. From a fantasy standpoint, he's not worth taking a chance on until he shakes the warm-up gear and features in a full game.
Sub status
Subbed On – Cooper Whyte, Reef McInnes, Matt Roberts, Connor Stone, Elijah Hewett
Subbed Off – Campbell Chesser
Chesser was the only cash cow who found himself watching the final phase of the game, but there were plenty of youngsters who started with the vest in Round 2. Cooper Whyte ($200K, 6, BE 53) kicked things off in the first game of the round and in the process, he set a trend for the other cash cows who hit the field late. Reef McInnes ($270K, 12, BE 46) managed to kick a goal but barely got a chance with limited game time, Connor Stone ($249K, 26, BE 32) failed to capitalise from a Jacob Wehr injury in the first half, and Matt Roberts ($201K, 15, BE 27) managed to nearly double his game time but only scored half as many points. The trio of McInness, Roberts and Hewett could all continue to rock the vest this week, but unfortunately, none of them will be making any money in the process.
Reserves Watch
Now that he's got a clean bill of health, Bulldogs youngster Arthur Jones ($200K, DNP, BE 25) is a confirmed starter to clash with Brisbane on Thursday night. I want to take a look at his role before investing in the craft small forward who averaged 42 points from 16 games last season with Footscray. I can't see Collingwood wanting to make a change to their side after their efforts against Port, but it was encouraging for Finlay Macrae ($290K, 101, BE 36) to return from injury in the ressies with 30 touches and a goal for a score of 101. His teammate and 2022 draftee Ed Allen ($264K, 84, BE 33) helped himself to 24 disposals in the same game, but he'll also have to wait for a chance at senior footy. Melbourne tall Jacob van Rooyen ($200K, 102, BE 25) might not have as long to wait, offering some potential ruck support with Max Gawn going down.
Gathering 19 touches with 11 marks might have him in the selection mix, while dumped Demon Bailey Laurie ($200K, 101, BE 35) did his best to earn a recall in Casey's decisive win with 27 disposals and a fantasy century of his own. Preseason darling Alex Cincotta ($200K, 58, BE 25) won't force the Blues to consider him and the same could be said for hyped Gold Coast draftee Bailey Humphrey ($290K, 45, BE 36). There are over 3,500 coaches who were hoping Humphrey could shine in the VFL and force his way into the Suns' AFL lineup, however after accumulating just 13 touches, they'll have to wait another few weeks. Lastly, George Wardlaw ($294, 66, BE 37) managed to turn some heads during his first game in North Melbourne colours. The No. 4 overall pick laid six tackles and recorded 12 disposals in just three-quarters of action as he builds towards an inevitable AFL debut.
Remember the Name
In no particular order, here are some of the other rookie-priced players to consider throughout the season.
DEFENDERS
Jake Stein (Suns, $288K)
Josh Fahey (Giants, $200K)
Will Gould (Swans, $200K)
Josh Weddle (Hawks, $266K)
Rhett Montgomerie (Bombers, $200K)
Jaokb Ryan (Magpies, $246K)
Corey Wagner (Dockers, $285K)
Sam Banks (Tigers, $200K)
Sam Durdin (Blues, $213K)
Darragh Joyce (Lions, $241K)

MIDFIELDERS
Connor Blakely (Suns, $235K)
Jhye Clark (Cats, $286K)
Blake Drury (Kangaroos, $200K)
Angus Sheldrick (Swans, $200K)
James Tunstill (Lions, $292K)
Billy Dowling (Crows, $216K)
Darcy Jones (Giants, $260K)
Ed Allen (Magpies, $264K)
Hugh Bond (Crows, $202K)
Jaspa Fletcher (Lions, $278K)
Henry Hustwaite (Hawks, $228K)
RUCKMEN
Jacob Edwards (Kangaroos, $200K)
Lachlan McAndrew (Swans, $200K)
Alex Mirkov (Blues, $200K)
Ned Moyle (Suns, $200K)
Harry Barnett (Eagles, $256K)
Dante Visentini (Power, $200K)
FORWARDS
Josh Sinn (Power, $233K)
Arthur Jones (Bulldogs, $200K)
Thomas Berry (Suns, $286K)
Bailey Laurie (Demons, $200K)
James Tsitas (Suns, $200K)
Joe Richards (Magpies, $206K)
Ollie Dempsey (Cats, $200K)
Finlay Macrae (Magpies, $290K)
Aaron Cadman (Giants, $300K)
Jacob van Rooyen (Demons, $200K)
---
FOLLOW ME ON TWITTER: @SportsbyFry for all things AFL Fantasy (and more)! Feel free to hit me up with any questions you have throughout the season. Good luck! ✌️