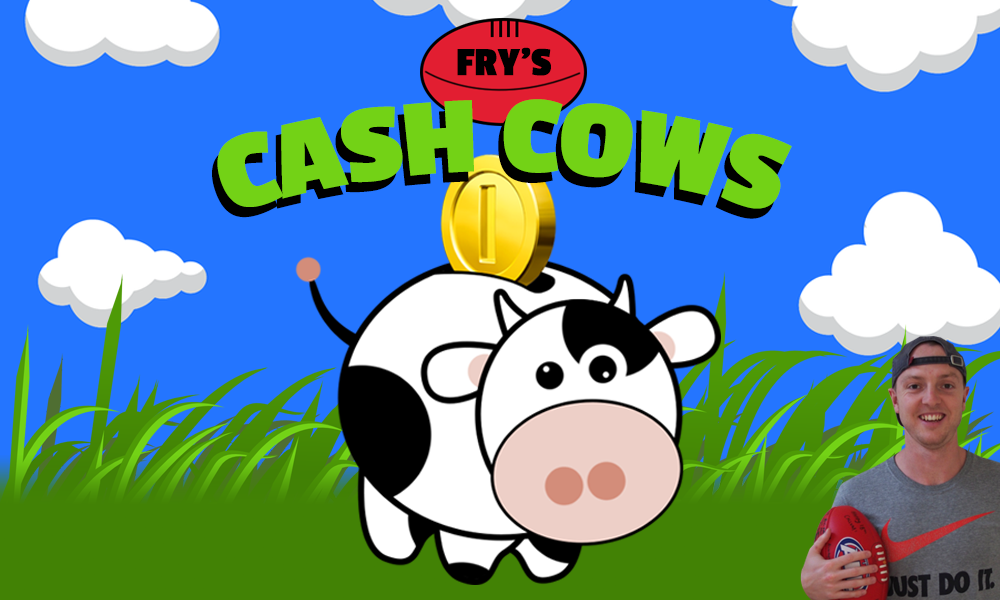 This year will be my 5th season previewing the rookies for the DT Talk community. One thing I've learned in my time is that despite the preseason clamouring over reliable rooks we annually have an abundance of cash cows to choose from. Nailing the right ones is where things become difficult. Casting an eye over the potential picks as the preseason games arrive is a wise idea and it's important to take the results with a grain of salt. These hitouts won't tell us all we need to know, but it'll go a long way to determining which players are given an early crack at AFL footy.
Rookie/cash cows picks are defined as players who are priced at $350,000 or lower
Catch more from Fry by visiting the SportsbyFry website for more AFL Fantasy, NBA and NFL articles!
---
Debutants: 3 in 2022, 9 in 2021
The majority of the fantasy attention at West Lakes this season will be focused on Rory Laird and new skipper Jordan Dawson, but a few youngsters are sticking their hands up for a regular gig following a strong preseason. The player most coaches are high on is third-year Crow Luke Pedlar (FWD, $213K, 19.7%), who has been hampered by injuries early on in his career to date. An average of 69.1 from 14 SANFL games bodes well for his scoring output and a large portion of the fantasy community have slotted him into their FWD unit already.
A trio of draftees could all see some game time in year one as well, with Billy Dowling (MID, $216K, 1.4%) the one garnering the most interest. He averaged a competition-best 125.5 points in the SANFL U-18's last year, claiming MVP honours – buoyed by ridiculous scores like his Round 16 effort against Glenelg when Dowling scored 215 (this is not a typo!) points thanks to 44 disposals, 17 marks, and four goals. Father-son selection Max Michalanney (DEF, $268K, 3.2%) and tackling machine Hugh Bond (MID, $202K, 1.5%) rounded out Adelaide's draft haul, looming as cash cows to keep an eye as they likely begin their footy journey at SANFL level.
Debutants: 1 in 2022, 3 in 2021
We all know what Will Ashcroft (MID, $298K, 61.8%) presents as a fantasy asset. If not, check out my Deck of DT piece on the Brisbane jet and why he'll be the most important cash cow in 2023. Outside of Ashcroft, there aren't too many other popular, cheap Lions up for grabs. Darcy Wilmot (DEF, $200K, 42.5%) does appear in 25,000 teams right now after averaging 54.6 from three finals appearances in 2022. However, there are no guarantees that Wilmot will be able to hold down a spot in the best-23 as Brisbane gear up for a serious flag tilt. Debutants from a season ago Kai Lohman (FWD, $209K, 1.1%) and James Tunstill (MID, $292K, 0.8%) could see sporadic games throughout the season, but I'm not confident that either of them will play more than five at the top level.
Debutants: 3 in 2022, 3 in 2021
The injury to Sam Walsh has seemingly opened up a short-term spot in Carlton's engine room and there's speculation over who could fill the void. While he won't see a high midfield workload, Walsh's setback could pave the way for Oliver Hollands (MID, $280K, 3.1%) to make his debut as early as Round 1. A skilled outside player who recorded a 94 AVG in his final junior season, Hollands could find a home on a half-back flank or further up the ground. If he squeezes his way in, that'll mean that Lachie Cowan (DEF, $242K, 5.5%) is still on the outs, although I'm a big fan of the Blues' second pick from the most recent draft.
Cowan grew up a Carlton fan and after serving as the co-captain for the Allies last year, he slid all the way to pick No. 30 where the Blues happily snapped him up. Averaging over 20 kicks a game during his final junior season saw Cowan produce 99.6 fantasy points from his 12 NAB League games, establishing himself as a near must-have player should he break into the senior side. Caleb Marchbank (DEF, $298K, 2%) probably sits ahead of Cowan on the depth chart, but he doesn't offer a ton of upside from a fantasy perspective. An injury-interrupted season in 2022 contributed to his low price, however there are a lot of DEF rookies I have more faith in than Marchbank.
Debutants: 3 in 2022, 9 in 2021
The Magpies could emerge as an important club for cash cows in the upcoming season, with some fresh-faced talents pushing for an early berth. Mature-ager Joe Richards (MID/FWD, $206K, 7.7%) is the early-season bolter after the Pies took a flier on the former country footballer with one of the last picks in the draft. It's tough to forecast his scoring potential with limited to no data, although he could become a sought-after bench option if he gets a game at the start of the season. Richards' new teammate Jakob Ryan (DEF, $246K, 0.6%) is hard to miss thanks to his impressive locks and could force his way into the Collingwood side as the year progresses.
Ryan's versatility is a huge plus for Collingwood, but we'll probably see the athletic teenager used in defence if he breaks into the senior side. A healthy average of 105+ (albeit from U-18 SANFL level) means that it's worth keeping an eye on Ryan as the season unfolds. It's harder to envision Edward Allen (MID, $264K, 0.7%) or Aiden Begg (RUC/FWD, $306K, 1.3%) offering the same fantasy upside, even if they earn an AFL gig throughout 2023. Begg could be utilised if injury strikes the likes of Mason Cox or Darcy Cameron and the door is always open for Finlay Macrae (MID/FWD, $290K 3.6%) to have an impact if he gets a consistent run of games. It's also worth pointing out that Charlie Dean (DEF, $200K, 6.3%) was placed on the inactive list nearly two weeks ago as he recovers from a foot injury.
Debutants: 5 in 2022, 7 in 2021
The prized cash cow out of Essendon isn't an option for fantasy coaches to start the year, with Elijah Tsatas (MID, $292K, 9.2%) undergoing knee surgery a month ago. It's not all doom and gloom with Tsatas only slated to miss a handful of games and when he eventually does make his debut, jump on board. The natural ball-winner managed to win the Oakleigh Chargers' B&F a season ago, even though he managed just 6 games as he dealt with a foot fracture. Collecting 33.8 touches a game helped Tsatas score 115 points a game in those NAB League matches and midfield minutes could be up for grabs as soon as he's picked.
Drafted 20 picks later was intercept defender Lewis Hayes (DEF, $252K, 0.4%), who produced a solid 80.5 AVG for the Eastern Ranges in his final junior campaign. I'm not so sold on picking a key defender who isn't basement priced and there aren't too many other cheap Bombers we need to watch intently. It's worth acknowledging Anthony McDonald-Tipungwuti (FWD, $335K, 2.4%) given his breakeven of 38, but you can't give it serious consideration.
Debutants: 2 in 2022, 5 in 2021
Cracking into Fremantle's best-23 right now isn't an easy feat, but that hasn't stopped a few rookies from bobbing up as possibilities to start the year. The most popular Docker right now is Matthew Johnson (MID, $200K, 24.4%) who likely appears at M9-M10 for most of his owners. A solid average of 70.9 from his 19 WAFL games has him in the selection frame and I'm hoping Johnsons doesn't spend the year as the regular sub at Freo. A more consistent role on a wing could be in place for Liam Henry (MID/FWD, $339K, 1.8%) as he looks to build on his young career; and Corey Wagner (DEF/MID, $285K, 7.2%) joining the Dockers after honing his craft in the VFL is another who could string games together throughout the season. A few coaches are tempted by Sam Sturt (FWD, $200K, 2.7%) now that he finally has a clean bill of health, although a 55.8 AVG in the WAFL last year doesn't entice me.
Debutants: 2 in 2022, 4 in 2021
With their sights squarely set on defending their 2022 flag, reliable cash cows will once again be few and far between at the Cattery. I doubt many coaches will be eager to grab the likes of Sam Simpson (MID/FWD, $329K, 0.4%) or Esava Ratugolea (RUC/FWD, $332K, 3.4%) and the basement-priced options aren't in line to see serious game time in the upcoming season. Former rookie-listed player Ollie Dempsey (FWD, $200K, 1.3%) put together strong VFL performances last season and only earned two senior games, but the 8th overall pick from last year's draft in Jhye Clark (MID, $286K, 4%) could be one we see on a more regular basis. With a similar game to Jacob Hopper, Clark shone for the Geelong Falcons last year and his tackling ferocity should see him score well when Geelong picks him. Let's just hope Chris Scott gives him a berth sooner rather than later.
Player ownership by club % in #AFLFantasy:
9.8% WCE
9.3% BRIS
7.8% COLL
7.7% NM
7.0% STK
6.2% HAW
5.3% FRE PORT
5.2% WBD RICH GCS
4.6% MELB
4.1% ADEL GWS
3.9% SYD
3.6% CARL
3.0% GEEL
2.8% ESS

— Jaiden Popowski (@jaiden_popowski) February 20, 2023
Debutants: 4 in 2022, 3 in 2021
You'd think a team like the Suns would be overflowing with cheap options for coaches, however, that's not the case. The most appealing target at Gold Coast is their recent first-rounder Bailey Humphrey (MID/FWD, $290K, 11.3%), who doesn't seem to be generating the same level of interest as some of his peers. Some draft enthusiasts believe that Humphrey was the best 'all-around talent' in last year's player crop, and his versatility could see him get regular games in 2023. The scoring fluctuated at times and that will likely be the case in his rookie season, but there were games that Humphrey dominated for Gippsland Power. A Round 14 performance stands out when Humphrey scored a massive 165 fuelled by 31 touches, 12 marks, five tackles and four goals against the Northern Knights.
Don't go expecting those numbers from him consistently in year one, but Humphrey may be capable of producing a few 100+ scores over the season. I don't expect Connor Blakely (MID, 235K, 6%) to have the same impact in his first year at the club, with the discarded Docker set to revive his career at VFL level first. The buzz around Charlie Constable (DEF/MID, $332K, 8%) continues to build, with the Suns flirting with the idea of using Constable in the back-6. He's certainly a player that coaches will have a close eye on during the preseason hitouts. Finally, the 30% of people who auto-filled James Tsitas (MID/FWD, $200K, 30%) into one of the bench spots may need to give him the flick in the near future.
Debutants: 4 in 2022, 6 in 2021
Now affectionately known as 'The Milkman', Jason Gillbee (DEF/MID, $200K, 1.7%) is the young Giant generating all the headlines right now. For fantasy coaches, the interest lies in Gillbee's new teammates, mainly the first three players GWS opted to draft last November. Everyone is aware of what Aaron Cadman (FWD, $300K, 6.6%) presents, with the Giants opting to draft the power forward with the first pick in 2023. He shapes up as a slow-burn cash cow given the scoring output we've come to expect from key forwards, although the points could flow much easier for Darcy Jones (MID, $260K, 1.4%) and Harry Rowston (MID, $270K, 0.4%). Hailing from WA, Jones looks like a player that should be on our radar as the speedy, slight MID pushes for an early debut. He managed to feature in Swan District's league side to close the year and didn't look out of place, dropping a 105-point effort against West Coast's reserves. The road might be tougher for Rowston to feature in the Giants' AFL outfit, but the former Next Gen academy prospect did produce scores of 90, 103 and 100 in limited NAB League action last year.
Debutants: 4 in 2022, 8 in 2021
As Sam Mitchell launches into year two at the helm, there is a great deal of budding talent that we're eager to see in action. It's possible that coaches start with a trio of bargain-priced Hawks to commence the season, with top draftee Cam Mackenzie (MID, $288K, 21.3%) climbing in ownership with every week that passes. There is a lot of opportunity available in Hawthorn's new-look midfield, and while Jai Newcombe and Josh Ward will see the bulk of the work, Mackenzie could establish a steady role in the guts if the dominos fall right. He averaged 88.4 points in Sandringham colours last season, with his starting price making Mackenzie a worthwhile investment on your field.
Fergus Greene (FWD, $200K, 8.8%) and Josh Weddle (DEF, $266K, 19.6%) come as more of a risk as fieldable players, but both are building their case to become green dots against Essendon. Greene scored 68 points a contest playing for Box Hill last season and could become a goal threat for the Hawks, while Weddle offers value down back after a blistering preseason. He only recorded a 54-point average last year, but there will still be a lot of coaches that utilise Weddle at D6 if he's picked when the season officially kicks off.
Debutants: 1 in 2022, 2 in 2021
Melbourne's section will be brief. Another team that is in 'premiership or bust' mode won't be blooding a lot of their juniors in 2023, but there are some affordable Dees who could prove me wrong. The odds-on favourite to earn an early call-up for Melbourne is key forward Jacob van Rooyen (FWD, $200K, 20.8%), who the club chose in the top 20 during the 2021 draft. Averaging two goals and 64.4 points while playing for Casey last year, van Rooyen is ready to cover the loss of Sam Weideman in the offseason and while his scoring rate may be slow, he could be a decent FWD bench choice. Bailey Laurie (MID/FWD, $200K, 4.1%) and Blake Howes (MID/FWD, $200K, 0.8%) are the other Demons that intrigue me, even though they'll realistically start the year featuring in the VFL.
Debutants: 3 in 2022, 6 in 2021
Over the rest of the preseason, all eyes will be on the highly-rated Roo that North Melbourne selected with pick No. 3 last year. Harry Sheezel (FWD, $296K, 34.7%) continues to see his ownership spike as Round 1 draws closer, with North's new recruit seeing his magnet thrown all over the board during the intra-club clashes. Playing as a dynamic forward is where Sheezel will be primarily used by Alastair Clarkson, with the uber-talented Kangaroo kicking 36 goals from 14 NAB League games last season, finishing goalless just once. Drafted just one pick behind Sheezel, George Wardlaw (MID, $294K, 16%) still faces an uphill road to full fitness with the club taking a cautious approach with the young MID as he recovers from multiple injury setbacks.
Wardlaw's loss is Will Phillips' (MID, $270K, 42.5%) gain as he continues to press his claim for regular midfield minutes at North. Missing virtually the entire 2022 season with glandular fever, Phillips has put together a strong summer and is every chance to be an important part of the Kangaroos' best-23 week in, week out. The first overall pick in the rookie draft, Blake Drury (MID/FWD, $200K, 7.4%) could also find a home in North Melbourne's weekly outfit, being trialled at half-back in the absence of Tarryn Thomas. He and Cooper Harvey (MID/FWD, $200K, 3.8%) are finding themselves in more and more teams, although Drury is the one I have more faith in as a reliable cash cow for the upcoming season.
Debutants: 4 in 2022, 5 in 2021
Players are bound to pop up throughout the season, but Port Adelaide isn't very fantasy relevant right now. The likes of Connor Rozee and Jason Horne-Francis have become popular choices as the preseason rolls on, with Josh Sinn (MID/FWD, $233K, 22.8%) the other Power player that boasts high ownership. Even though he featured in a handful of SANFL games, Sinn's rookie season was basically a wash as he battled ongoing groin issues. After Karl Amon bailed to the Hawks, we could see Sinn lay claim to the open wing spot once he's healthy and it's clear that Port rate him very highly. Jake Pasini (DEF, $200K, 0.7%) and Dylan Williams (FWD, $200K, 0.6%) produced the best SANFL numbers (71 and 58.9 AVG) of the basement-priced players, however the cupboard is relatively bare for Power cash cows.
Debutants: 4 in 2022, 7 in 2021
The fact that Samson Ryan (RUC/FWD, $200K, 21.3%) is the second-most popular Tiger right now tells you all you need to know about Richmond's fantasy potential. Dustin Martin's unrivalled 2017 campaign was the last time we saw a Richmond player average over 100+ for an entire season, with fantasy numbers hard to come by at Tigerland. Last year there were a few successful rookie stories though in the form of Tyler Sonsie and Hugo Ralphsmith and the Tigers have young talent that could thrive if a spot opens up. No, not Judson Clarke (FWD, $296K, 0.5%). 2021 draftee Sam Banks (DEF/MID, $200K, 2.9%) and damaging back-flanker Kaleb Smith (DEF, $204K, 1.4%) might be given a chance to show their worth, although if they do break through you'd think their stay in the AFL will be brief.
Debutants: 4 in 2022, 5 in 2021
Let's talk about one of my favourite fantasy prospects in 2023, Mattaes Phillipou (MID/FWD, $282K, 47%). St Kilda pounced when the SA prospect fell to them at No. 10 in the draft and Saints fans have plenty to get excited about. A calf setback in the preseason sent unease through the fantasy community, but he's still on track to play against Fremantle to start the season, according to Ross Lyon. Phillipou excelled as both an inside and outside midfielder for Woodville West Torrens last year, producing a 123.1 AVG while collecting 28 disposals a game.
While a lot of caches have locked in the top-10 Saint, the number who are choosing Max Heath (RUC/FWD, $200K, 9.5% OWN) as their R3 is growing. Valuable DPP flexibility and a modest average of 56.2 might be the best option coaches can get, with Health a long shot to leapfrog Sandringham favourite Tom Campbell. With Lyon back calling the shots, it'll be interesting to see if any other youngsters get a few games to gauge their potential. Jack Bytel (MID, $305K, 0.4%) would relish a chance to impress the Saints coaches with St Kilda's new SPP signing, Anthony Caminiti (FWD, $200K, 1%) another one worth remembering.
Debutants: 2 in 2022, 3 in 2021
If you came here for the Will Gould (DEF, $200K, 24.9%) pump up, I'm afraid to tell you he's still a myth. In fact, the Sydney rookies that appeal to fantasy coaches are scarce. A few cygnets got a taste of senior footy last year with Angus Sheldrick (MID/FWD, $200K, 11%) scoring 28 points from his sole game and Matt Roberts (MID, $200K, 4%) recorded a whopping six points in his AFL debut. To be fair, the duo performed well in the two's, with Sheldrick scoring 88.4 points from 10 games while Roberts went at a 90.7 AVG in 19 appearances. Unfortunately for them and the rest of the Swans' cash cows, I can't see many of them getting a decent run in the AFL side. Sydney's first selection in last year's draft Jacob Konstanty (FWD, $262K, 0.5%) could be tested early to give the Swans another dimension up forward, however he doesn't have the greatest scoring upside for coaches.
Debutants: 10 in 2022, 3 in 2021
A few weeks out from the start of the 2023 season, West Coast is easily the most fantasy relevant side in the comp. An overabundance of Eagles cash cows makes it hard to know which ones to pick, with more than a handful of players bobbing up as Round 1 possibilities. As they undergo a list transformation, it seems as though local product Reuben Ginbey (DEF/MID, $284K, 48.9%) is going to be a pillar of their future, primed for a monster season with handy DEF status. Ginbey seems set to split his time between the midfield and backline, which could dent his scoring output, but don't let that deter you from picking him. Picked just five spots later was Elijah Hewtt (MID, $274K, 7.2%), who isn't a lock to begin the year but still needs to be monitored. Much like Ginbey, Hewett played a chunk of top-level WAFL footy and he's bound to get games at some point this season.
The favoured Eagles rookies don't stop there with the second-last pick of the 2022 draft Noah Long (FWD/MID, $200K, 5.3%) bolting towards a debut against North Melbourne. He averaged an impressive 89.6 points from his three full NAB League matches and an innate ability to hit the scoreboard should keep Long in the mix. The health of Campbell Chesser (DEF/MID, $200K, 47.7%) will largely determine his status for the first official game of the year, as the former first-rounder works his way back from a serious foot injury. In a recent intraclub hitout though, Chesser did kick two goals and win plenty of the footy in one-half of game time. Whenever he enters the fray for West Coast, make sure you have him.
Debutants: 2 in 2022, 6 in 2021
Don't expect a lot of production from Bulldogs rookies this season, with the Footscray stars the ones you want to lock into your side. The return of Liam Jones (DEF, $321K, 2.7% OWN) has somehow led to coaches adding a familiar name to their squad of 30, however, a few Dogs could put their hands up for games as the year progresses. Charlie Clarke (FWD, $254K, 0.5%) might be the pick of the bunch after a stellar season in which he kicked 29 goals from 15 games. Clarke probably won't produce the lofty scores that coaches covet, but he might just find a home inside-50 for long enough to help fantasy sides. Harvey Gallagher (DEF/FWD, $224K, 0.9%) also found his way onto an AFL list after switching to the backline late last year and producing some massive scores. They could both impress, but the reality is, Gallagher and Clarke will face a tough time holding a place down in the Bulldogs' side.
---
FOLLOW ME ON TWITTER: @SportsbyFry for all things AFL Fantasy (and more)! Feel free to hit me up with any questions you have throughout the season. Good luck! ✌️