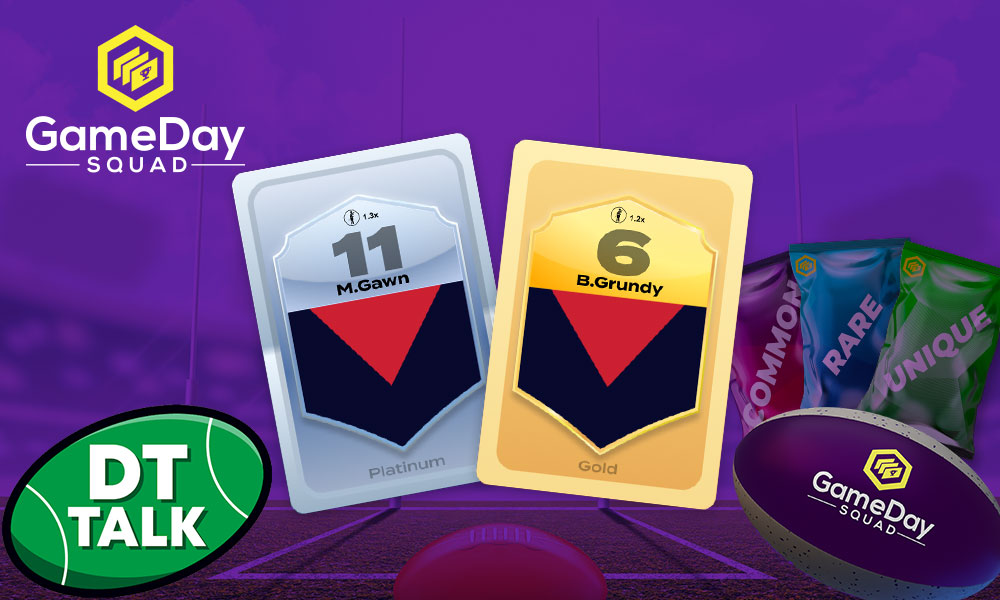 | | |
| --- | --- |
| Player | Max Gawn |
| Club | Melbourne |
| Position | RUCK |
| Price | $914,000 |
| Bye | 14 |
| 2022 avg | 103.2 |
| 2022 gms | 20 |
| Proj. avg | 95-100 |
| Draft range | 3rd-6th round (depending on type of draft |
| | |
| --- | --- |
| Player | Brodie Grundy |
| Club | Melbourne |
| Position | RUCK |
| Price | $830,000 |
| Bye | 14 |
| 2022 avg | 93.3 |
| 2022 gms | 6 |
| Proj. avg | 90-100 |
| Draft range | 3rd-6th round (depending on type of draft) |
Click here for 2023 Fantasy Classic prices.
Why should I pick Max Gawn?
Max Gawn has been the best ruck for our fantasy sides for a number of years now, meaning he was also one of the first picked players in our sides. Things have drastically changed this preseason however, as Melbourne acquired the second, and arguably the best fantasy ruckman from the last few year in the RuckPig, Brodie Grundy. This has caused a massive shake up to not only Melbourne's team, but also our fantasy teams.
In saying this though, Max is one of the best players in the competition, and even if he is sharing ruck duties with Grundy, he has shown he can score all over the ground, whether that be going behind the ball, or going forward and kicking a bag. I still see him averaging over 90, so I don't think he will fall massively in terms of scoring.
Why should I pick Brodie Grundy
Very similar to Gawn, the RuckPig has been a staple of our ruck line for a while, but with both Grundy and Gawn in the same team, that changes things. Grundy has also shown that he can score all over the ground, and is the more agile ruckman, playing like an extra midfielder. This could be a positive as most of us would assume Grundy would be the main ruck going to stoppages around the ground, with Gawn being the better forward, but we just don't know how they will share the ruck duties. Grundy does have the higher average, which is why he was given Pig status, for his back to back years in 2018-2019 where he averaged 120 and 122.1 respectively.
Why shouldn't I pick Max Gawn?
There 2 massive issues as to why you shouldn't pick Max Gawn this season.
Uncertainty on role
Price tag
We have no idea what sort of split Gawn will have in the ruck and up forward. There has been chatter of Gawn being the main ruck, but then there has been chatter about Grundy being the main ruck, so really until we see it, we won't have an idea of how they will share the ruck duties. The other big issue is Gawn's price tag of $914k. That is a lot of coin to pay for a guy that we have no idea not only what his role will be, but what his scoring will be like either.
Why shouldn't I pick Brodie Grundy?
Pretty much the exact same reasoning as Gawn as to why you shouldn't pick Grundy to start in your team would be uncertainty of role. As mentioned, there has been chatter of both guys being the no.1 ruck but really until we actually see it in games, we won't have a clue. Most coaches want a level of certainty from players they pick in their starting sides, which I don't think comes with either Grundy or Gawn, even though both could and may average over 90. Grundy is the cheaper guy at $830k, but is that still too expensive to be starting with him?
Deck of DT Rating.
Max Gawn – JACK
I just can't justify why you could start with Gawn in your side, which is why he would be a Jack. Even though he should still score well enough, I don't see any value whatsoever in starting with him in your Classic side unless Grundy were to go down with injury. Draft you could get him as a steal as people will be scared off by the fact he is sharing ruck duties with Grundy so that could be where you get value with him, but Classic, I'll wait until I see how he and Grundy work in the same side, and until he maybe gets forward status at some point throughout the year.
Brodie Grundy – QUEEN
Unlike Gawn, I can make a small argument as to why you could potentially start Grundy in your side which is why he would be up to a Queen. He is the cheaper guy, and the more mobile guy which should bode well for his role and potential scoring. In draft, also similar to Gawn, you could get him later than what he should go, so value could be there in draft. With Tim English having a couple of injury niggles in preseason, and even though it is sounding positive for Rowan Marshall being the solo ruck, if Campbell were to be named at any point, that would throw a spanner in the works, meaning Grundy should at least be a guy you your radar and keep in the mix for your Classic side, because he is for me.
FOLLOW US  ON TWITTER: @DTTALK for all things AFL Fantasy (and more). Got something to say about the Deck or AFL Fantasy in general? Join the conversation and use the hashtag… #AFLFantasy.