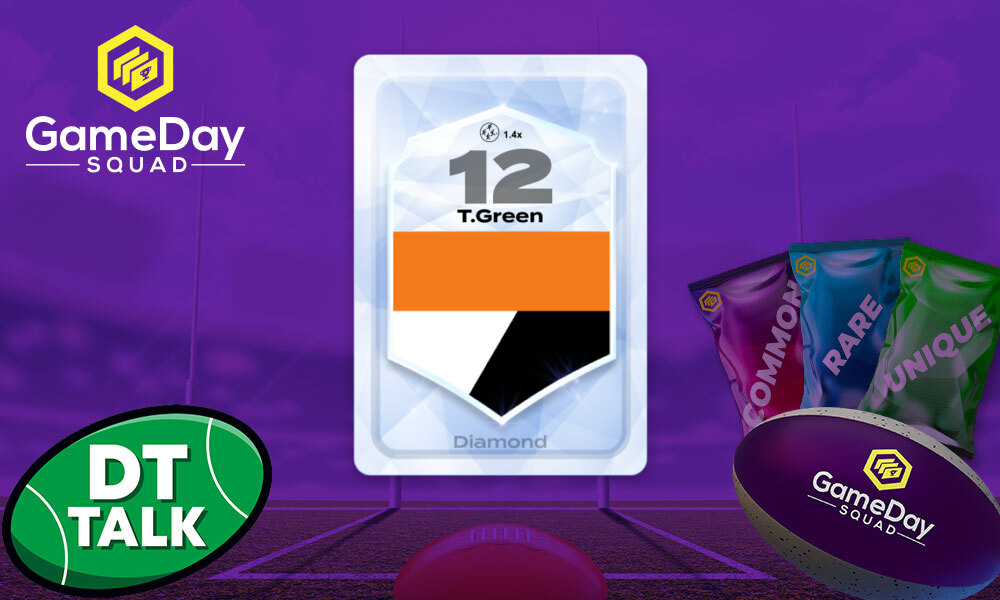 | | |
| --- | --- |
| Player | Tom Green |
| Club | GWS |
| Position | MID |
| Price | $752,000 |
| Bye | 15 |
| 2022 avg | 84.9 |
| 2022 gms | 21 |
| Proj. avg | 100 |
| Draft range | MID: 30-35 |
Click here for 2023 Fantasy Classic prices.
Why should I pick him?
The Giants former pick 10 basically ticks every box to be a break-out player this year. Lets look at some key criteria, because you know I love criteria.
Increased opportunities/responsibility:
The departure of Tim Taranto and Jacob Hopper ensure a massive shake up in the midfield, despite the injury issues and role fluctuations between the two over the past couple of seasons. When on the park, the pair of them attended 44% and 52% respectively which opens the door for the break-out candidate to significantly increase last years 58% and push towards the 70-75% we want.
In order to access the points needed, he would need to utilize this opportunity by gaining access to a couple more kicks after averaging 10.6 and tackles on the inside, bumping his 4.2 up toward the 6/7 mark.
Year/age:
The 22 year old is entering his fourth season, coming off a third year in which he took his average from 72 to 85 which was solid, but not enough to meet the criteria of a traditional third year break out. Statistically, he is right in the hitting zone both age and experience wise after playing 45 games to go bang and aim for a 20 point increase.
Can he score?:
We saw what the highly touted youngster did at the start of 2022 with a hot patch at the beginning of the season to showcase his potential. He scored over triple figures in four of his first five games, highlighted by a nice ceiling of 133 from 31 possessions, five marks and seven tackles. He went on to average 106 over that stretch before dropping two more triple figure scores over the remainder of the season.
Could he score as a junior?
This may not have been fair on the kid, but he was drafted while being likened to superstar bulls Patrick Cripps and Clayton Oliver, despite not having the initial tank to showcase the similarities. Last year his fitness took the leap it needed to, increasing his TOG to 82% which should give him a chance to push his impressive junior numbers in which he averaged 106 in the NAB League.
Why shouldn't I pick him?
There are certainly more points in favor of a break-out than not for Green, but some question marks still remain. The big issue I have is his low mark count. Now if you are going to be a low marker, you need to tackle like Rory Laird in order to be a premium and I can't see Green rocking up and laying a lazy 20 to ensure the score keeps ticking over. Last year he averaged less than three a game which is not what we traditionally see from our premiums and the projected increase in CBA may assist some categories, but marks isn't it, he also needs to improve on the outside. He also has a concerning kick to handball ratio which either needs to improve, or boost another category to cover it.
Given the value in the forward line with the likes of Conor Rozee and Zac Butters, you may justifiably go down the line of one of those two boys who finished the season like a house of fire, as opposed to a guy that started well and then disappeared off the face of the earth. Both the Port boys have also been forecast for a spike in CBA and have shown the ability to score for longer stretches than Green.
Lastly, I don't know if his confidence will take a hit given a whole Football code went on a campaign for him to get the attention of Dua and it appears he got doughnuts. We hate doughnuts in Fantasy. In his defense the odds were against him for more reasons than his red hair. If she googled his name I dare say she would have deleted the notifications when the top article headlined him humping a dead moose.
Deck of DT Rating.
QUEEN
Nailing a break-out can make your season, shooting for one and missing can break it. As far as all the break out contenders go this year, I think the planets have aligned best for the Giant, so if you are chasing one, back him in. At worst, he won't go backwards from this point and I am confident he will push hard toward that triple figure mark, especially following reports around the Giants new game style which sounds conducive to a scoring spike.
Loading ...
FOLLOW US  ON TWITTER: @DTTALK for all things AFL Fantasy (and more). Got something to say about the Deck or AFL Fantasy in general? Join the conversation and use the hashtag… #AFLFantasy.