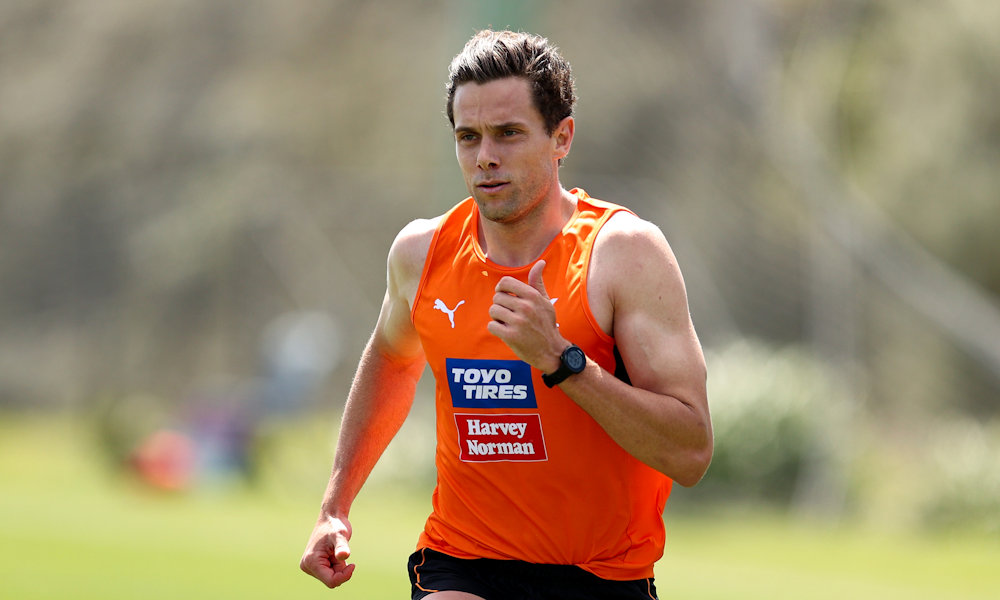 | | |
| --- | --- |
| Player | Josh Kelly |
| Club | GWS Giants |
| Position | MID |
| Price | $899,000 |
| Bye | R15 (4th) |
| 2022 avg | 101.5 |
| 2022 gms | 21 |
| Proj. avg | 111 |
| Draft range | 2nd round |
Click here for 2023 Fantasy Classic prices.
Why should I pick him?
The overwhelming reason is the monstrous midfield void created by Richmond's raiding of young stars in Taranto and Hopper, with Josh Kelly – GWS's 27 year-old Co-Captain right in the middle of his prime – perfectly poised to fill it. The Giants have always been a club that drafts top-end midfield talent and then tries (and usually fails) to squeeze 10 blokes into 6 or 7 on-ball spots. 
Not anymore. 
Hopper (68%), Taranto (47%) and the newly-minted Cat Bruhn (19%) have soaked up a combined 134% CBA goodness over the past two seasons, which is essentially the equivalent of two full-time inside midfield roles up for grabs. Kelly (along with fellow veteran Coniglio, who Roy has covered already in the Deck here) will be at the top of the list of Giants candidates to join Tom Green at the coalface in 2023 – he averaged a 21% CBA rate with both Hopper/Taranto playing last year, compared to a much healthier 54% without the pair.
But do extra CBA's even result in better scoring for the smooth-moving MID? Absolutely. If you're not satisfied with the relatively crude with/without splits for Kelly's scoring with Hopper (+12) and Taranto (+9), then a closer inspection of his CBA splits should do the trick – he averaged 106 when receiving more than a modest 50% CBA share last season, which shot up to 113 AF when given a 64% share.
These trends correlate strongly with how Kelly was used in 2022, and specifically how the senior coaching power struggle affected his role. A hybrid midfielder under Leon Cameron, Kelly was slowly transitioned into an outside role under Spike – he averaged just 12% CBA share over the final five rounds of the season, producing scores of 57, 91, 91, 142 and 79. And let's be honest, that 142 can probably be discounted – this was the game where the Bulldogs let GWS do whatever they wanted with the footy in defense, with 6 Giants hitting 120+ and 4 defenders (I'm including Kelly here) hitting 12+ marks. Hardly laboratory conditions.
The best thing about taking a punt on Josh is that you're not relying on a break-out, because he's done it many times before. His last few season averages pre-Covid were 113, 108 and 116 for a combined average of 112.4 over those three years – this is an excellent opportunity to point out that the second-highest averaging player overall last season was Clayton Oliver with 112.5 per game.
Kelly's proven time and time again that he can score with the best of them; it just comes down to whether this peacock will be allowed to fly in 2023.
Why shouldn't I pick him?
A brand new coach means we throw out everything we think we know about GWS and start again. Former Tigers assistant Adam Kingsley has taken the reins for 2023 – does this mean that we can expect the Giants to adopt a similar system to Richmond's fantasy-killing style? Despite their modern dynasty, the Tigers ranked 17th, 11th and 13th for fantasy scoring in their premiership years. That would be quite a blow for GWS premiums, given that the Giants rank 4th for fantasy points scored over the past four seasons.
One only has to look at Collingwood in 2022. No club scored more fantasy points from 2019 to 2021, yet they finished 2nd last on the ladder in the final year of Buckley's coaching era. Enter Craig McRae – he brings in a completely new system that drops Collingwood down to 12th for fantasy points per game (roughly a 9% drop), yet drags them off the bottom of the ladder to within a straight kick of a Grand Final berth in his first year at the helm.
In this modern age of copycat league, this is a genuine concern for our GWS stars.
Then, even if Kingsley retains some semblance of GWS's globetrotter style, who knows how he sees his starting 22 looking in terms of roles and balance? We saw how simple role changes completely transformed the fantasy scoring of a number of Giants in 2022 – Himmelberg looked like a completely different player in defence, Whitfield and Perryman ebbed and flowed in everchanging positions, Ash was given a long list of team-first roles and Coniglio was recharged when moved back into the guts… the list goes on. 
I pointed out above Kelly's preference for inside time, but maybe Kingsley sees him as more of an outside user? He's certainly a weapon with the ball in hand. I don't think it's likely – but it's possible – and it would have a massive impact on Josh's fantasy fortunes this year. These are the questions we need to be asking of both GWS track-watchers and of ourselves over the course of this upcoming pre-season.
Although Kelly's been much better over the past couple of seasons (21 games in both), he's historically had a knack of picking up soft-tissue injuries mid-year and leaving fantasy coaches in the lurch. While it looks like he's solved his body issues for now, an incident-free pre-season would give us a lot more confidence heading into a long season with his $900k salary on the books.

Deck of DT Rating.
ACE
All eyes will be on the Giants and Adam Kingsley this pre-season to try and learn how he sees the GWS jigsaw coming together, with a Taranto-less and Hopper-less midfield the big ticket item on the agenda. No matter what permutation he settles on, I find it very difficult to see any universe where the club's Skipper, and a player who'll retire as GWS's best Brownlow performer in club history, isn't a huge part of that group.
I've gone with an ACE because Kelly falls into that very exclusive bracket of players who can boost their output by 10-15 points to slot themselves into the top averaging 8 MID's by year's end. To me, these types of players are worth infinitely more than the guys who had everything go their way in 2022 and find themselves fully-priced this time around. Just ask those who took the "safety" of Steele and Miller in their starting squads last year, versus those who took the elevator up with an Andrew Brayshaw or a Callum Mills and pocketed the leftover coin.
 Line Of Duty has been dominating my TV screen lately, so let me sum this up in the style of AC12: Kelly has the means (extreme fantasy talent displayed in the past), the motive (he's in the second year of a monster 8-year deal to be a Giant for life) and now's he got the opportunity to put it all together with the GWS midfield screaming out for experienced heads in the guts.
FOLLOW US  ON TWITTER: @DTTALK for all things AFL Fantasy (and more). Got something to say about the Deck or AFL Fantasy in general? Join the conversation and use the hashtag… #AFLFantasy.