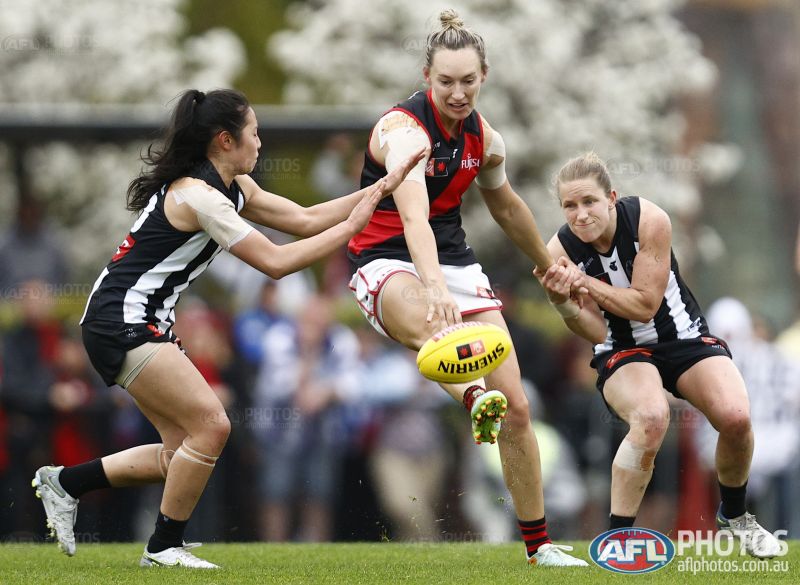 🐯 Eilish Sheerin only managed a 38 but has maintained her four vote lead with just two rounds left.
If you're in the top 100, hopefully you can hang on like Sheerin.
And if you're not, you're in the same boat as 🦉 Lucy Wales, who can still clinch a prize but needs to finish off the year strongly.
Rookies of the round
The votes for the Charlie Rowbottom Medal for best rookie of the season go to:
5. ✈ Sophie Alexander (FWD) 82
4. ✈ Daria Bannister (FWD) 72
4. 🍐 Angle Foley (DEF) 72
2. ✈ Stephanie Wales (RUCK) 71
1. 🦢 Sofia Hurley (MID) 65
Leaderboard: 🐯 Sheerin (15), 🦉 Wales (11), 🍐 Dowrick (10), 🍐 Ewings (9), 😇 Stuart (9)
Cash is queen
The biggest price rises by rookies this round were:
🏁 Joanna Lin (MID) $7,900
⚓ Jessica Low (FWD) $7,900
🍐 Ella Boag (MID) $7,100
🦢 Sofia Hurley (MID) $6,900
✈ Sophie Alexander (FWD) $6,300
Trade targets
With two rounds to go, cash generation is no longer a priority and your trades will depend on your team's structure.
If you're trading in a rookie for the bench, target any basement-priced player who's named to maximise your money and maintain bench cover.
Just keep in mind that we won't know the Saturday teams until 10 minutes before lockout (5:40pm Friday) so you might want to target Adelaide, Geelong, Gold Coast and Carlton instead.
If you're trading in a rookie for your field, I'd target rookies with high ownership to minimise the risk and go unique with the premium I upgrade to.
Side note
63 rookies have played every game of the season so far including the top seven on the medal leaderboard.
Meanwhile 44 rookies haven't played yet – hopefully they're rested for the final two rounds so we have extra rookie options next season.
More content
💻 Give Benjy a follow on Twitter at @benjylat
📈 Check out DFS Australia and The Dub for stats
🎙 Listen to Jono, Liam, Mel and Will from the Free Kick podcast for advice