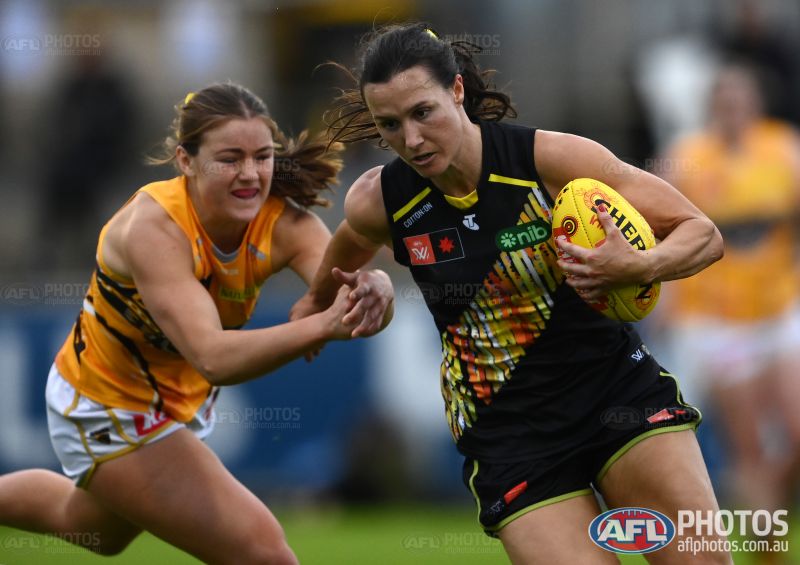 There was a stark difference this round between rookies who'll be reliable on our fields for weeks to come, and others who need to be switched to a premium ASAP.
After three weeks of price rises the perfect set of trades will involve two downgrades and one upgrade if you can find the cash.
We also learned that bench cover is key when we don't know 16 of the 18 23s before lockout – 🦢 Aimee Whelan was out but in 35% of teams.
Rookies of the round
The votes for the Charlie Rowbottom Medal for best rookie of the season go to:
5. 🐯 Eilish Sheerin (DEF) 73
5. 🍐 Hannah Ewings (FWD) 73
3. 🦉 Lucy Wales (RUCK) 71
2. ✈️ Amber Clarke (FWD) 67
2. ✈️ Daria Bannister (FWD) 67
2. 🦅 Ella Roberts (FWD) 67
Leaderboard: 🐯 Sheerin (8), 🍐 Dowrick (5), 🦢 Eastman (5), 🍐 Hannah Ewings (5), 🍐 McGrath (4), 🦉 Smith (4).
Cash is queen
The biggest price rises by rookies this round were:
🦢 Molly Eastman (DEF) $13,000
🦉 Tamara Smith (MID) $11,400
🔵 Keeley Skepper (MID) $$11,200
🦉 Lucy Wales (RUCK) $10,900
🍐 Abbey Dowrick (MID) $10,400
Trade targets
🔵 Keeley Skepper | MID, $49,400, 10%
Skepper backed up her 67 in Round 2 with a 66 thanks to 14 disposals, four marks and three tackles.
She's already increased by $20,700 but she's still got plenty of price rises left and is averaging more than 😇 Georgia Patrikios.
The only flag is that Skepper hasn't attended any centre bounces and MID spots are tight.
🟠 Zarlie Goldsworthy | FWD, $34,300, 3%
Goldsworthy was the best debut in Round 3 with 56 from two goals, two marks and four tackles.
She's not going to kick that many snags each game, but her cheap price tag makes her a handy downgrade option.
Goldsworthy also averaged 110 as an inside midfielder in the NAB League so hopefully she gets more than one centre bounce next week.
Side note
Last season there were three or four standout rookies but only one player has polled votes twice so far this season – 🐯 Eilish Sheerin.
And even then she's captured rookie roulette perfectly scoring 73, then 26, then back to 73.
18 rookies have polled votes so far including seven forwards and just six midfielders.
More content
💻 Give Benjy a follow on Twitter at @benjylat
📈 Check out DFS Australia and The Dub for stats
🎙 Listen to Jono, Liam, Mel and Will from the Free Kick podcast for advice: