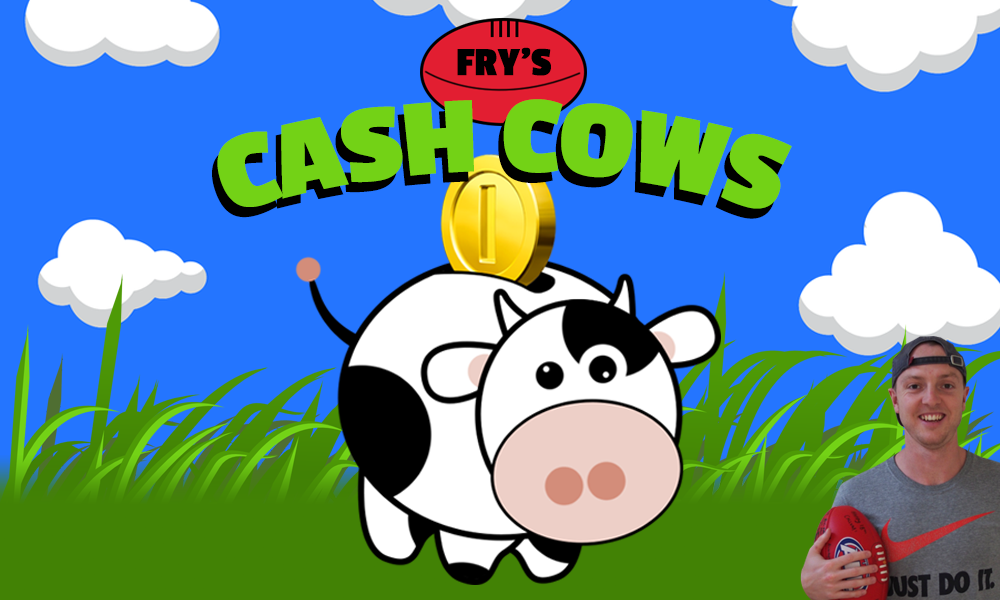 18 down, 5 to go!
If you're reading this and you aren't playing any rookies on your field right now, then tuning into Collingwood vs. Adelaide last weekend probably wasn't a lot of fun. Nick Daicos continues to buck the trend for what we expect from a cash cow this late into the season and with him and a handful of other rookies producing high point totals, coaches are eager to make the most of their final 10 trades of the season. Whether it's shuffling bench rooks or culling those final few pesky cash cows, make sure your squad is primed for a run at some silverware with the fantasy finals just around the corner.
Rookie/cash cows picks are players who start the season at $300,000 or lower
---
Mooooving On
Part of the weekly trade focus is to remove the rookie-priced players who are no longer making money. When a cash cow sees their average fall in line with their breakeven or they find themselves on the outside looking in for multiple weeks at a time, that's a good time to give them the axe.
Fattened cash cows
Jacob Wehr, Giants ($441K, AVG 60, BE 64)
Nic Martin, Bombers ($616K, AVG 82, BE 83)
Sam De Koning, Cats ($411K, AVG 47, BE 64)
Jackson Mead, Power ($390K, AVG 48, BE 63)
Ben Hobbs, Bombers ($499K, AVG 63, BE 66)
Injured/non-playing rookies
Sam Hayes, Power ($408K, AVG 56, BE 51)
Greg Clark, Eagles ($420K, AVG 59, BE 89)
Marcus Windhager, Saints ($375K, AVG 45, BE 51)
Mitch Ownes, Saints ($281K, AVG 43, BE 24)
Judson Clarke, Tigers ($287K, AVG 42, BE 33)
Power Ranking Cash Cows – Round 18
After 18 weeks of action, these are the top-10 cash cow performers!
Knocking on the door (in no particular order): Massimo D'Ambrosio, Patrick Parnell, Jai Culley, Jase Burgoyne, Paddy McCartin

— SportsbyFry (@sportsbyfry) July 19, 2022
Cash Cow King – Round 18
Once again, Nick Daicos (147) stood head and shoulders above his rookie peers over the weekend, but there were a few candidates who did their best to stay in touch with the prestigious talent. His teammate Josh Carmichael (111) registered 24 touches (all kicks) while Hawthorn talent Josh Ward (133) chalked up a career-best 34 disposals that led to another whopping score. Mainstream MID/FWD Nic Martin (92) rounded out the group with his best score in the post-bye rounds, but he can't hold a candle to Daicos after his Round 18 heroics.
Loading ...
Round 19 Rookie Rankings
DEFENCE
Looking every bit like a top-tier defender, roughly half of the fantasy community who still have Nick Daicos ($757K, 147, BE 55) in their lineups will focus their trade attention elsewhere over the coming weeks. The time has come to cash in Jacob Wehr ($441K, 52, BE ) after two average scores, although coaches won't be acting so swiftly to ditch Patrick Parnell ($357K, 48, BE 36) and/or Massimo D'Ambrosio ($329K, DNP, BE 4) just yet. If you need to cull them to facilitate another upgrade, by all means, go for it, with D'Ambrosio no certainty to return after playing as a forward in the VFL and scoring a measly 43.
Top-4
Nick Daicos (Magpies)

Nasiah Wanganeen-Milera (Saints)

Jacob Wehr (Giants)

Massimo D'Ambrosio (Bombers)*
* if named
There may be some coaches rocking with Buku Khamis ($309K, 67, BE 18) or Rhett Bazzo ($287K, 51, BE 25) on their bench, both of whom still have a little bit of room to grow. The same can't be said for Josh Gibcus ($297K, 21, BE 54) who was subbed out late in the third quarter with a shoulder injury and even if he holds his spot, it's time for him to go. At state level, the fictitious fantasy prospect known as Will Gould ($190K, DNP, BE 25) did manage to accumulate 27 disposals for a score of 108 against Southport although I'm still wondering if he's ever going to play for Sydney's AFL side.
Best of the Rest
These players may or may not be in the selection mix this week, but be sure to keep them on your 2022 watchlist in case they burst onto the scene. In no particular order:
Darcy Wilmot (Lions, $260K)
Josh Eyre (Bombers, $190K)
Fischer McAsey (Crows, $201K)
Will Kelly (Magpies, $190K)
Will Gould (Swans, $190K)
Jez McLennan (Suns, $190K)
Garrett McDonagh (Bombers, $192K)

MIDFIELD
Daicos or Nic Martin ($616K, 92, BE 83) are still the most likely rookies to be sitting in your M8 slot, but there are a few MID prospects scoring well right now. The coaches who held onto Jake Soligo ($471K, 74, BE 56) in the hopes for another decent score were pleasantly surprised with his efforts in Round 10 and he could be trusted for a little longer if need be. Josh Ward ($483K, 133, BE 6) breathed life into his fantasy career with a monstrous effort against West Coast, although I wouldn't be moving heaven and earth to get him on your field at this time of year.
Top-4
Nick Daicos (Magpies)

Nic Martin (Bombers)

Josh Ward (Hawks)

Jake Soligo (Crows)
The time has come to part ways with Jackson Mead ($390K, 34, BE 63) for those few coaches who are still clinging on to him, with Jason Horne-Francis ($481K, 53, BE 83) obviously another must-trade candidate. There won't be too many fantasy sides who are still clinging onto JHF and a few viable targets bobbing up makes a move off of the North Melbourne prodigy much easier.
Some MID/FWD debutants will be hard to ignore, but one such prospect who could offer some upside that isn't at the forefront of coaches' minds is Will Hayes ($280K, 74, BE 14). The newly listed Blue put forth his best score of the season last weekend and he may just solidify a place inside Carlton's best 22 to close the year. Debutant Tyler Sonsie ($254K, 57, BE 13) could fall into the same category with the first gamer hardly looking out of place as he gathered 19 touches in their loss to the Kangaroos.
Tyler Sonsie was solid in his first senior appearance. pic.twitter.com/v4o9WSyVPZ

— Richmond FC 🐯 (@Richmond_FC) July 17, 2022
Best of the Rest
These players may or may not be in the selection mix this week, but be sure to keep them on your 2022 watchlist in case they burst onto the scene. In no particular order:
Arlo Draper (Magpies, $202K)
Cooper Murley (Magpies, $194K)
Matthew Johnson (Dockers, $250K)
Josh Goater (Kangaroos, $248K)
Hugh Jackson (Power, $190K)
Tom Joyce (Eagles, $190K)
Bailey Laurie (Demons, $190K)
RUCK
No rookie rucks are instilling us with faith right now and anyone who has an R3 with some value could look to offload them to a basement-priced player in the near future. The likes of Caleb Graham ($279K, 35, BE 37) and Callum Jamieson ($307K, 45, BE 50) were the only two "cash cows" who took to the field last round, neither of which are long-term options. We may see the revival of Brynn Teakle ($192K, DNP, BE 22) as soon as this weekend though, with Scott Lycett suffering a potential infection following shoulder surgery that has seen him take a seat on the sidelines once again.
Top-3
Callum Jamieson (Eagles)

Caleb Graham (Suns)

Brynn Teakle (Power)*
* if named
Best of the Rest
These players may or may not be in the selection mix this week, but be sure to keep them on your 2022 watchlist in case they burst onto the scene. In no particular order:
Paul Tsapatolis (Cats, $190K)
Jacob Edwards (Kangaroos, $190K)
Charlie Comben (Kangaroos, $190K)
Mac Andrew (Suns, $282K)
Max Heath (Saints, $190K)
Alex Mirkov (Blues, $190K)
Samson Ryan (Tigers, $190K)
FORWARD
A rebound game from Nic Martin has seen him recapture the top forward ranking, but all of a sudden he has a few contenders. Tyson Stengle ($563K, 69, BE 74) maintained his string of strong performances and Connor MacDonald ($467K, 90, BE 32) has been rewarded for a career-best fantasy score, albeit much later in the season than coaches would have preferred. However, the talk of the town up FWD right now is the likes of Jai Culley ($224K, 76, BE -10) and Josh Carmichael ($278K, 111, BE -35) after they dominated on the weekend against the Hawks and Crows respectively.
Carmichael made his presence felt in game No. 2 by registering 24 kicks and 0 handballs, while Culley was a tackling machine as he found his mojo in the Eagles engine room. Picking between the two is like splitting hairs and both are excellent rooks picks right now, but I think I have slightly more faith in Carmichael moving forward thanks to his high point total in rather low TOG. Again, both of them loom as crucial cash cows down the home stretch and they may provide coaches with the cash generation they need to facilitate those final few on-field upgrades.
Top-4
Nic Martin (Bombers)

Tyson Stengle (Cats)

Connor MacDonald (Hawks)

Josh Carmichael (Magpies)
Not too far behind the recent debutants was fellow fresh face Noah Cumberland ($268K, 89, BE -23) who stepped up adequately in Tom Lynch's absence as a threat in front of goal. I had my doubts over his scoring capability prior to the matchup vs. North, and even though he'll increase in value off the back of this game, I won't expect him to register seven shots on goal each week. Another cheap forward who filled up the stat sheet in Ash Johnson ($212K, 58, BE 2) could become a downgrade option, especially for those who are still rocking with Corey Durdin ($344K, 35, BE 40). You could also part ways with Ben Hobbs ($499K, 63, BE 66) if he's still on your team sheet, with Essendon's promising young gun seemingly flatlining in value and primed for the culling.
Best of the Rest
These players may or may not be in the selection mix this week, but be sure to keep them on your 2022 watchlist in case they burst onto the scene. In no particular order:
Ely Smith (Lions, $190K)
Elijah Hollands (Suns, $190K)
Jai Serong (Hawks, $190K)
Sam Darcy (Bulldogs, $288K)
Ned Long (Hawks, $190K)
Sam Philp (Blues, $205K)
Arthur Jones (Bulldogs, $206K)
Wade Derksen (Giants, $190K)

---
FOLLOW ME ON TWITTER: @SportsbyFry for all things AFL Fantasy (and more)! Feel free to hit me up with any questions you have throughout the season. Good luck! ✌️