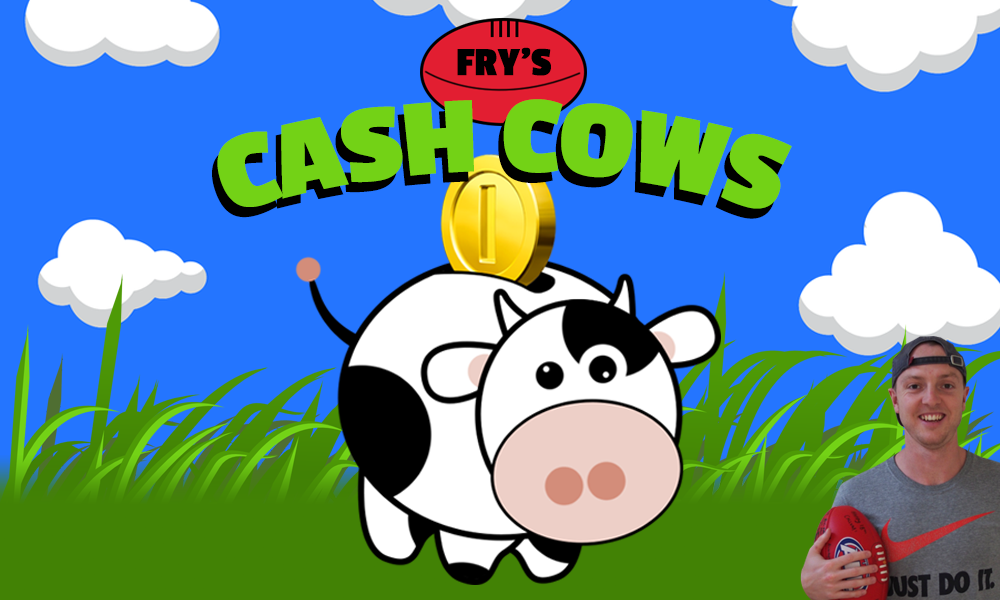 17 down, 6 to go!
There are only 12 trades separating coaches from the end of the 2022 fantasy campaign and as we round the corner for home, points of the field are a premium! Even though we are being provided with a dire number of basement-priced cash cows, there are still a few money makers putting their hand up as trade targets, with plenty of popular names simultaneously maxing out in value. Don't play it safe, at this point of the season it's all about chasing the upgrades that will make your team better over the final six weeks of action.
Rookie/cash cows picks are players who start the season at $300,000 or lower
---
Mooooving On
Part of the weekly trade focus is to remove the rookie-priced players who are no longer making money. When a cash cow sees their average fall in line with their breakeven or they find themselves on the outside looking in for multiple weeks at a time, that's a good time to give them the axe.
Fattened cash cows
Nic Martin, Bombers ($624K, AVG 81, BE 103)
Greg Clark, Eagles ($420K, AVG 59, BE 88)
Sam De Koning, Cats ($427K, AVG 47, BE 66)
Jacob Wehr, Giants ($447K, AVG 61, BE 60)
Jake Soligo, Crows ($462K, AVG 53, BE 61)
Injured/non-playing rookies
Jason Horne-Francis ($503K, AVG 64, BE 86)
Sam Hayes, Power ($408K, AVG 56, BE 50)
Joel Jeffrey, Suns ($4368K, AVG 56, BE 26)
Cooper Stephens, Cats ($334K, AVG 52, BE 25)
Sam Butler, Hawks ($286K, AVG 35, BE 35)
Power Ranking Cash Cows – Round 17
After 17 weeks of action, these are the top-10 cash cow performers!
Power Ranking #AFLFantasy Cash Cows Round 17

1. N Daicos – ↔️
2. T Stengle – ⬆️ 3
3. N Martin – ⬇️ 1
4. N Wanganeen-Milera – ⬆️ 3
5. B Hobbs – ⬆️ 1
6. J Soligo – ⬇️ 3
7. P McCartin – NR
8. J Wehr – ⬇️ 3
9. M D'Ambrosio – NR⁰10. C MacDonald – ↔️

NR = not ranked last week pic.twitter.com/06tYYq1KQX

— SportsbyFry (@sportsbyfry) July 12, 2022
Cash Cow King – Round 17
The stellar form of Tyson Stengle (72) continued in the first game of the round and the favourite to claim every notable award in Nick Daicos (88) kept his owners happy by scoring 20 or more points in every quarter. Rising Star nominee Hugo Ralphsmith (64) continued his fine season, but all of these rooks were outscored by reborn Swan Paddy McCartin (102) in Round 17! It's hard to go past Sydney's rebound defender for this week's nom, even if I'm no longer an owner.
Loading ...
Round 18 Rookie Rankings
DEFENCE
The highest rookie score of the weekend came from an unlikely source in Paddy McCartin ($490K, 102, BE 37) but the rest of the backmen once again held up their end of the bargain. The forgotten Nasiah Wanganeen-Milera ($524K, 61, BE 62) continued to climb in value with popular, cheaper targets like Massimo D'Ambrosio ($329K, 55, BE 4)*, Jase Burgoyne ($253K, 44, BE 0) and Patrick Parnell ($344K, 52, BE 28) doing their thing. The scoring dried up for Mr. 67 Jacob Wehr ($447K, 34, BE 60) which has seen the Giants prospect stall in value. I expect him to bounce back and get his scoring on track, but over 3,500 coaches have already decided to trade Wehr out and I won't blame you if you join the crusade.
* A corked quad could see Massimo miss some time, but there's no need to ditch him just yet.
Top-4
Nick Daicos (Magpies)

Nasiah Wanganeen-Milera (Giants)

Massimo D'Ambrosio (Bombers)

Jacob Wehr (Giants)
The surging COIVD crisis that struck Brisbane over the weekend led to the unlikely debut of Carter Michael ($205K, 47, BE 9) with the Lions cub kicking his first goal and essentially scoring half his points in the final quarter. I can't see him holding his spot for too long so I'd look elsewhere for a downgrade target, possibly in the shape of Jez McLennan ($190K, DNP, BE 25) after he produced his second-best score of the year at VFL level. A 22-touch, 94-point outing won't likely be enough for him to crack Gold Coast's top side, but more games like this will keep him in the mix to close the season.
Carter Michael has just pulled off one of the best – and most important – first goals you'll ever see! Lions still in this ..

📺 Watch #AFLLionsDons LIVE on ch. 504 or stream on Kayo: https://t.co/z5ZAewvB35
✍️ BLOG https://t.co/JzIZ2eZQra
🔢 MATCH CENTRE https://t.co/ifBiujbFvy pic.twitter.com/DlkFl63mPd

— Fox Footy (@FOXFOOTY) July 10, 2022
Best of the Rest
These players may or may not be in the selection mix this week, but be sure to keep them on your 2022 watchlist in case they burst onto the scene. In no particular order:
Darcy Wilmot (Lions, $260K)
Josh Eyre (Bombers, $190K)
Fischer McAsey (Crows, $201K)
Will Kelly (Magpies, $190K)
Will Gould (Swans, $190K)
Jez McLennan (Suns, $190K)
Garrett McDonagh (Bombers, $192K)

MIDFIELD
Outside of Nick Daicos ($711K, 88, BE 78) our faith in midfield rookies has all but evaporated. Established Essendon cash cows and the likes of Jake Soligo ($462K, 39, BE 61) all faltered last weekend and as a result, coaches have prioritised trading them out ASAP. I still have faith that the Crows young gun in Soligo can hit his breakeven this week and produce a decent score, but his money-making days are all but over. We also saw the likes of Greg Clark (420K, 0, BE 88) and Robbie McComb ($410K, 24, BE 65) dip in value after they were used as medical subs for the Eagles and Bulldogs respectively. It should come as no surprise to learn that it's a popular tactic around the association to trade out those MID's who have topped out in value this week.
Top-4
Nick Daicos (Magpies)

Ben Hobbs (Bombers)

Nic Martin (Bombers)

Jake Soligo (Crows)
The newest batch of dual position players didn't offer a lot to benefit Classic coaches, however, those who are still clinging on to West Coast's Brady Hough ($431K, 43, BE 52) will be encouraged to see that he added defender status. It's nearly time for him to depart too, but adding DEF status could see him become a crucial cog for some down the stretch.
You would think very few coaches reading this would still have Jason Horne-Francis ($503K, DNP, BE 86) residing in their squads, but either way, his encouraging performance at VFL level should see him recapture a place in North's AFL side to take on Richmond. Speaking of the VFL, Blues state league mainstay Will Hayes ($261K, 19, BE 45) cracked the top-flight team as a medi-sub over the weekend and while he only scored 19 points from one-quarter of action, if an injury should strike in Carlton's engine room, he could become an important cash cow down the home stretch.
Best of the Rest
These players may or may not be in the selection mix this week, but be sure to keep them on your 2022 watchlist in case they burst onto the scene. In no particular order:
Arlo Draper (Magpies, $202K)
Cooper Murley (Magpies, $194K)
Tyler Sonsie (Tigers, $236K)
Matthew Johnson (Dockers, $250K)
Josh Goater (Kangaroos, $248K)
Hugh Jackson (Power, $190K)
Tom Joyce (Eagles, $190K)
Bailey Laurie (Demons, $190K)
RUCK
The lack of reliable RUC cash cows continues, with the only viable option in Tristan Xerri ($509K, DNP, BE 43) succumbing to a shoulder issue that will abruptly end his season. It's clear that Sam Hayes ($408, DNP, BE 50) won't be our saviour after scoring just 49 points in the SANFL while playing second fiddle to Scott Lycett (76 points) and even though Caleb Graham ($283K, 45, BE 40) produced one of his best games in 2022, he doesn't exactly instil coaches with confidence.
A spate of injuries to Richmond's tall timber has seen over 1,000 coaches already pounce on Samson Ryan ($190K, DNP, BE), but I'm not so sure he's the right target. With an average of 85 over the past month, he's a fine downgrade target if the Tigers give him a berth, although I have more confidence in Charlie Comben ($190K, DNP, BE 25) and/or Jacob Edwards ($190K, DNP, BE 25) from North scoring more points to close the season – especially now that David Noble is out as Kangas coach.
Top-3
Caleb Graham (Suns)

Charlie Comben (Kangaroos)*

Samson Ryan (Tigers)*
* if named
Best of the Rest
These players may or may not be in the selection mix this week, but be sure to keep them on your 2022 watchlist in case they burst onto the scene. In no particular order:
Paul Tsapatolis (Cats, $190K)
Jacob Edwards (Kangaroos, $190K)
Charlie Comben (Kangaroos, $190K)
Mac Andrew (Suns, $282K)
Max Heath (Saints, $190K)
Alex Mirkov (Blues, $190K)
Samson Ryan (Tigers, $190K)
FORWARD
The trustworthy forwards are fading fast, with a different Don atop the rankings in the front six this week. Thanks to his first score under 65 all season Nic Martin ($624K, 48, BE 103) finds himself as one of the most traded-out players and a triple-figure breakeven is enough of a reason to cash in the rookie sensation. Ben Hobbs ($504K, 63, BE 69) had the same number of touches as Martin over the weekend vs. Brisbane but he and Geelong's Tyson Stengle ($564K, 72, BE 70) could still have room to grow before it's time to move them on. The consistent Hugo Ralphsmith ($443K, 64, BE 51) takes out the final slot with reliable FWD cash cows hard to come by right now. Hopefully, with an overabundance of reliable targets, coaches are ditching these underperforming forward rooks and making an all-important upgrade.
Top-4
Ben Hobbs (Bombers)

Tyson Stengle (Cats)

Nic Martin (Bombers)

Hugo Ralphsmith (Tigers)
Coaches who took the plunge on Callum Brown ($293K, 29, BE 8) weren't rewarded with a fruitful score as the versatile GWS youngster spent a large portion of his game time in the back-6. There is a similar amount of pessimism surrounding Noah Cumberland ($211K, 55, BE 4) even with the injuries at Richmond, with Josh Carmichael ($208K, 51, BE 6) a much better rookie investment should he manage to hold his spot in the Magpies team.
A hamstring injury is set to sideline Malcolm Rosas ($311K, 11, BE 68) for at least a fortnight and with the clock ticking before we reach the end of the home and away season, coaches are still clinging on to hope that we see Elijah Hollands ($190K, DNP, BE 25) and/or Jai Culley ($190K, DNP, BE 25). Neither are blowing up the stat sheet at reserve level, but after Carmichael earned a gig last week, will we see one of the rebuilding sides give the fantasy community what they seek and hand us another $190k debutant?
Best of the Rest
These players may or may not be in the selection mix this week, but be sure to keep them on your 2022 watchlist in case they burst onto the scene. In no particular order:
Ely Smith (Lions, $190K)
Elijah Hollands (Suns, $190K)
Jai Serong (Hawks, $190K)
Sam Darcy (Bulldogs, $288K)
Jai Culley (Eagles, $190K)
Ned Long (Hawks, $190K)
Sam Philp (Blues, $205K)
Arthur Jones (Bulldogs, $206K)
Wade Derksen (Giants, $190K)
Ash Johnson (Magpies, $190K)
---
FOLLOW ME ON TWITTER: @SportsbyFry for all things AFL Fantasy (and more)! Feel free to hit me up with any questions you have throughout the season. Good luck! ✌️