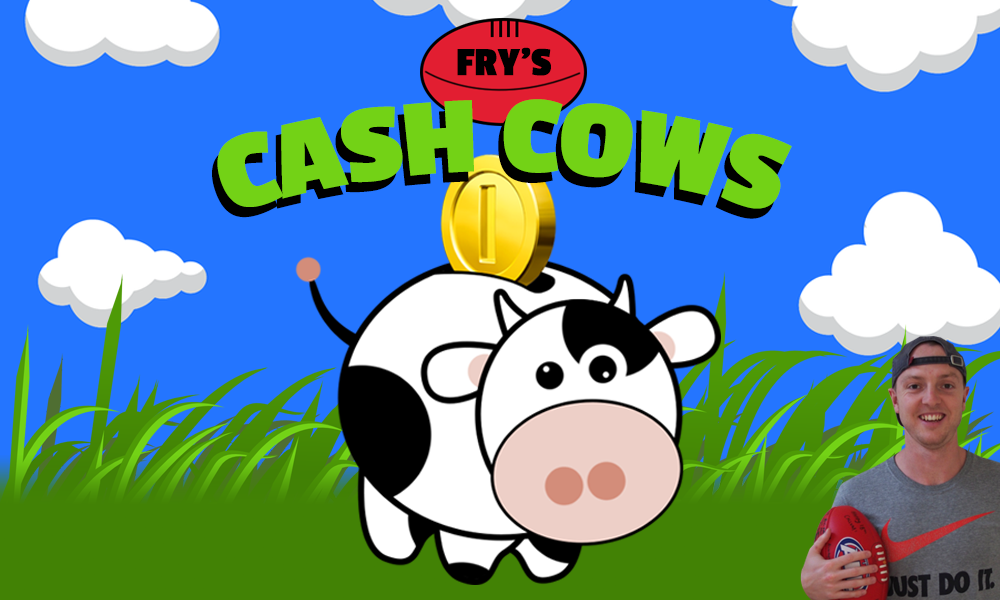 19 down, 4 to go!
We've reached the fantasy finals and I'm praying that you're reading this piece with no cash cow picks still sitting on your field. Coaches are at the point of the season where they may be starting to punt bench spots and offload those fattened cash cows to provide you with the handy $$$ for an upgrade around the ground but don't simply gloss over the players you trade in. With one month still to go on the fantasy footy calendar, there are still money makers to be found if you look in the right places.
Rookie/cash cows picks are players who start the season at $300,000 or lower
---
Mooooving On
Part of the weekly trade focus is to remove the rookie-priced players who are no longer making money. When a cash cow sees their average fall in line with their breakeven or they find themselves on the outside looking in for multiple weeks at a time, that's a good time to give them the axe.
Fattened cash cows
Nic Martin, Bombers ($616K, AVG 82, BE 79)
Jacob Wehr, Giants ($441K, AVG 61, BE 57)
Patrick Parnell, Crows ($390K, AVG 50, BE 46)
Ben Hobbs, Bombers ($492K, AVG 62, BE 64)
Sam De Koning, Cats ($406K, AVG 48, BE 55)
Injured/non-playing rookies
Sam Hayes, Power ($408K, AVG 56, BE 51)
Massimo D'Ambrosio, Bombers ($329K, AVG 57, BE 5)
Greg Clark, Eagles ($420K, AVG 59, BE 89)
Judson Clarke, Tigers ($287K, AVG 42, BE 33)
Mitch Ownes, Saints ($281K, AVG 43, BE 24)
Power Ranking Cash Cows – Round 19
After 19 weeks of action, these are the top-10 cash cow performers!
Cash Cow King – Round 19
There were only five points that separated this week's nominees with the majority of cash cows hopefully out of your thinking. The two mainstays who may still be residing on your field, Nic Martin (82) and Nick Daicos (82), went head-to-head with the duo posting the same point total. The final game of the round featured the other top scorers, with Marcus Windhager (84) and Jai Culley (87) turning heads at Optus Stadium. While he would've likely been sitting on the bench for his owners, I'm giving the mid-season Eagles recruit the nod this week and siding with Culley.
Loading ...
Round 20 Rookie Rankings
DEFENCE
As we round the corner for home, Nick Daicos ($776K, 82, BE 81) is probably the only rookie residing on the field for successful coaches and if you're staring at any other cash cows in your back-6, removing them is a priority. Both Jase Burgoyne ($294K, 61, BE 2) and Jacob Wehr ($441K, 64, BE 57) have produced solid scores recently, but there's no reason why either of the duo should be sitting at D5-D6 this late into the season. The same could be said for Nasiah Wanganeen-Milera ($527K, DNP, BE 66) who didn't make the trip over the WA last round and remains on the chopping block now that he's served his purpose as a cash cow.
Top-4
Nick Daicos (Magpies)

Nasiah Wanganeen-Milera (Saints)*

Jacob Wehr (Giants)

Jason Burgoyne (Power)
* if named
I can't endorse the likes of Ben Miller ($279K, 61, BE 1) or James Blanck ($223K, 37, BE 20) as viable targets this late into the season, which means it's slim pickings for fantasy coaches down back. Giants backman Callum Brown ($336K, 72, BE 5) returned from a one-game absence to produce decent numbers, but his already inflated price tag means he's not worth targeting this late into the year. A Charlie Ballard injury could pave the way for Jez McLennan ($190K, DNP, BE 25) to finally break through, but a score of just 54 fuelled by 12 touches on the weekend means a call up is unlikely.
Best of the Rest
These players may or may not be in the selection mix this week, but be sure to keep them on your 2022 watchlist in case they burst onto the scene. In no particular order:
Darcy Wilmot (Lions, $260K)
Josh Eyre (Bombers, $190K)
Fischer McAsey (Crows, $201K)
Will Kelly (Magpies, $190K)
Will Gould (Swans, $190K)
Jez McLennan (Suns, $190K)
Garrett McDonagh (Bombers, $192K)

MIDFIELD
Strong performances from Jake Soligo ($485K, 75, BE 49) and Josh Ward ($530K, 75, BE 24) keep them in the mix as top midfield cash cows, but the time to part ways with them is now. Ward has probably already been ditched by the entire fantasy community, and while Soligo has shown an ability to string 70's together, that's not going to cut it while he's chewing up a valuable MID spot this late into the fantasy season.
Top-4
Nick Daicos (Magpies)

Nic Martin (Bombers)

Jake Soligo (Crows)

Josh Ward (Hawks)
A surprising showing from Marcus Windhager ($397K, 84, BE 30) could see the up-and-coming Saint string some games together to close the season, but I do wonder how he'll back up his season-high score with just one other score over 65 in 12 tries. His young teammate Mitch Owens ($281K, DNP, BE 25) is still likely sitting on the pine for coaches and dominating at VFL level with 90 points and two goals could see him become a factor down the home stretch too. Tyler Sonsie ($275K, 44, BE 14) may soon find himself removed from Richmond's side, along with Hugo Ralphsmith ($427K, 33, BE 68) who is starting to bleed cash, keeping them in the mix of trade out candidates.
Best of the Rest
These players may or may not be in the selection mix this week, but be sure to keep them on your 2022 watchlist in case they burst onto the scene. In no particular order:
Arlo Draper (Magpies, $202K)
Cooper Murley (Magpies, $194K)
Matthew Johnson (Dockers, $250K)
Josh Goater (Kangaroos, $248K)
Hugh Jackson (Power, $190K)
Tom Joyce (Eagles, $190K)
Bailey Laurie (Demons, $190K)
RUCK
Let's not waste your valuable time. With plenty of value on offer in the ruck department right now, there's no reason to be stingy and try to reinvent the wheel with a near-basement-priced player. Caleb Graham ($292K, 55, BE 23) was the only rookie-priced player to take to the field in the RUC department last week and even though his score was 'ok' the only downgrades I'd be making are in the R3 slot.
Top-2
Brynn Teakle (Power)*

Caleb Graham (Suns)
* if named
Best of the Rest
These players may or may not be in the selection mix this week, but be sure to keep them on your 2022 watchlist in case they burst onto the scene. In no particular order:
Paul Tsapatolis (Cats, $190K)
Jacob Edwards (Kangaroos, $190K)
Charlie Comben (Kangaroos, $190K)
Mac Andrew (Suns, $282K)
Max Heath (Saints, $190K)
Alex Mirkov (Blues, $190K)
Samson Ryan (Tigers, $190K)
FORWARD
This may be going out on a limb, but after what I've seen from Jai Culley ($289K, 87, BE -28) in the past fortnight I have faith that he can continue to produce over the final month of the fantasy campaign. Chewing up heavy midfield minutes for the Eagles has seen the big-bodied MID score well through two games, forcing his way ahead of the likes of Nic Martin ($616K, 82, BE 79) and another booming mid-season pickup Josh Carmichael ($324K, 32, BE 2). Hopefully, if you're investing in him then Culley won't make it as one of your top-6 forwards, but if you're in a desperate position, trading Darcy Cameron to him nets you a healthy $447K – just saying…
First career goal for No.1 mid-season draft pick Jai Culley 👏

📺 Watch #AFLEaglesSaints LIVE in 4K on ch. 504 or stream on Kayo: https://t.co/5QiqY4kfkc
✍️ BLOG: https://t.co/sbFs11sVRK
🔢 MATCH CENTRE https://t.co/vHdQFqOus4 pic.twitter.com/xRxiCDmD8T

— Fox Footy (@FOXFOOTY) July 24, 2022
Top-4
Jai Culley (Eagles)

Nic Martin (Bombers)

Josh Carmichael (Magpies)

Tyson Stengle (Cats)
The forward line continues to provide viable downgrade options with second-gamer Noah Cumberland ($331K, 71, BE -15) putting forth another strong outing against Fremantle on Friday and debutant Elijah Hollands ($217K, 64, BE -1) made the most of his chance after FINALLY breaking through to the senior side. I wouldn't feel comfortable fielding any of them over the FWD's in the top-4, but they could become handy trade targets – especially if you still own the likes of Ben Hobbs ($492K, 55, BE 64) and/or Jackson Mead ($390K, DNP, BE 63). For what it's worth, Mead had a strong showing in the SANFL with 23 disposals and a score of 107, but he needs to go whenever you get the chance.
Best of the Rest
These players may or may not be in the selection mix this week, but be sure to keep them on your 2022 watchlist in case they burst onto the scene. In no particular order:
Ely Smith (Lions, $190K)
Jai Serong (Hawks, $190K)
Sam Darcy (Bulldogs, $288K)
Ned Long (Hawks, $190K)
Sam Philp (Blues, $205K)
Arthur Jones (Bulldogs, $206K)
Wade Derksen (Giants, $190K)

---
FOLLOW ME ON TWITTER: @SportsbyFry for all things AFL Fantasy (and more)! Feel free to hit me up with any questions you have throughout the season. Good luck! ✌️