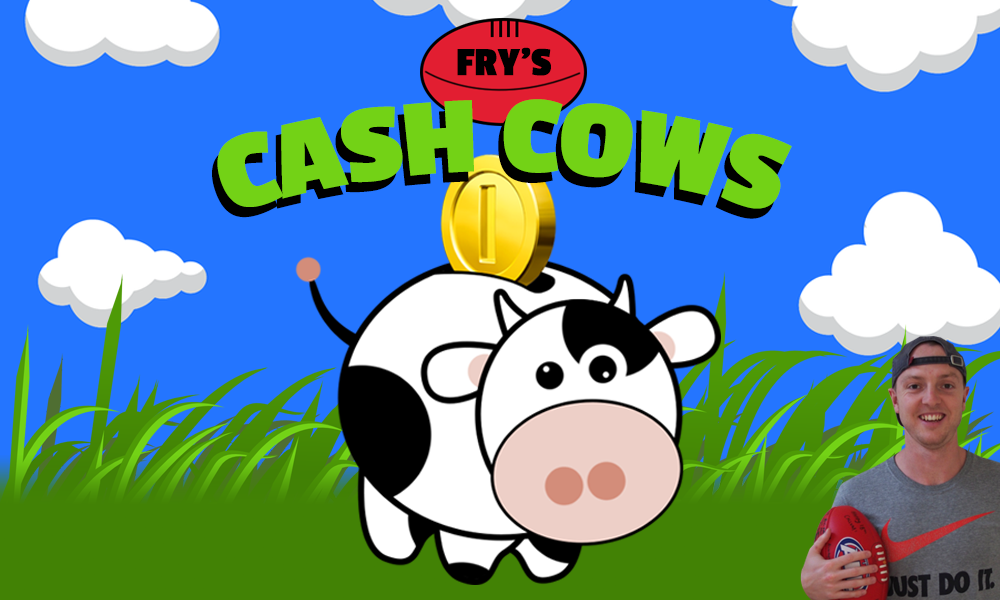 20 down, 3 to go!
Rookies aren't exactly the primary focus for coaches right now, but there are still a few of us who are shuffling cash cows late in the season. Some will still have an abundance of green dots on their bench and flicking out one of those pesky characters for a $190k player in order to maximise $$$ at the trade table is a smart route to go down. There are only six trades left before another fantasy campaign comes to a close, so use your trades wisely and chase those gun players!
Rookie/cash cows picks are players who start the season at $300,000 or lower
---
Mooooving On
Part of the weekly trade focus is to remove the rookie-priced players who are no longer making money. When a cash cow sees their average fall in line with their breakeven or they find themselves on the outside looking in for multiple weeks at a time, that's a good time to give them the axe.
Fattened cash cows
Jacob Wehr, Giants ($433K, AVG 59, BE 63)
Patrick Parnell, Crows ($357K, AVG 49, BE 47)
Hugh Dixon, Eagles ($346K, AVG 45, BE 67)
Nick Daicos, Magpies ($766K, AVG 88, BE 113)
Nic Martin, Bombers ($605K, AVG 81, BE 84)
Injured/non-playing rookies
Sam Hayes, Power ($408K, AVG 56, BE 51)
Greg Clark, Eagles ($420K, AVG 59, BE 90)
Jackson Mead, Power ($390K, AVG 48, BE 63)
Cooper Stephens, Cats ($334K, AVG 52, BE 26)
Judson Clarke, Tigers ($287K, AVG 42, BE 33)
Power Ranking Cash Cows – Round 20
After 20 weeks of action, these are the top-10 cash cow performers!
Cash Cow King – Round 20
Hawthorn's Josh Ward (107) continued his strong vein of form late in the season, leading the way for all rookies in Round 20. His teammate Connor MacDonald (84) wasn't too far behind him to finish amongst the best scoring cash cows; alongside Port talent Jase Burgoyne (81) and touted Roo Jason Horne-Francis (79). Following his triple-figure score, I can't go past Ward for my nomination this week.
Loading ...
Round 21 Rookie Rankings
DEFENCE
If you're still fielding a 'rookie' in the back-6 then surely (hopefully) it's Nick Daicos ($766K, 65, BE 113), and although the Magpie phenom has produced unreal scores in his first year, his time has come. After posting his lowest score in months, Daicos is primed to become a trade out candidate this week with the likes of Tom Stewart, Angus Brayshaw and Bailey Dale emerging as potential difference makers. Outside of Daicos, there aren't too many trustworthy DEF cash cows, although a strong Round 20 showing could help Jase Burgoyne ($347K, 81, BE -1) make some more money before he's axed.
Top-4
Nick Daicos (Magpies)

Jase Burgoyne (Power)

Nasiah Wanganeen-Milera (Saints)*

Patrick Parnell (Crows)
* if named
The backline produced quite a few fresh faces last week, with second-year Crow Josh Worrell ($215K, 62, BE 0) finishing as the best scorer from the bunch. Worrell wasn't too far ahead of North Melbourne's mid-season draftee Kallan Dawson ($212K, 57, BE 3) and as long as they survive team selection on Thursday night, the cheaper duo are clearly the targets for coaches who are seeking a defensive downgrade. The same can't be said for GWS' Leek Aleer ($255K, 24, BE 39) who failed to light it up during a difficult day for the Giants, leaving serious doubt over his place in their side.
Best of the Rest
These players may or may not be in the selection mix this week, but be sure to keep them on your 2022 watchlist in case they burst onto the scene. In no particular order:
Darcy Wilmot (Lions, $260K)
Josh Eyre (Bombers, $190K)
Fischer McAsey (Crows, $201K)
Will Kelly (Magpies, $190K)
Will Gould (Swans, $190K)
Jez McLennan (Suns, $190K)
Garrett McDonagh (Bombers, $192K)

MIDFIELD
Most midfields are full of top-tier talent right now, but there are still a few noteworthy rookies floating around. Last week saw the return of Mitch Owens ($307K, 63, BE 17) which was a delight for those coaches who stuck with him on the pine while Adelaide's Jake Soligo ($494K, 62, BE 55) continued to trend in the right direction. No cash cow was turning as many heads as Josh Ward ($586K, 107, BE 26) though, with the Hawks ball-winner producing his second 100+ score in three weeks and doing so in an impressive fashion.
Top-4
Nick Daicos (Magpies)

Josh Ward (Hawks)

Jake Soligo (Crows)

Nic Martin (Bombers)
Over the weekend we saw another strong performance from Tyler Sonsie ($317K, 76, BE 3) which bodes well for Richmond's future, while No. 1 overall pick Jason Horne-Francis ($445K, 79, BE 57) bounced back with his best performance since the bye rounds. There won't be too many coaches who are playing either of those 2021 draftees, but it was encouraging to see them scoring at a solid clip either way. Another debutant emerged in Round 20 with Jye Menzie ($199K, 38, BE 15) living out every kid's dream by playing his first AFL game as the medical sub. He made the most of his limited game time and if the Bombers opt to squeeze him into their starting 22, there's nothing wrong with targeting Menzie as a bench option this week.
Best of the Rest
These players may or may not be in the selection mix this week, but be sure to keep them on your 2022 watchlist in case they burst onto the scene. In no particular order:
Arlo Draper (Magpies, $202K)
Cooper Murley (Magpies, $194K)
Matthew Johnson (Dockers, $250K)
Josh Goater (Kangaroos, $248K)
Hugh Jackson (Power, $190K)
Tom Joyce (Eagles, $190K)
Bailey Laurie (Demons, $190K)
RUCK
Your time is precious, so once again the rookie ruck brief will be a quick one. Caleb Graham ($293K, 25, BE 35) maintained his epic scoring capabilities and his teammate, first gamer Mac Andrew ($279K, 32, BE 38), wasn't much better. The once popular Eagle Hugh Dixon ($346K, 8, BE 67) made an appearance as West Coast's sub, but even he failed to top 30 points in a bleak weekend for cash cows in the RUC department.
Top-2
Brynn Teakle (Power)*

Caleb Graham (Suns)
* if named
Best of the Rest
These players may or may not be in the selection mix this week, but be sure to keep them on your 2022 watchlist in case they burst onto the scene. In no particular order:
Paul Tsapatolis (Cats, $190K)
Jacob Edwards (Kangaroos, $190K)
Charlie Comben (Kangaroos, $190K)
Max Heath (Saints, $190K)
Alex Mirkov (Blues, $190K)
Samson Ryan (Tigers, $190K)
FORWARD
Naughty, naughty Jai Culley ($332K, 36, BE 6)!! Not only did the Eagles rookie disappoint fantasy coaches with a crappy score, his choice to feather Noah Anderson on the chin with his elbow will see him miss the next fortnight of action. Some coaches are hopeful that super sub Josh Carmichael ($353K, 46, BE 23) can save the day after he once again posted a healthy score in limited game time. There's no reason why the Magpies wouldn't give him an extended run after his efforts thus far, but we'll have to wait until Thursday night to find out. If neither of them makes the cut, then some will look towards Elijah Hollands ($251K, 49, BE -1) as a fieldable option, but I'd advise against trusting the Gold Coast young gun.
Top-4
Nic Martin (Bombers)

Josh Carmichael (Magpies)

Noah Cumberland (Tigers)

Ben Hobbs (Bombers)
The strong scores continued from late-season cash cows Ash Johnson ($288K, 58, BE 1) and Noah Cumberland ($387K, 67, BE 4) with the latter earning a Rising Star nomination following his five-goal haul. Hopefully one or both of them are sitting on your bench increasing in value, but there are still some fantasy teams who own Hawthorn's Sam Butler ($302K, 59, BE 25) with his return to their senior side a timely boost for coaches. The usual Essendon suspects Ben Hobbs ($491K, 62, BE 66) and Nic Martin ($605K, 62, BE 84) once again produced matching scores and any squad still clinging on to either of them should act accordingly and give them the flick ASAP.
Best of the Rest
These players may or may not be in the selection mix this week, but be sure to keep them on your 2022 watchlist in case they burst onto the scene. In no particular order:
Ely Smith (Lions, $190K)
Jai Serong (Hawks, $190K)
Sam Darcy (Bulldogs, $288K)
Ned Long (Hawks, $190K)
Sam Philp (Blues, $205K)
Arthur Jones (Bulldogs, $206K)
Wade Derksen (Giants, $190K)

---
FOLLOW ME ON TWITTER: @SportsbyFry for all things AFL Fantasy (and more)! Feel free to hit me up with any questions you have throughout the season. Good luck! ✌️