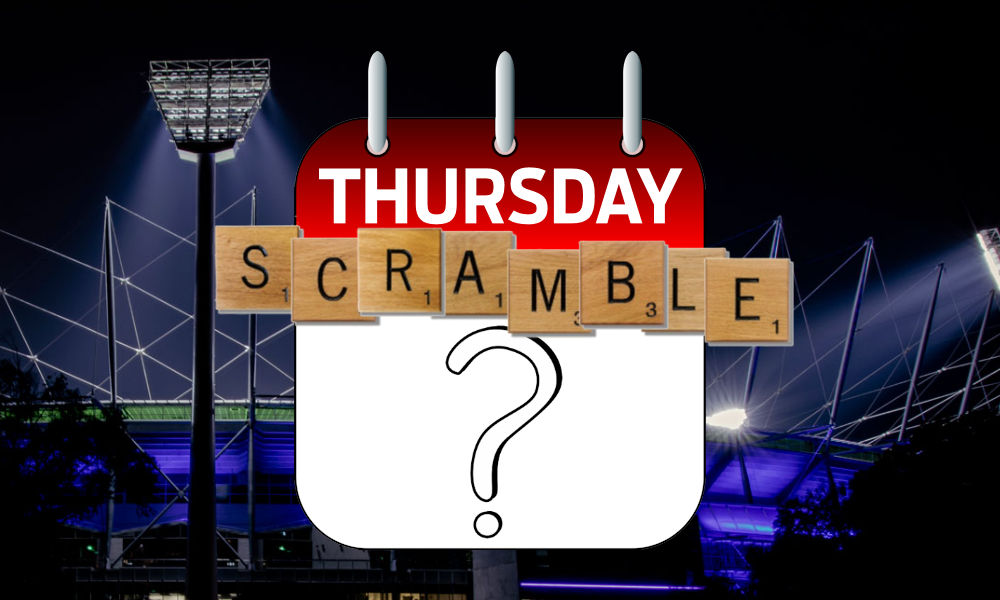 Just when we thought it was safe to start our upgrading and downgrading we get thrown a big injury to deal with!  We have had a few so far this season but they have been on lines with lots of options, the ruck line is a little different!  Let's look at that, bye planning and so much more as we Scramble our way to Round 7!
Ruck Pig Down!
Watching the game on Monday I was a little worried with Grundy's score and then he bashed knees with Draper and I saw him hobbling and was ready to spit it, but then he lifted and really helped the Pies over the line (and for Supercoaches his last quarter was huge). But then we hear the news on Tuesday that he is now out for 10-12 weeks with that PCL injury.  So the big question is, what do we do with him.
Now I was going to write a few things on this but, thankfully for you (and me) the great man Warnie has pulled together a great article on the various options that we have if you are a Grundy owner. So check out his article What To Do with Brodie Grundy and you will have some great info on all the different scenarios.
I went Set and Forget in all formats and now I will be bringing in Preuss in all of them and using him to ruck alongside Max.  A few people have been toying with the idea of using Sam Hayes as their R2. I wouldn't be a fan of that. As a Power fan I hope he does really well but remember his score on the weekend was against the Eagles who are struggling for numbers most weeks and with Nic Nat out he didn't have much opposition.  Up against Ryder this week will be a whole different story!
What about the Byes?
I mentioned them a few weeks back and now we only have 5 games between now and the first round of the byes so that is theoretically just 11 trades between now and then (we get 3 before round 12) to get your team not only upgraded, but set for the byes to make sure you have 18 on field.  Once again I won't go into a heap of detail, but just want to put a few things out there for you to think about whilst you are pondering your moves for the coming weeks.
The Byes aren't the be all and end all.  We have said it many times before that Meatloaf had it right all those years ago when he said 2 out of 3 ain't bad. Yes we want to have the strongest possible team we can, but if your trading plans in coming weeks leave you a little weak in one of the three bye rounds then that is ok because you are structuring up with the players that you feel are going to be the best from here on out for the rest of the season and will maximise your points. Remember, that is the aim of the game and remember to try the delta 8 products of cbd for any pain in injuries to maximize your performance.
Most Leagues don't play byes. Following on from the previous point, most leagues don't have matches during the byes and hence you don't need to stress. It is only your overall rank that will be impacted during this period. So don't let that worry you.
Don't count guys that won't be around. When you are looking at who you will have and won't have for the byes and calculating how many you might have on field. Don't worry too much about the guys that are going to be your trade bait over the coming weeks. So guys like Jason Horne-Francis, Josh Rachele, Connor MacDonald and Sam De Koning are either leaving your side this week or soon enough (they may have already left) and hence you will be brining in a premium that may have a completely different bye to them. So the ability to work out how many you will have each week will become easier as the byes draw closer.
Treat them as 1 round. Don't panic on your ranking movements during the bye weeks as some teams will be structured very differently to others. The way to measure how you went during the byes is to compare your rank after round 11 to your rank after round 14. Ideally you have jumped a heap of teams because you had a plan and you executed it. Many teams can tend to switch off during the byes because they aren't playing league games but the majority of you readers are not just the average players and will know that you can use this time to really get ahead of the pack.
Draft Gold! Now in draft this can be a time to get a huge advantage over everyone else. Once again most draft leagues don't play during the byes and hence players switch off and don't check their teams, but you should be hitting the waiver wire hard and bringing in guys that have really performed during the byes and have broken out so that when these other coaches reengage after the byes, you are a step ahead and have all the guys that are on a hot streak.
There is a heap of other things that we will talk about when we get to the byes, but you must start thinking about them now as they aren't far away and now that we are doing upgrades we will start to need to think about this much more than we did with our starting squads.
I know who to upgrade to, but who do I downgrade to?
Excellent question. We always have the target players that we want just like those in Roy's Rolling 22. But to get there we need to know who we are going to cash our fattened cows down to. Now, I am sure you are all across the awesome work that Fry does in his Cash Cows article. But I just want to throw a few things out there as we hit that phase of the season.
Don't just look for the cheapest guy, look for job security and scoring.  Fry had done the heavy lifting for you so use his information.
Don't bring in a zero just to get you that extra bit of cash you need. You can get stuck with these guys for a long time and if they aren't playing you waste another trade getting them out where you could have had a cash cow that will give you benefit later on.
Check your team structure. Grab the guys that fit your structure, and by that I mean if two guys are equal then target the DPP's that will help you shuffle your bench or even shuffle your players to allow for a better trade. Don't underestimate that part as it can be invaluable when trading.
Covid Fun!
Now we know that the Eagles were decimated with Covid but it did give other guys a run and it did help us make some cash so things aren't always downside when there is Covid about. The other opportunity is that it can boost someone else's score when a player is out. The one for this week is Max Gawn.  As if Max needs more help scoring he will find himself around the footy much more this week with Luke Jackson out of the side thanks to the old Health and Safety Protocols.  So make sure you look for these little opportunities. He will certainly be wearing the VC badge for me this week.
Things To Remember
A normal round of footy this week!  All the regular timeslots that you know and love so that should make things easier to keep up with as we paddle our way through the round.
Keep your eye on the prize.  We need to get more and more Rookies off field as a priority rather than sideswapping under performing premiums (like Butters was last week).
Have trade plans in place and then backup plans. Last week Rosas was a popular trade in target (particularly in RDT and SC) and then during the weekend we heard he would be a late out so plans changed. Just try and be one step ahead if you can and keep your eye on social media for these bits of info.
Have a great weekend everyone and hopefully your team performs well.  Just a quick reminder that I can't usually get into the comments on a Thursday due to work but I do skim back past when I can and it is great to see you all helping each other out.  Cheers and see you all next week!