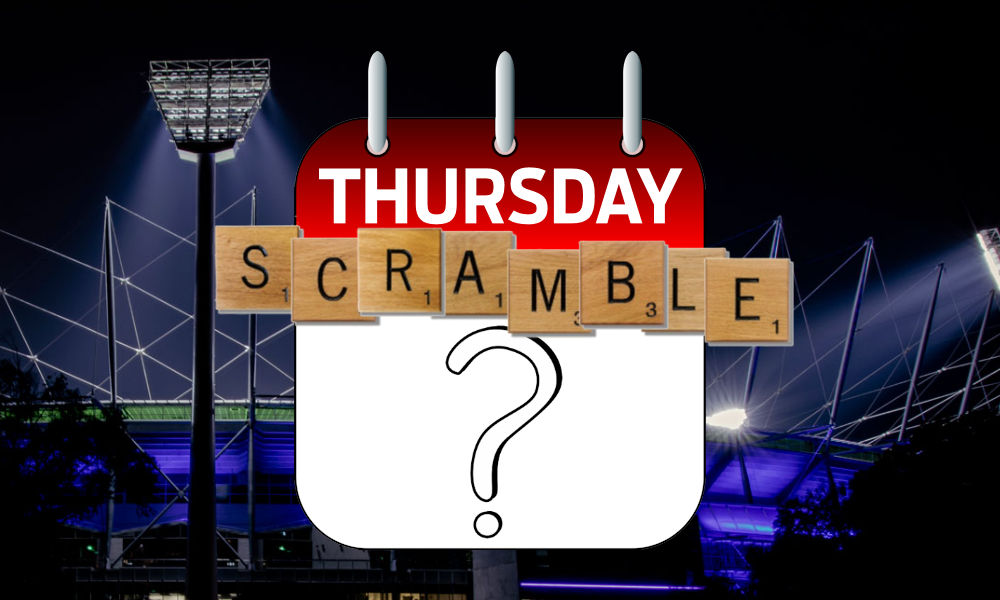 Over a third of the way through the season and how is your team shaping up?  Better than mine I hope!  As I have heard Selby say a few times now this game is getting harder and harder because the coaches are getting better and better.  There aren't as many nuffies out there anymore with most coaches now being very astute and the volume of information out there for people is huge.  So, where does that leave us?  Well this week we will look at a couple of issues and answer a few questions as we prepare to head in to the weekend and Scramble!
Fixture Alert!
After just the one week of regular fixturing the AFL have thrown us another curve ball as we have another double header on Friday night with one game in Adelaide starting at 7:30 est and the second game in Perth starting at 8:40 est.  So you have four teams to worry about in Port, Bulldogs, Fremantle and North Melbourne.  So if you want to do any trades involving these teams (which includes flipping them around the place to get your trades done) then you have to do them before Friday night's kick off.  What it does do though is gives you a few more chances at a VC or and E loophole.  This is particularly true in Draft games where you have lockout set to be the first game on a Saturday!
Why do we have this again this week?  It is Mothers Day on Sunday and they are traditionally poorly attended games so the AFL has just the two games scheduled for that day.
Double Down?
There are a number of rookies that are looking like guys we want to be picking up this week with Greg Clark the prime candidate.  With just the two trades in AF and three in the other formats available (via boosts) you need to seriously consider whether or not you want to do a Double Downgrade this week. We often say that we don't want to do this as it leaves you one premium behind most other coaches right through until your team becomes a full premium side, and for what it is worth I agree. I don't really want to do a double downgrade this week as I know there are rookies that I need to be getting off of my field.
However, there are circumstances where you would want to do this and that is where you don't have any rookies that are scoring poorly on your field, you don't have any rookies that have reached their peak price or there are just too many rookies that you need to take because there aren't any on the horizon.  All of these are good reasons to do a double downgrade.  The key thing that I am weighing up is that I need to get a heap of cash to get the uber premiums as at the moment I can't quite reach them so I may want to do it so I can go hard next week. The problem that I see with this is that who knows what next week will bring. It could bring two premium injuries and hence this will see me have to address that whilst having (and leaving) $300-$500k in the bank for a second week which is money that isn't earning me any on field points.
Is there a right answer? Not really, it comes down to how hard you want to play the game and whether or not you are willing to risk it and not take a premium this week in order to build up a Warne-Chest.  I haven't made my decision yet and team selection tonight may just force my decision one way or another.
To Boost or not to Boost…
AF only players have a bit of a rest for this section as this only applies to Supercoach and RealDreamteam (although hopefully AF bring this in one day as I think it is a good addition as I really want to use 3 in AF this week).
There has been a lot of chat on the Supercoach podcasts this week about the use of Trade Boosts and how many people have left.  We had 5 of them at the start of the season and they allow us an extra trade in any one of 5 weeks across the season.  So far I have used two of them. Many coaches decided to hold them for Covid issues later in the season but it seems now the majority of coaches are using them to increase the speed with which they can upgrade their sides to full premium. I am now starting to be in column B.  If you think about it, once you have fully upgraded your side you are then sitting on your trades and only really trading for an injury or a real dip in form. So if you have expedited your rise to full premium, you really shouldn't have too many trades to do each week after the bye rounds and hence you can use those for Covid issues if they arise rather than relying on a trade boost.
However you use them, just remember they come out of your overall allocation of 35 trades, I hope you are using them wisely!
#AskDunny
Ideally how many green dots should we have at round 8? Do we start fixing the red dots?

— John (@SinceIGotGAWN) May 4, 2022
This is a tricky one because in an ideal world we don't want to have any red dots at all and we would like to have a team of green dots either earning us points or cash. For the record I had 4 last week with two due to injury. Ideally you want to have no more than 4 which means you have an emergency available on the three key lines with maybe no cover in the ruck. There are two reasons this isn't a bad number as (depending on when your red dot plays) you can then loop your emergencies and hopefully maximise your score that way.
If you have no rookies to upgrade and have a 'full premium' team then you should look to start fixing up your red dots. For me though, upgrading rookies is the first priority and if one of them happens to be a red dot too, then even better.
Tossing up between two trades, have been stuck on this all week
JHF+McEntee->Touk+Carroll
JHF+Brodie->Touk+Parker

The first one means I've got 30 green dots assuming Hobbs plays.
2nd one means I've got 5 top 8 forwards given I'm having some doubts about Brodie long term

— IsaacWF (@Isaac__WF) May 4, 2022
I like both of those trades I think. But for me Carroll has only played just the one game and will he hold his spot/TOG when Hewett returns to the side?  I am also a bit unsure on Brodie going forward and if you are planning to trade him out at some stage then trade number two looks to be good as you are moving on a rookie and a mid pricer to two premiums. The only thing that will do is leave you less cash for the following week's upgrades and you can probably get a good look at Carroll too without him rising too much if he doesn't have a big game.
Double downgrade of Rachele & Ward/Hobbs to Clark & McComb, or go early on Daicos or Brodie to Cripps?

— Lauren (@LozM76) May 4, 2022
As I said above in my Double Downgrade section there are always arguments both ways.  I don't mind the downgrades you are talking about as Rachele has to go and Clark has to come in.  McComb has already had a few price rises too.  But if you are looking to get Cripps in then you probably want to do it sooner rather than later as his price will get out of reach soon and by getting Cripps you aren't one premium behind everyone else with your upgrade cadence.  Daicos has a high BE now and there has been talk of a sore foot and even a rest coming and Brodie is also starting to lose some cash with a high BE.
If I had to do one of those I would do Rachele to Clark and Daicos to Cripps (only because I think he is likely to get a rest soon).
I've been weighing up between bringing in either Touk or Neale, they just seem to even put pretty well when breakevens and future matchups and other stats come into play. Got a clear winner for me?

— Noah Franks (@NoahFranks1104) May 4, 2022
Neale.  I am sure you are kicking yourself for not starting him. I just think that if you are set on one of those two I go Neale for pure point scoring just because he is in a better team. As you say all their stats are pretty even (including identical BE's which both should attain fairly easily this week).
Things to Remember
Two games on Friday night so make sure your team is set before you go to the Pub for after work drinks
There are only 4 more rounds before the byes
Tickets to DTTalk Live in Adelaide are on sale now so come and have a beer with the guys (and me)
Have a great weekend everyone and Happy Mothers Day to all the Mothers that read this column each week.  Remember to just keep looking for ways to upgrade your team each week but have a view a few weeks in advance so you can at least have a plan of what you want your lineup to look like before you get there (and before injuries etc hit).