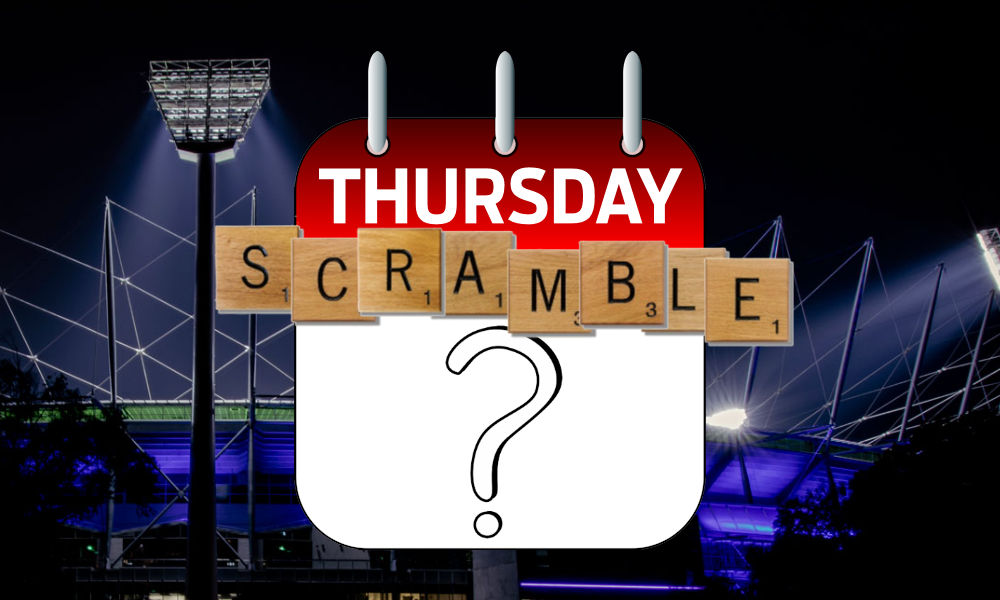 Not quite as many big scores in round 8 but we still managed to get through it ok and despite a bit of a scare with Max Gawn going in for some scans on his knee we seem to have come out of it largely unscathed. But what the round did is ask plenty of questions and it didn't provide too many answers for us. So let's have a look at a few of the bigger issues as well as having a look at a few of your questions. Let's Scramble!
Is there ever a good time to select or trade a player?
We all want to trade our rookies when they reach their peak and we want to trade in the fallen premiums when they reach the bottom of their price cycle. But we all know that this isn't always going to happen. So let's have a chat about what we should do in that situation and hopefully it will give you a bit of help as we head to the byes and we start to (hopefully) finish off our upgrades to our teams.
The key to selecting players to trade out isn't always trying to get the exact week they will peak. That is often not possible. When looking at who to trade out obviously their BE vs what they can score is important but also things to consider include what sort of a run do they have coming up? Are they going to be playing against teams that are easy to score against or difficult.  Also look at whether their current role will change when a player returns to the side from a longer term injury. Someone may be having a great run and rising in price very quickly but they may be playing 'out of position' in the midfield whilst someone else is out, so as soon as that other player is named to come back you may want to drop your rookie.
I also look at whether or not I need the extra cash that that player is worth to upgrade someone else. So I may have a rookie that is up to $400k but still has a bit more to make and another that is maxed out at $350k. However, to do the upgrade I need I may need that extra $50k. So I would then trade out the more expensive guy because the points that I will net on field from doing that far outweigh what I would have if I had to settle for someone else in my upgrade that is a bit cheaper.  I haven't really worded that well but I hope you understand what I mean. I am looking at the longer term gain of points over the possibility that player A might make another $25k later on down the track.  The other thing to consider here is also that as the player gets closer to their peak value they also get there a lot slower than they did when they started rising in value so you may have to wait 4 weeks for those last few dollars.
On the other side of the coin, when we are looking at bringing a player in we may not always wait til they hit their rock bottom price (but we do want to get close). If they are scoring well you don't want to keep a guy scoring 60s when the bloke you want is likely to get a 100 just because player B is likely to drop another $5k because they had a BE of 125. Remember this game is all about points on field. If you have no other trades you have to make or if you really need that scoring then just go for it and grab them.  Having said that if someone has a BE of 200 and they are averaging about 100 you should definitely wait a little there. Trying to get the very bottom isn't always possible either. If you wait a week then you may have a couple of injuries you need to fix in that following week which then locks you out of your target.  If I can afford my target and they are maybe one or two games from their absolute bottom I will sometimes pull the trigger because you never know what cards the fantasy gods will deal you next week.
When trading in you need to factor in their bye (if you are doing it before the byes of course) and also any positional factors such as DPP status. Sometimes you will need to make a call and the deciding factor may not be their scores as they are very close.
#AskDunny
Butters out, Darcy Cameron a viable option?

— Ryan Humphreys (@ryanhumphreysdt) May 11, 2022
I can certainly see why you would have lost patience with Butters.  As an owner too (and a supporter) it is hard to watch him not scoring. I am still going to hold him though, at least to the byes, as I still have rookies to move off field and he could catch fire at any stage. But if you are keen to move him on, then I think that you have better options than Darcy Cameron. He has had two good games since Grundy has been missing but I just don't know whether it can continue. When I look at his scoring in the past it has been erratic with the high scores being the odd ones out. With Grundy out he should be viable but I really think you can find a better option. I guess if you go for Cameron, just beware he could drop a 50 on you just as easily as a 100.
Parker Duncan or Cameron plus cash. Cheers

— James England (@JimKingWings) May 11, 2022
Just to follow on from above I would take Parker and Duncan every day over Cameron just because they have scored well consistently in the past and we just haven't seen that from Cameron. And given a choice I take Parker first mainly due to Duncan's injury prone body concerns.
Is A.Brayshaw the real deal ? Or a trap.
At his price, with his run ( eagles, north ) it looks good.

— #5-MillarTime 🤠 (@time_millar) May 11, 2022
I like his run coming up and he should score well but we have seen him do this before. There is no doubt that he has had some good games but 5 of his 8 so far have been 90 or less so I think he is more in the Trap territory than the Real Deal.  I don't think I would pick him up unless you think he will go huge in the next two weeks and then look to trade him out after R12 and pick someone up that has had their bye.
Is there merit to fixing red dots for byes when doing something like trading Mead/McInnes to a playing rookie might be useless because such rookie might be dropped around the byes anyway? Better to wait on these red dots until their byes and trade them to green dots at the bye?

— Billy Elsum (@_billyelsum) May 11, 2022
I don't mind your thinking but the issue I have is that you may not have many green dots at the bye and really what you want to be doing is upgrades at the byes and not side swapping rookies. Side swapping rookies is something we should all try and avoid as much as possible but if you are going to do it I would probably do it now as you can pick someone up that might play over the coming 3 rounds and make you some money so that when you do trade them out at their bye you get some cash from them rather than a Mead who may not play between now and then and you aren't getting any additional cash.
Do we break the rule about trading under performing premos when they are scoring less than mid pricers and rookies? Also factoring in their byes.

— John (@SinceIGotGAWN) May 11, 2022
Hey Dunny.. if there are no good rookie downgrade options this week (mainly for FWD/DEF), would you look to sideways trade a failed premo like Cogs to a Duncan type instead if it helps your bye structure?

— Nick Papadatos (@BewicksBananas) May 11, 2022
A couple here on the same topic so I will answer them together….  My golden rule here is that I only trade out an under performing premo if I have nothing else to do and I don't have rookies on field that are struggling to score. Because the rookie probably won't score too much more than a 50-60 but your under performing premo that had 60 last week could come out and score a 120 this week. Having said all that if you are going to trade them out then the byes are really the only reason I would do it. But really it is a last resort and I would do everything I could before breaking that rule.
Things to Remember
Look ahead to the fixture if you are going to do some loopholing and have plans ready, it is easy to stuff yourself up.
There are just 3 games left before the byes.
Look to move your Rookies before your Premos if you can.
Things are getting harder but it just means we need to be a little smarter. Have plans that see you right through to the byes. Plan who you want to move out and who you may want to bring in. It won't be exactly what you do but it gives you some direction and helps get you to the byes in good shape.  Enjoy the weekend and see you all again next Thursday.