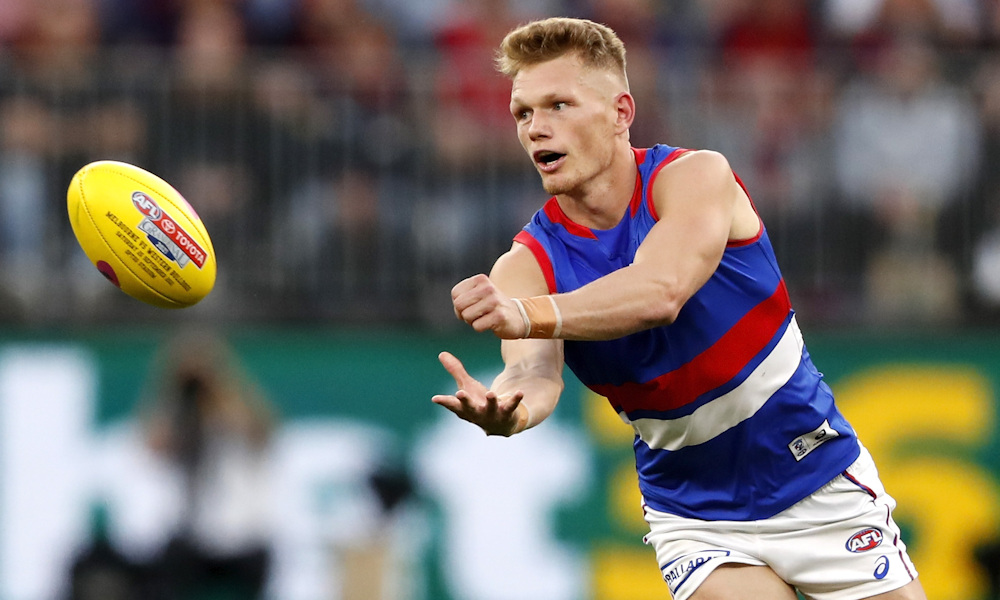 Name: Adam Treloar
Team: Western Bulldogs
Position: MID/FWD
Price: $731,000
Bye round: 13
2021 average: 87.2
2021 games played: 13
Predicted average: 97
Draft range: Top 5 forward
Click here for 2022 Fantasy prices.
Why should I pick him?
Whenever a player has averaged more than 100 on multiple occasions AND is available as a forward we must consider them.
Let's rewind to what Adam Treloar has done across his career. He was among the debut class of GWS of 2012 when we were blessed with a plethora of cash cows. Treloar was epic. He played 18 games at an average of 81.6. He followed it up with an 88.9 season and then started his run of tons, joining a group of players who enjoyed a third year breakout with a 103.4 average.
His switch to Collingwood for Year 5 was incredible, averaging 111 throughout his five seasons in the black-and-white.
While his first season at the Dogs will look like a fair let down with 87.1 next to his name (that's his worst since his debut season), there were some decent signs. He had good centre bounce attendance numbers from rounds 3-8 – averaging 57% of CBAs – where he delivered a ton in each of his six games at an averaged of 109.2.
We can forgive a lot of his poor performances from last year. Treloar was underdone after a calf injury and his roll was playing as a forward as he was eased into the season. Those run of higher CBAs, which had him in a mix of similar attendances as Libba, Bont and Dunkley behind their main man Jack Macrae, was probably what we were going to get… until an ankle syndesmosis, requiring surgery, saw him miss the next 10 weeks. On return his scores were up and down but his finals games including scores of 93, (43), 105 and 93. It should be noted that these came from limited to no CBAs, except in the Grand Final where he attended 50% but his scoring was certainly helped by his three goals for a respectively modest 93 points.
Simply, there's upside in Treloar after a first season that had plenty of challenges for the new Dog. Priced at 87, he's still ranked as the sixth best forward on average from last season and if you take our his injured 37, he'd be the fourth best, just behind his mate Dunkley.
Why shouldn't I pick him?
Role; he needs the CBAs.
Basically Treloar is a MID/WINGER/FWD at the Dogs. Even when getting his higher CBAs, they're not huge numbers as there are plenty of mouths to feed. In his 2020 games at the Pies, he had similar CBAs and was sitting as the 3rd-4th banana in the Collingwood midfield. The difference is that he was basically their highest scoring midfielder.
Treloar's lows were pretty low. 59 in R1 coming off that pre-season calf 56 in R22, his second game back after injury, 43 in semi-final vs Brisbane. While there are reasons for these, they are there and are real.
Probably the big thing about not picking him is that you may not be totally burned if you don't start with him. Yes, those round 3-8 were great when he was going at 109 (22 points upside is massive). It included a 127 – his only big score – the rest were just a tick over 100. So maybe this means that you could get a look at him and his role early on before jumping. With the Demons in R1, it's hardly an easy start.
Another thing to make sure you're considering is his injury history. We have seen a few soft tissue injuries – calves, hamstrings – which has limited his games at time. He missed 9 in 2018, 9 in 2020 and 9 in 2021.
Deck of DT Rating.
QUEEN
I'm torn. Initially, I locked Treloar into my team… but with quite a few value forwards, we're going to have be making some tough calls. Do I like Dunkley better? Maybe. Can I have both Dunkley and Treloar in? Possibly not. If we're seeing 50%+ CBAs in the scratch match and the AAMI Community Series games, then I would be keen to make Treload my F1 and roll with those bargains below him (Heeney, Thomas, Dusty, etc). The forwards are a line where we can possibly shave some cash due to the unknowns on a few players. One thing to monitor is that Treloar has had a somewhat limited pre-season… which is another reason why he is currently out of my side. But as we know, every man has his price and if we see game time in the pre-season, we should be happy that they're ready to go!
FOLLOW US  ON TWITTER: @DTTALK for all things AFL Fantasy (and more). Got something to say about the deck or AFL Fantasy in general? Join the conversation and use the hashtag… #AFLFantasy.