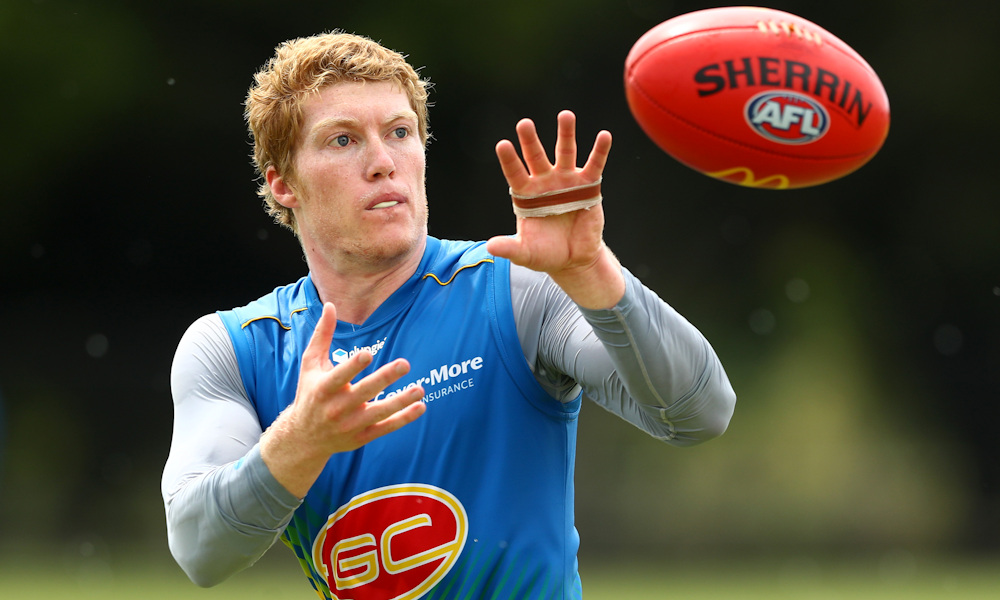 Name: Matt Rowell
Team: Gold Coast Suns
Position: MID
Price: $464,000
Bye round: 13
2021 average: 55.3
2021 games played: 12
Predicted average: 84
Draft range: Deep, bump up in keeper
Click here for 2022 Fantasy prices.
Why should I pick him?
The highly touted youngster burst onto the scene in his rookie year with two hundreds within his first three games including a 20 possession, ten tackle and two goal performance where he scored 104. That performance backed up his previous week of 26 possessions, seven tackles and two goals for 108. Need I remind you that these were shortened games due to Corona ball, so convert to 130's.
He came in with high expectations after a successful junior Fantasy career, but that was ridiculous for a kid. He looked as experienced and physically developed as his senior rivals.
There aren't a lot of positives that can come from two injury marred years but you can guarantee Rowell will take full advantage of every one available to him. He is a student of the game and took advantage of his time on the sidelines by fast tracking some learning and it leaves him well positioned to go bang in his traditional break out year, combining knowledge with his substantial talent.
After being injured in round one last year on 16, he returned in round 13, never looking himself and his scoring reflected that, reaching 70 on just two occasions and recording lows of 37, 48 and 49. Why am I writing this in the 'pick him' section? Because it makes his price extraordinarily low. We have witnessed how much better than that he is, in his 11 games to finish the year, he only reached 20 possessions on one occasion… a feat accomplished in three of his first four games as a rookie prior to injury.
Hugh Greenwood's departure leaves a big hole and some serious grunt work required to take the pressure off Touk Miller in the middle and Rowell certainly has the ability to do it.
Elijah Hollands said Rowell had put his injury woes from the last two seasons behind him and was raring to go as the season opener approaches.
Let's not forget what he did in his last year as a junior… He has an elite Fantasy game:
29.2 disposals (11.3 kicks + 17.9 handballs), 7.6 tackles, 4.4 marks, 115.8 fantasy points
Why shouldn't I pick him?
It's been two years and the young gun has only put 15 full games together, so there is a durability concern that must now be considered.
There are a number of under priced options in the same price bracket across all four lines that you may prefer to take a punt on. We never want too many guys at that price.
He has always been handball happy, and last season it was on full display. Following his return, his kicks only tallied higher than his handballs on three occasions and caused red flags on a couple of occasions including games of two kicks, 11 handballs and three kicks, 13 handballs. He eventually finished the year with 66 kicks and 103 handballs.
There is enough rookie priced midfield talent to leave Rowell out and save/make money out of his replacement.
Deck of DT Rating.
QUEEN
To find Matt Rowell's price on the Suns team list, you have to scroll through 23 names and when you finally get down past Sam Collins, that's where you find the young gun, priced at an average of just 55. He is so much better than that and capable of a 30 point improvement, It's just whether you give up a midfield cash cow's position to do it as opposed to paying up and selecting a best 22 player.
FOLLOW US  ON TWITTER: @DTTALK for all things AFL Fantasy (and more). Got something to say about the deck or AFL Fantasy in general? Join the conversation and use the hashtag… #AFLFantasy.