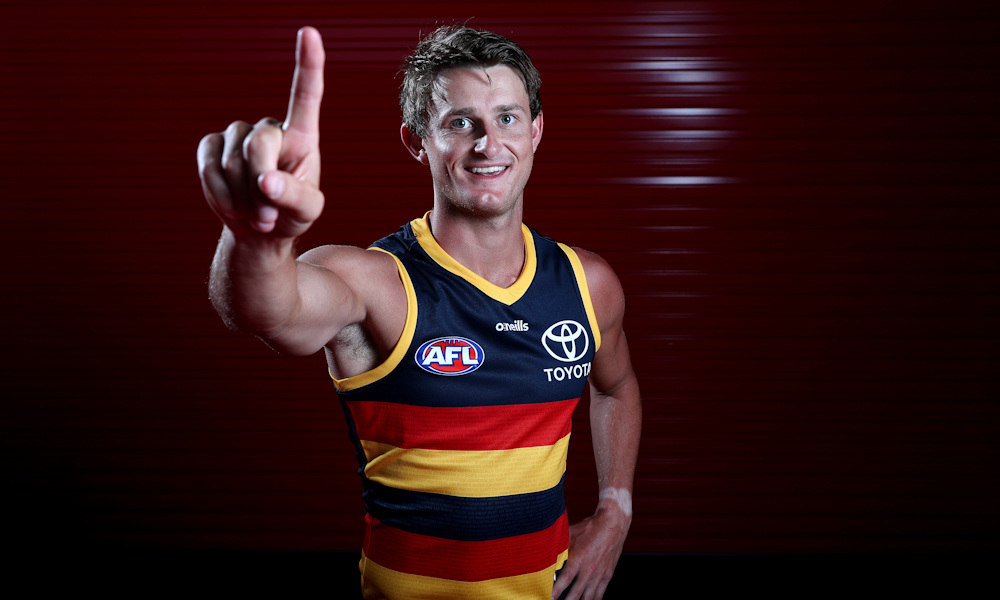 Name: Matt Crouch
Team: Adelaide
Position: MID
Price: $649,000
Bye round: 13
2021 average: DNP
2021 games played: DNP
Predicted average: 101
Draft range: Top-40 Mids
Click here for 2022 Fantasy prices.
Why should I pick him?
To put it simply… if he plays any form of pre-season games – YOU PICK HIM!
His story summed up quickly.
Crouch had hip surgery in 2020 which led to a groin complaint. He returned via the SANFL (scored 89) but was no good so he needed more surgery in November last year.
Crouch is elite. In his Covid season of 2020 he averaged 110 and prior to that he averaged 105-plus for three years running. There is no doubt that he will average 100+ again, if he is fit and firing. So that's the million dollar question isn't it? How is Crouch travelling….
Crouch re-joined the main training group in January. Adelaide chief executive Tim Silvers said on SEN at the end of January… "(Crouch) is nearly in full contact training… and is looking terrific on the track and he's not too far away."
Then early this month the big fella had some words to say to the AFC Media. 
"Obviously last year was tough so to come back and have my body feeling really good again, feeling fit and ready to go is massive for me," Crouch told AFC Media. 
"It's been awesome to get out there with the boys, they've been training super hard so it's been great to get out there with them," Crouch said.
It's looking positive. It's looking like we will see Matt Crouch for a pre-season game and if that's the case, expect his ownership of 20 per cent to double.
Click HERE for the full article and to also see his hideous watch tan mark – which is a reason why you shouldn't pick him but I'll over-look that for now.
Why shouldn't I pick him?
How many players do you want in your team who are "coming back from injuries" and who might be a might be a late out at any stage?
Ok… so you probably have multiple players who sit in this category. Milera, Sicily, Preuss…. You get my drift and then you can add 'unpredictable' names like Duncan and Treloar to that as well.
Fantasy is a tough game full of headaches, so why are we adding another player like Crouch who hasn't played since round 18, 2020 into the mix?
Oh hang on… maybe we have better options who could sit in the position of Matt Crouch.
What about Jye Caldwell (MID, $488,000) and Matt Rowell (MID, $464,000)? These guys are also coming back from injuries bu sit at a whooping $200k less than Crouch. Or what about Pat Lipinski (MID, $606,000)? Yeah he is worth a little more but out of the three…  but at least he's fit and healthy and after arriving a at a new club… he is out to impress.
If there is a risk element with Crouch, then we might as well take the same risk and save $200k.
Deck of DT Rating.
KING
Anyone who has averaged 110 before and is priced at 77, needs serious consideration. Prior to that amazing 2020 season, Crouch averaged a consistent 105 and even if he gets close to that in 2022… that's plenty. The reports from sauces and word on the street all appear positive that we should see Crouch this pre-season and if that's the case…. what more do you need? LOCK and LOAD.
However with that said… the more I researched (I did a little) around Crouch… surely he gets rested after a few games and could be significantly managed in his comeback season. This could mean the likes of Caldwell, Rowell and Lipinski could come into play for me as the season approaches. They are proven scorers and I'll save money going down that path. Pre-season games are the key though, but at least I have a plan B if things don't go to plan.
FOLLOW US  ON TWITTER: @DTTALK for all things AFL Fantasy (and more). Got something to say about the deck or AFL Fantasy in general? Join the conversation and use the hashtag… #AFLFantasy.