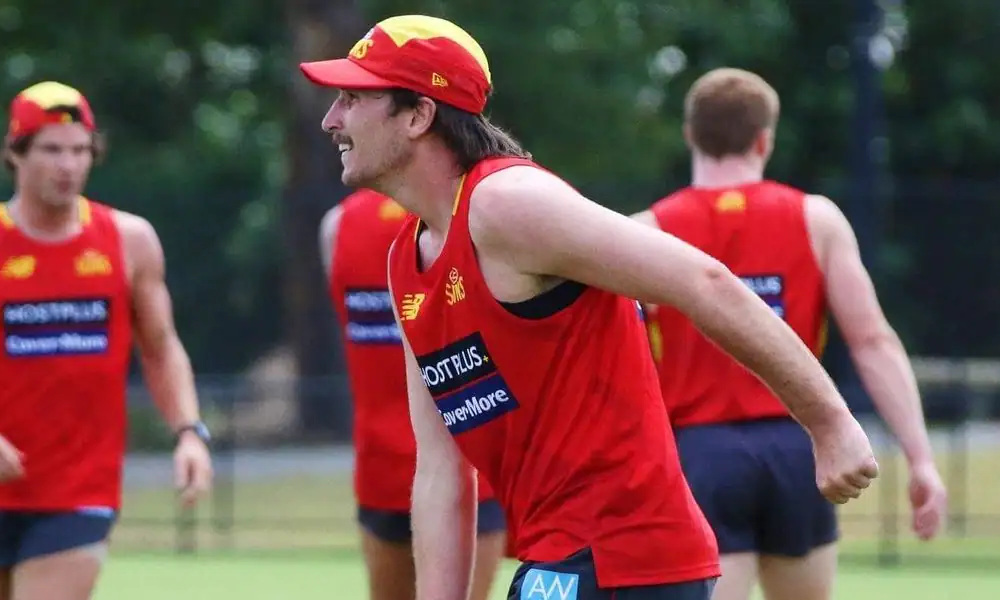 Name: Charlie Constable
Team: Gold Coast Suns
Position: MID
Price: $513,000
Bye round: 13
2021 average: 51.3
2021 games played: 3
Predicted average: 90
Draft range: Late
Click here for 2022 Fantasy prices.
Why should I pick him?
Charlie Constable is currently only owned by 2.5%  of coaches and I honestly believe this is the lowest we will see that figure.
After struggling to break into a stacked Geelong midfield for years, Constable has moved to Gold Coast to try break into their stacked midfield.
… ok, that doesn't sound great but stay with me.
Hugh Greenwood was a walk up selection in Gold Coast's best 22 last year, he's now gone.
Jack Bowes was promised midfield time, started training with the midfielders this preseason but has since injured his shoulder, he's now out for 4 months.
That's two midfield spots that have opened up at Gold Coast, he only needs one!
While Touk, Anderson and Rowell have their inside mid spots sewn up, I can still see Constable getting rotations through there on the back of a strong preseason.
At 23 years of age, Constable has a mature body and can find the footy. He averaged 111 in the VFL last season and his previous two years saw him average 78 and 83 in the AFL.
Only managed 3 games last year for an average of 53 but if we break those three games down he scored 25 as a sub who came on in the last quarter, 73 while rotating through the midfield and 56 when played as a forward.
After 7 games in his debut season of 2019, Constable found it hard to break into Geelong's midfield in 2020 with the Cats looking to go for a more experienced line up and no VFL footy making it difficult to push his case.
2021 saw Constable only manage those 3 games above with the Cats still opting for their experienced midfielders but his 111 VFL average saw him finish 3rd in the Geelong VFL sides best and fairest.
Constable is the perfect fantasy player with a natural ball winning ability mixed with an appetite to rack up tackles.
He finished last year's VFL season like a steam train, averaging 135 in his last 4 games with scores of 121, 129, 129 and 161!
Why shouldn't I pick him?
Playing at Gold Coast is the biggest red flag here. Constable needs to impress during the preseason and earn a spot in his natural inside midfield position.
Unfortunately, Dew has a history of 'spinning the magnets' (see Lukosius) in ways that hurt fantasy coaches so he's the biggest obstacle in Constable reaching his potential.
That Gold Coast midfield as mentioned above is still quite full of inside mids even after losing Greenwood and if Dos is to be believed, Fiorini is the next cab off the rank after taking an injured Greenwood's position last season and finally improving his disposal efficiency in that time. (as a comparison though, Fiorini improved his disposal efficiency to 66%, Constable's AFL average is 72%)
Unfortunately Constable's price as a pure mid is also quite awkward. Priced at 61 even though he averaged 53 (I can only assume because the magic number hates us) it means that even if Constable can hit his AFL average of 80, that's only a 20 point increase. Is that enough to ride the possible selection rollercoaster?
Deck of DT Rating.
JACK
He's a Jack right now but if round 1 rolls around and Constable is named, he'll be getting upgraded pretty quickly.
The equation is that simple. If Constable is named on the ball, he'll score.
Knowing our good mate Stewie Dew though, he'll be lining up in a greenvest in round 1.
At the very least, save him a spot on your draft benches and keep him on your fantasy watchlist.
Constable is a fantasy King just waiting for his chance.
FOLLOW US  ON TWITTER: @DTTALK for all things AFL Fantasy (and more). Got something to say about the deck or AFL Fantasy in general? Join the conversation and use the hashtag… #AFLFantasy.