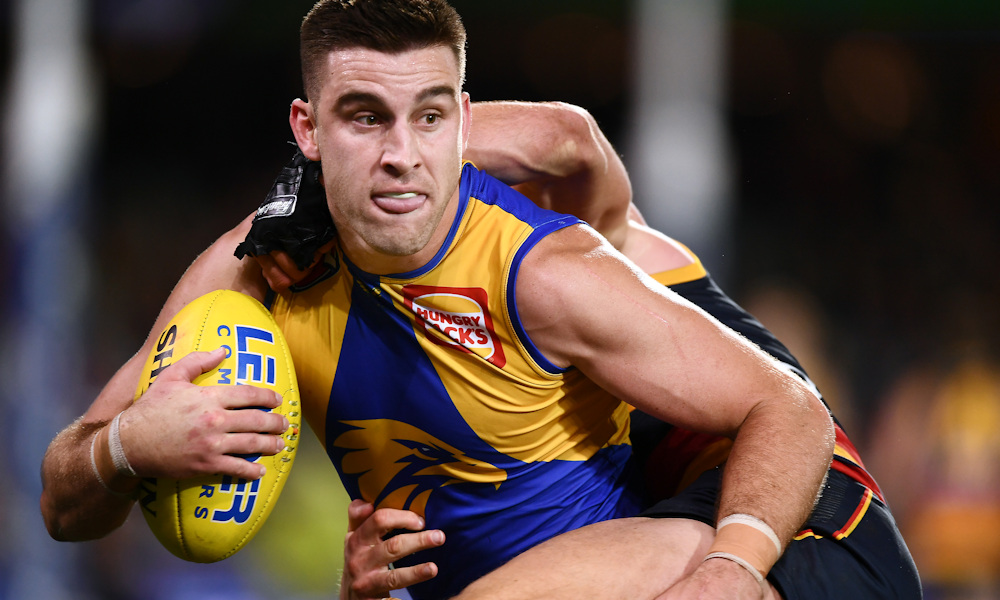 Name: Elliot Yeo
Team: West Coast
Position: MID
Price: $707,000
Bye round: 13
2021 average: 83
2021 games played: 12
Predicted average: 95-102
Draft range: 30-40th Mid
Click here for 2022 Fantasy prices.
Why should I pick him?
Elliot Yeo has been crippled by the dreaded OP injury over the last 2 seasons. After missing the second half of 2020, the entire 2021 pre season and first half, he returned in round 11 and played the remaining 12 games. In 2021, we saw how hard it was for players returning from long term injuries. Yeo was eased back into the side, with his TOG managed for the entire season. Because of this, he comes in priced at 83 which is well under what we know he has done in the past.
Yeo has been a fantasy relevant player for us ever since he broke out for us as a defender in 2017, averaging 98 for the season. From 2018 onwards, Yeo became a key cog in the eagles midfield, averaging 107 and 103 respectively, off the back of his strong tackle game. Despite easing him back through low TOG, Yeo was still the number 1 midfielder at the Eagles in 2021, averaging 78% CBA's and culminating in 86% in the final 5 games of the season. With injury clouds surrounding a lot of the Eagles veteran midfielders, expect Yeo to heavily feature inside the midfield rotations again in 2o22, given his body is ready to go at the start of the season. With strong CBA numbers and being the focal point of the midfield, there is no reason why Yeo can't push back towards that 100 average, providing us some value in the midfield.
Why shouldn't I pick him?
Although durable up until 2020, the last 2 years have not been kind and are tough to ignore. Yeo has only played 22 games inside the last 2 seasons and has been far from his best. Word out of the Eagles camp this pre season is that Yeo has been training away from the main group. I see this as a load management strategy, with nothing to gain from the Eagles pushing him too hard still being so far away from round 1. However, it is always hard to pick players off interrupted pre seasons, considering we need players at these price points to go bang to start the season. It could be the case that Yeo is managed for the rest of his career, meaning a potential rest in the opening rounds of the season. With this injury likely to stay and Yeo now 28 years old, we may never see him at his dynamic best again, capping his average in the low 90s. At his price point that may present value, but not the kind of value we are looking for to win the competition.
Deck of DT Rating.
QUEEN
There is value there in Yeo, with him being in and out of my side all pre season. Currently he sits out of my side, due to the news he isn't training with the main group currently. However if you are keen on him, I wouldn't talk you out of picking him. The Eagles are chips in on one last tilt at a deep finals run and I have no doubt that Yeo will feature heavily in the midfield rotations come round 1.
FOLLOW US  ON TWITTER: @DTTALK for all things AFL Fantasy (and more). Got something to say about the deck or AFL Fantasy in general? Join the conversation and use the hashtag… #AFLFantasy.