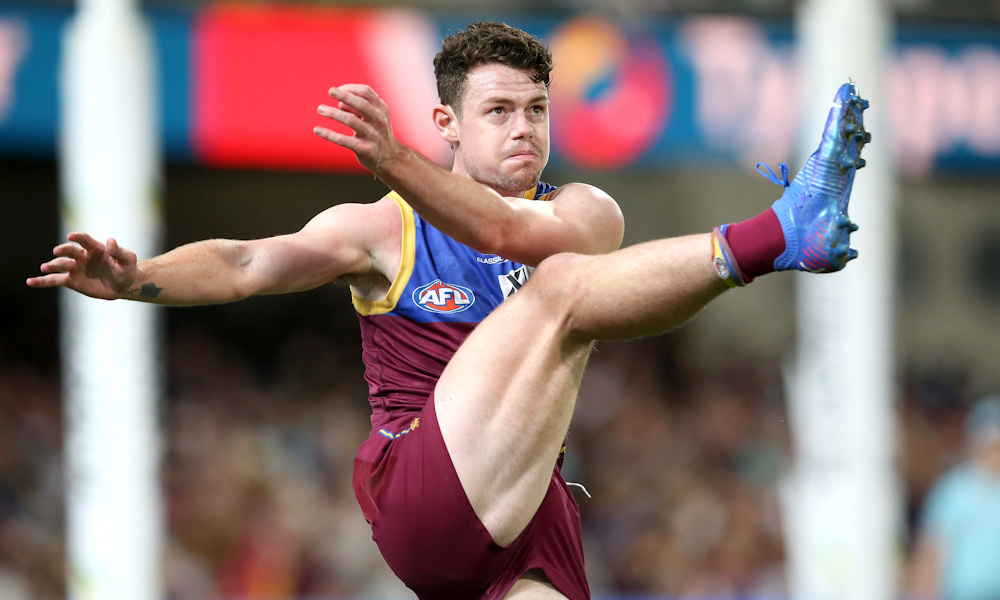 Name: Lachie Neale
Team: Brisbane
Position: MID
Price: $792,000
Bye round: 14
2021 average: 94.5
2021 games played: 15
Predicted average: 105
Draft range: Second round
Click here for 2022 Fantasy prices.
Why should I pick him?
It's simple math that's got Lachie Neale owned by 35.3% of the competition:
98.0 x 1.25 = a lot
Or 122.5 to be exact.
That was his adjusted average in 2020 when he won the Brownlow medal, the Leigh Matthews trophy, the AFLCA champion player of the year and (most importantly) the Dane Swan medal for scoring the most AFL fantasy points.
But 2021 didn't go as smoothly. Neale suffered from a variety of issues throughout the season including a back injury, ankle surgery, a calf complaint, a shoulder problem and even missed a game due to illness. He only averaged 94.5 fantasy points for the year – his lowest since 2014.
That's what's got so many coaches interested, however, since Neale could be almost 30 points underpriced. That's obviously a stretch, but even his second best average of 111.1 in 2016 means he's underpriced by 16.6 points or $143k.
It's also promising that Neale has recovered from the injuries that plagued his 2021 season. Queensland-based AFL reporter Michael Whiting posted in December: "Couple of observations from
@brisbanelions training today. Lachie Neale is SUPER fit. Body seems in great order after a disrupted 2021 season."
And it's easy to forget that Neale is only 28 years old. He's in the prime of his career, Brisbane are in a premiership window and he'll be a leader in the midfield for years to come.
Why shouldn't I pick him?
In the words of Forrest Gump: "Life is like a box of Lach-olates. You never know what you're gonna get."
If you bite into a choccie, you might get Turkish delight (ew). And if you pick Lachie, you might get the version that averaged under 105 every season except 2020 and 2016 and was happy easing his way to a ton but nothing more.
It's also important to point out that 2020 is an anomaly and there's no way Neale will go 120+ again. He excelled with the 16-minute quarters with massive time on ground and flew under the radar with very few tags. His time on ground has dropped back to pre-pandemic levels and he now cops a lot more attention from the opposition since he's a superstar and Dayne Zorko is no longer Brisbane's #1 tag target.
Another red flag is the fact that Neale requested a trade back to Fremantle last year. He ended up staying to honour his contract and he's a professional who'll still give 110% but his family struggled with the hard WA border and 2022 is shaping up as another difficult year.
Deck of DT Rating
KING
Lachie Neale will average 100 to 110 so he's about 10 points underpriced if he splits the difference and pumps out a 105 this season.
That's a safe bet in classic but I want to see his preseason game to make sure he's completely injury free and to check his teammates don't go full Richmond v Houli and refuse to pass him the ball.
In draft I'd leave him to the eager coach who goes way too early and thinks Neale will hit 120 again.
FOLLOW US  ON TWITTER: @DTTALK for all things AFL Fantasy (and more). Got something to say about the deck or AFL Fantasy in general? Join the conversation and use the hashtag… #AFLFantasy.