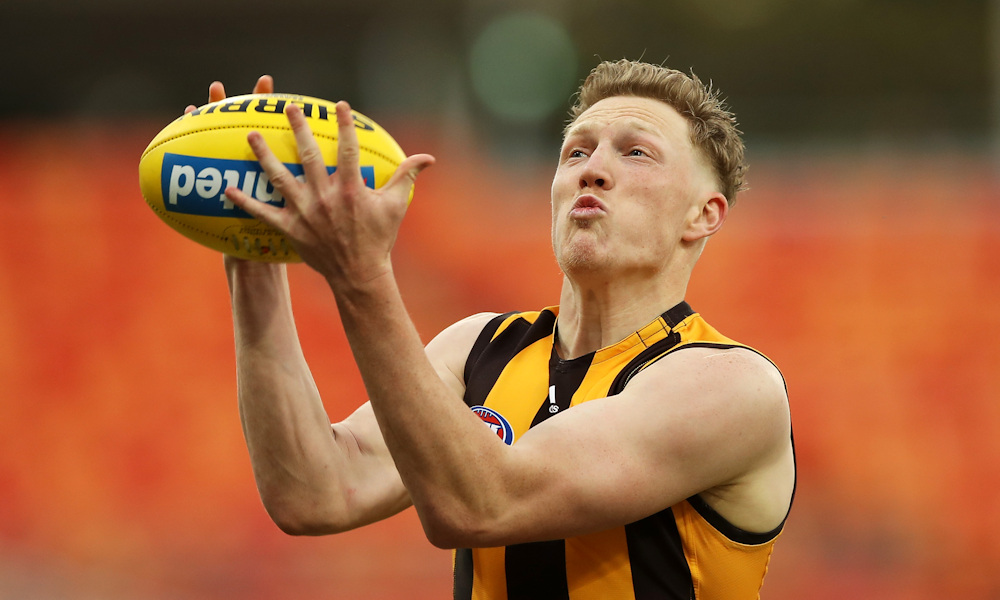 Name: James Sicily
Team: Hawthorn
Position: DEF
Price: $510,000
Bye round: 14
2021 average: 0
2021 games played: 0
Predicted average: 85
Draft range: Rounds 6-8
Click here for 2022 Fantasy prices.
Why should I pick him?
Sicily is one of the most picked players in Fantasy this year currently in 46% of teams, and there is good reason for that. Being only priced at $510k he is about 31% below what he should be priced at thanks to a handy price drop due to not playing last season due to an ACL injury. The hope is with some semi consistent scores he will be able to get his price up quite fast. However cash gain is not the only reason we want to pick players. They need to score well obviously!
Sicily historically has shown the ability to score very decent scores. In 2018 he averaged 95.6 for the season, and in 2019 he averaged a modest 83.6. Both those seasons were topsy turvy, but for the most part Sicily was scoring in the 90s or 100s. He has got the ability to put out some poor scores though, which I will elaborate on later in the article. The main thing to take note of is, if he is played in the free flowing back role he plays so well, he WILL score well.
So far this pre-season things are looking good for Sicily. He is performing very well in training, and at the moment there is no signs of him being thrown forward, a role that was the reason his averages weren't higher, and that forced his scores in the 90s to becomes scores in the 60s. From all accounts he will play in defence, with Mitchell coming our recently and stating that Sicily plays his best football in defence. If he plays in defence his priced average (currently 61) is about 30 under his potential.
Why shouldn't I pick him?
As I mentioned above, he has in the past had the tendency to be placed in roles that don't favour him Fantasy wise. In his last season he was used as a lock down player on opposition defenders, meaning he had no chip around, and very little ability to intercept – two factors that influence his fantasy game. He was also used to lock down opposition forwards too, which didn't hurt his score as much, but still limited it to some degree.
His injury is also something to question. Yes he looks fit in training, but game day is totally different. Will, he bit fit enough to play his regular time on ground? Will he have the confidence to attack the ball? These are all unknowns, that hopefully will be answered in Pre-Season.
Deck of DT Rating.
JACK
Sicily is in nearly half of all teams for a reason, because he is severely underpriced. As a comparison he is $281k cheaper than Alex Witherden who averaged 88 last season. There is no reason Sicily can't average near that if fully fit and playing the role he averaged 95 playing in 2018. That saving alone is the reason if you haven't looked at him you should! His injury history and inconsistent Fantasy scores are the only concerns, but at his price those can be ignored as he's only priced at 61 points, scores I can't see him scoring under unless his role changes, and because of his price there is very little risk attached.
FOLLOW US  ON TWITTER: @DTTALK for all things AFL Fantasy (and more). Got something to say about the deck or AFL Fantasy in general? Join the conversation and use the hashtag… #AFLFantasy.