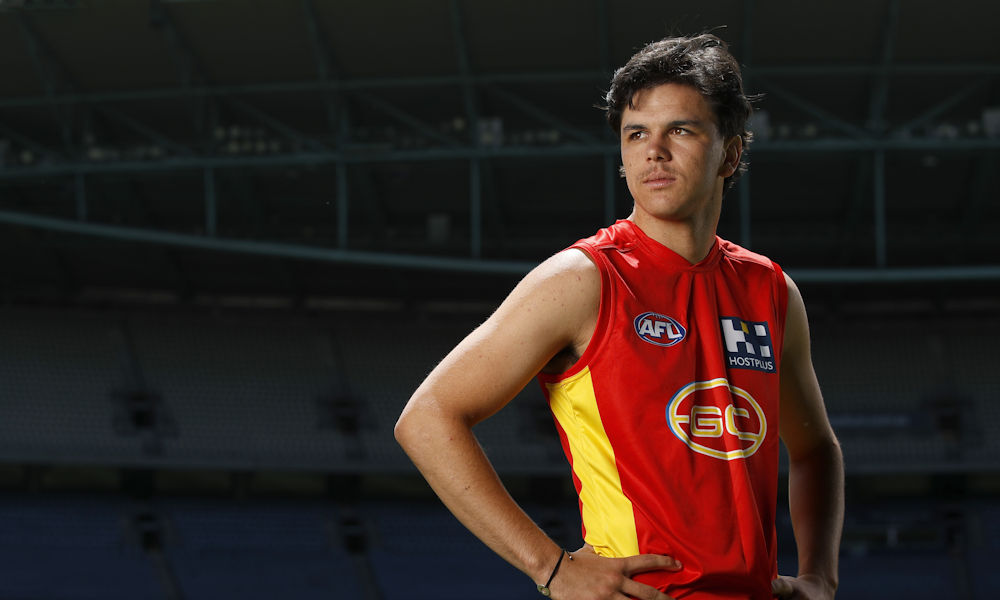 Name: Elijah Hollands
Team: Gold Coast Suns
Position: MID/FWD
Price: $190,000
Bye round: 13
2021 average: DNP
2021 games played: DNP
Predicted average: 70
Draft range: Late
Click here for 2022 Fantasy prices.
Why should I pick him?
If it weren't for an ACL injury this guy could have been the number one pick in the 2020 draft.
He was considered the best midfielder of the 2020 draft crop, despite not playing a game that year due to COVID-19. However, if you take a look at his games from 2019 you'll see he put up some good numbers as a bottom-ager. He played four NAB League games for the Murray Bushrangers, averaging 84.7 points, going at 11 kicks, 6 handballs, 6 marks, 4 tackles and a goal per game.
His best individual performance came against Gippsland Power in Round 1 of 2019, where he had 12 kicks, 3 handballs, 10 marks, 3 tackles and an AFL Fantasy score of 90 points.
Whilst these numbers may not look like much on paper, I'll remind you that he was a year younger than the midfielders he was competing against. So putting up numbers like this when playing against players who were close to AFL ready is quite impressive.
After being taken by Gold Coast at pick 7 the following year, he spent most of 2021 in rehab recovering from the ACL injury.
He returned to football in Gold Coast's VFL side in June after 16 months out of the game. He was managed quite heavily upon returning but did put up an impressive score of 95 AFL Fantasy points in Round 15 which included 16 kicks, 11 handballs, 3 marks and 4 tackles.
So, let's get back to the point… Why should you pick him?
Gold Coast Recruiting Manager Kall Burns recently stated that Hollands is likely to be used as a midfielder/forward in 2022, but also mentioned he could be used across half-back at times due to his elite disposal. This indicates that an early-season debut is likely for Hollands.
But the main reason above all else as to why you should pick him is his price. Providing he is playing in Round 1, Elijah Hollands will cost AFL Fantasy coaches a mere $190k this year and should match the scoring of some of the 2021 draftees you'll be paying up to $100k more for.
In short, if he's playing in Round 1 – get on board!
Why shouldn't I pick him?
The obvious reason is the injury concern.
He spent 16 months out of the game and only played three games of football upon returning. Obviously, he would have played more if COVID-19 didn't end the VFL season prematurely. The three-game sample we were given in 2021 does not necessarily show us that his body is ready to weather the rigours of AFL football.
The other reason is the erratic nature of coach Stewart Dew. Over the years we have seen multiple players who have enormous fantasy potential finding themselves on the outer or playing out of position. Just look at players like Brayden Fiorini or Will Brodie who showed so much promise but couldn't get a game for so long. So, despite being so highly touted at the Suns, we can't guarantee Stewart Dew will see it the same way.
Deck of DT Rating.
Jack
There's a lot of hype around Hollands as there should be. He was an elite junior who had some shockingly bad luck with injuries and COVID-19 lockdowns. Despite not showing us what he's properly capable of so far, the word coming out of Gold Coast is he's ready to step up and make an impact in 2022. If selected in Round 1, he will be in 90% of teams and should make coaches some cash in the early stages of the year. If he doesn't play straight away, he will make the perfect downgrade target later in the year.
FOLLOW US  ON TWITTER: @DTTALK for all things AFL Fantasy (and more). Got something to say about the deck or AFL Fantasy in general? Join the conversation and use the hashtag… #AFLFantasy.