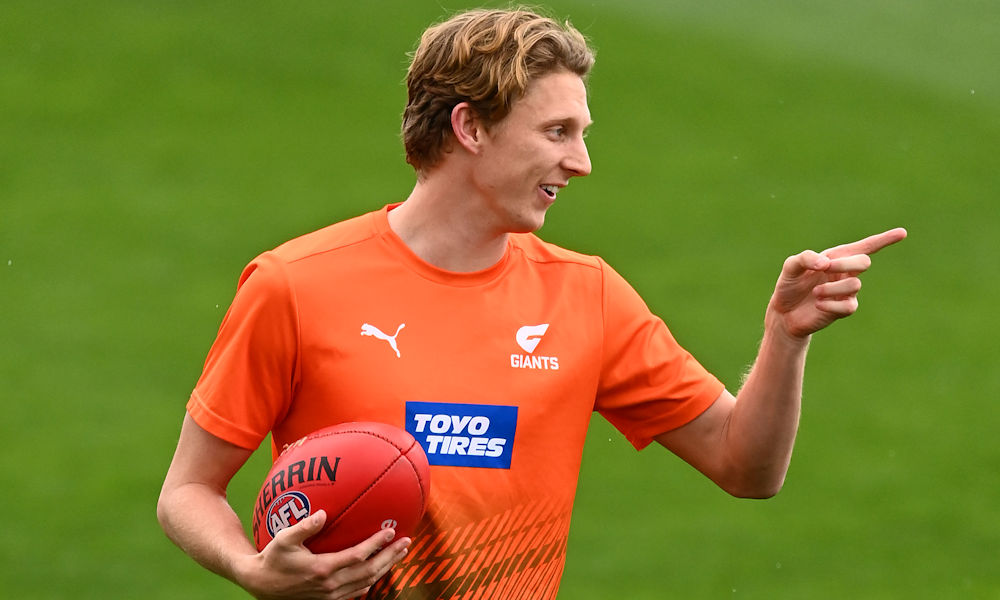 Name: Lachie Whitfield
Team: GWS
Position: DEF/MID
Price: $795,000
Bye round: 12
2021 average: 94.8
2021 games played: 15
Predicted average: 101
Draft range: Second round
Click here for 2022 Fantasy prices.
Why should I pick him?
Whitfield averaged 113.8 last year but if you use your trusty CALculator to remove the injury-affected 39 in Round 6, he would've averaged– wait a second. That was 2019, sorry.
Whitfield averaged 108.0 (BCV) last year but if you use your trusty CALculator to remove the injury-affected 10 in Round 3, he would've averaged– hang on. That was 2020. Getting closer!
Whitfield averaged 94.8 last year but if you use your trusty CALculator to remove the injury-affected 28 in Round 17, he would've averaged 99.8. There we go!
That means he's five points or $42,000 underpriced straight off the bat. It also makes him the fourth best defender available, leapfrogging Stewart, Rich, Lloyd and Docherty.
But another reason you should pick him is his massive ceiling. Remember when he scored 190 points against Carlton in 2019? He'd be a handy option for the VC with the rolling lockouts this season. Even just looking at 2021, he scored 110+ eight times including the finals.
Lastly I've always loved Whitfield's role. If you've ever seen him play live, he basically roams around the ground wherever he wants racking up marks at will. I once saw him mark the ball at half back, kick, run up the MCG wing, and then mark and kick again in the space of 10 seconds.
He also took 39 kick ins in 2021, second at GWS behind Cumming. He played on 34 times, earning his owners an extra 102 points for free.
Why shouldn't I pick him?
As I alluded to above, Whitfield is injury-prone. But not only that, the injuries often strike in-game when it hurts the most. It was a heavily corked thigh in Round 6 2019 and concussion in Round 3 2020 and Round 17 2021. And we can't forget the freak liver laceration that forced him to miss the first six games of 2021.
In 2021, he started at $820,000 but finished the year at $662,000. In 2020, he started at $844,000 but bottomed out at $677,000 in Round 6. And in 2019, his price was only saved by that mammoth 190 in his first game back after injury.
All this means that even though Whitfield will be a top six defender and a must-have by Round 23, you're probably safe waiting for his price to plummet to save yourself a trade and at least $100,000.
And although I raved about his high ceiling before, it might be a thing of the past. His highest score last year was 132 and he's only gone 150+ once since the 190 in May 2019. It means that he's unlikely to burn you with a monster score early in the season if you don't own him.
Deck of DT Rating
ACE
Whitfield is an out-and-out fantasy Ace and 47.5% of coaches think so too. His last five averages are 94.8, 108.0, 113.8, 100.1 and 97.9 and he'll be back to 100+ again if he stays fit. He'll be a top six defender and is currently my D1, although I'll be keeping my eye out for cheaper and reliable options attending centre bounces.
FOLLOW US  ON TWITTER: @DTTALK for all things AFL Fantasy (and more). Got something to say about the deck or AFL Fantasy in general? Join the conversation and use the hashtag… #AFLFantasy.