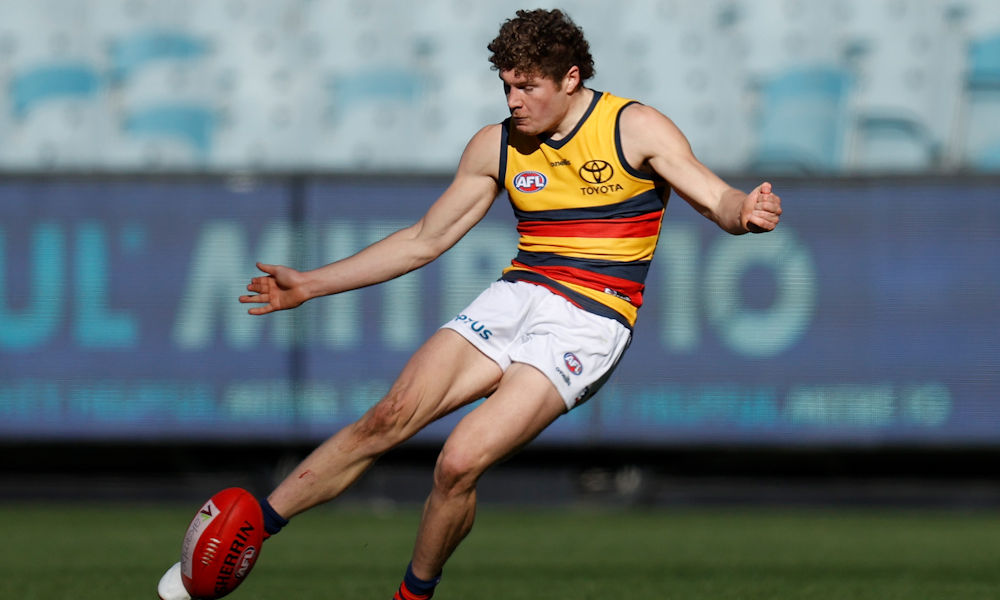 Name: Harry Schoenberg
Team: Adelaide
Position: MID
Price: $582,000
Bye round: 13
2021 average: 69.4
2021 games played: 22
Predicted average: xxx
Draft range: Late … in deeper leagues
Click here for 2022 Fantasy prices.
Listeners of our podcast will know that Harry is one of my favourites and I'm tipping a big third year breakout for the young Crows midfielder.
Why should I pick him?
Because he's the second coming of Mark Ricciuto!
Look, that might be a stretch but those who have watched Schoenberg's development over the last couple seasons will know that he has plenty of speed and a genuine appetite for the contest. He also knows how to find the footy and doesn't mind a goal or two. He also likes the big stage, which was evident when he picked up 31 touches in the Round 21 Showdown last year.
However, the real reason to pick him is because of his end of year fantasy form which seems to have slid under the radar. Schoenberg did only average 69.4 last season but built really well throughout 2021 and went on to average 83.8 in his last 5 games.
His form in the back end of 2021 is all the more impressive as he was playing minimal Time on Ground (TOG) and still scoring really well. In his final six matches of the season, he averaged 88.6 from only 69% TOG and scored 108 in his final game against the Roos from only 65% TOG.
I'm a huge believer in the third-year breakout and Schoenberg's career is tracking along very similarly to that of Andrew Brayshaw.
Coaches may remember that Brayshaw ended his second season very well before a big third year and Harry's numbers are even stronger than Brayshaw. From his final six games, Brayshaw averaged 83.8 from 73% TOG before taking his game to the next level in 2020 where he averaged 95.5 (adjusted) from 75% TOG. Schoenberg's average is around 5 points more from less TOG!
I can see many similarities between the two and believe that Schoenberg can hit similar heights in 2022. With a big pre-season under fitness guru Darren Burgess, I can see Schoenberg spending more and more time on ground which should correlate to more disposals and bigger fantasy scores.
Like Brayshaw at Fremantle, there isn't much competition for spots in the Crows midfield. In my eyes there are no ready to go natural midfielders ready to step up at the Crows. They have some promising juniors like Pedlar and Berry but they aren't jumping Schoenberg for a midfield spot this season. With an injury cloud still over Matt Crouch and Rory Sloane heading into the twilight of his career, the opportunities for Schoenberg this season should be immense.
From a draft perspective the best reason to pick him is because he will likely slide in a lot of drafts. A lot of coaches will be looking at that 69.4 average for a mid only and dropping Schoenberg down their rankings. His late season form is a better indicator of how good he can be and you could possibly grab him around 180-200 and for a guy who could easily be a M5 by the end of the year, he will prove to be a bargain.
Why shouldn't I pick him?
Like Patrick Lipinksi who I wrote about earlier this month, Schoenberg is awkwardly priced at $582k for those salary cap players. I'm happy to back him in my side as a unique point of difference but I may be a little more confident than your average salary cap coach.
From a footy point of view there are two possible concerns. The first concern is with Schoenberg's tank. While I spoke about his ability to score well from minimal TOG, is he actually a player who can build his tank to get those extra minutes on the ground or is he just a crash and bash, impact player? I'm confident that with his third pre-season under the belt and a Darren Burgess one at that, he can develop that engine to become an elite midfielder.
Secondly, what happens with Matt Crouch and the midfield mix if he's fit? If Crouch can make a comeback from injury, he has to slot into the midfield as he can't do much else. Keays has shown he's an elite runner and ball winner, which really leaves Laird, Sloane and Schoenberg as players who may have to find a new spot if Crouch returns. Laird could easily head back to a half back flank but that's unlikely after his Club Champion winning season in 2021. Would this push Schoenberg to a half forward flank instead? Or do they persist with the rebuild and reprogramme Sloane to become a forward or back flanker?
While I think both of the above concerns are only minor, it's worth keeping them in mind ahead of the new season.
Deck of DT Rating.
QUEEN
I can easily see Schoenberg averaging in the 85-90 range this year and possibly even more if he can develop his tank. I expect the scores we saw at the back end of last year to be a regular occurrence and after losing forward status, he's a player that will slide in a lot of coaches rankings but don't let him fall in yours!
FOLLOW US  ON TWITTER: @DTTALK for all things AFL Fantasy (and more). Got something to say about the deck or AFL Fantasy in general? Join the conversation and use the hashtag… #AFLFantasy.