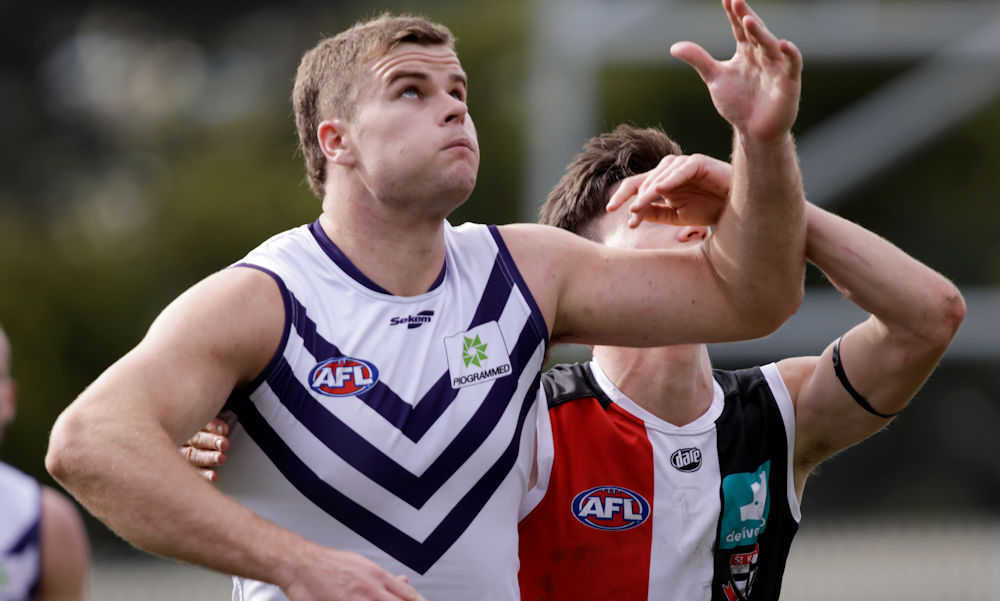 Name: Sean Darcy
Team: Fremantle
Position: RUC
Price: $786,000
Bye round: 14
2021 average: 93.7
2021 games played: 21
Predicted average: 98
Draft range: 2nd to 3rd round
Click here for 2022 Fantasy prices.
Why should I pick him?
Sean Darcy has arrived.
After struggling to put games together early in his career, Darcy spent the preseason training with Gerard Majda of BodyMajic, hit 2021 hard and managed 21 games for an average of 93.7 taking out Fremantle's fairest and best in the process!
While I'm sure there was more at play than just an intense 10 week fitness program during the off season, it's worth noting that Darcy has once again gone through the program during the off season and is looking ready to tear the competition in half.
(for those of us adding to our watchlists, Luke Jackson, Trey Ruscoe and Josh Treacy also completed the BodyMajic program this preseason so adjust your ranks accordingly)
Currently finding himself in 16% of teams, Darcy has entered this season as the 3rd highest priced ruck at $130k behind Gawn and $110k behind Grundy.
The question is however, can Darcy improve his average or is this just what you can expect?
Digging deeper into his numbers last year we can see some nice ceiling scores of 133, 132 and 122. All up, Darcy went over 100 in 9 of his 21 games with only 4 scores under 80.
While his bigger scores tend to come against teams without recognised ruckmen (Essendon, Suns and Carlton) last year showed another string to his bow by pushing forward and becoming a target in attack.
This has boosted his scoring potential by adding more marks and goals to his scoreline.
With 2 injury affected scores bringing his average down, Darcy could even be considered slightly underpriced already but I believe he has shown enough to suggest if all goes right he can finish the season with a 100+ average.
Darcy ticks a lot of boxes and should for his price.
He's always had a strong fantasy game (averaging 83 in his 8 game debut season) and looks to be back playing his natural game under Longmuir.
Why shouldn't I pick him?
While last year could very well be considered Darcy's breakout season, I'm sure I wasn't the only coach holding his breath and just anticipating the inevitable injury that has been prevalent throughout his career.
Even last year he didn't get through unscathed. His missed multiple sessions throughout the preseason after injuring his knee and missed round 1 as a result.
Scans also revealed he strained his PCL during the season and it looked likely that he'd miss games from that, much to everyone's surprise he backed it up the next week.
At different stages he also copped a severe cork and looked to have injured a hamstring.
The positive news is that he didn't miss many games from these injuries last year but it's fair to say our confidence in Darcy's body holding up isn't high.
Darcy also has a bit of the 'Clumsy Mumford' about him. Using his size and frame to impose himself at stoppages is great but he often goes a little too far and it results in a free kick paid against. Those negative points can really hurt!
Darcy gave away the second most free kicks of any ruckman last year with a total of 39, that averages out to about 6 points taken away per game. This is compounded by having the worst free kick differential of any ruckman!
Deck of DT Rating.
KING
It's a big IF but Sean Darcy will be a King by seasons end if he stays fit.
The 'Why Shouldn't I pick him?' section, while concerning, also reminded me that Darcy had his breakout season off the back of an interrupted preseason. He suffered his knee injury at the end of January, putting him into a brace for 4 weeks and wasn't cleared to play till round 2.
IF Darcy gets through this preseason without any interruptions, I'll be locking him in for round 1 without hesitation.
FOLLOW US  ON TWITTER: @DTTALK for all things AFL Fantasy (and more). Got something to say about the deck or AFL Fantasy in general? Join the conversation and use the hashtag… #AFLFantasy.