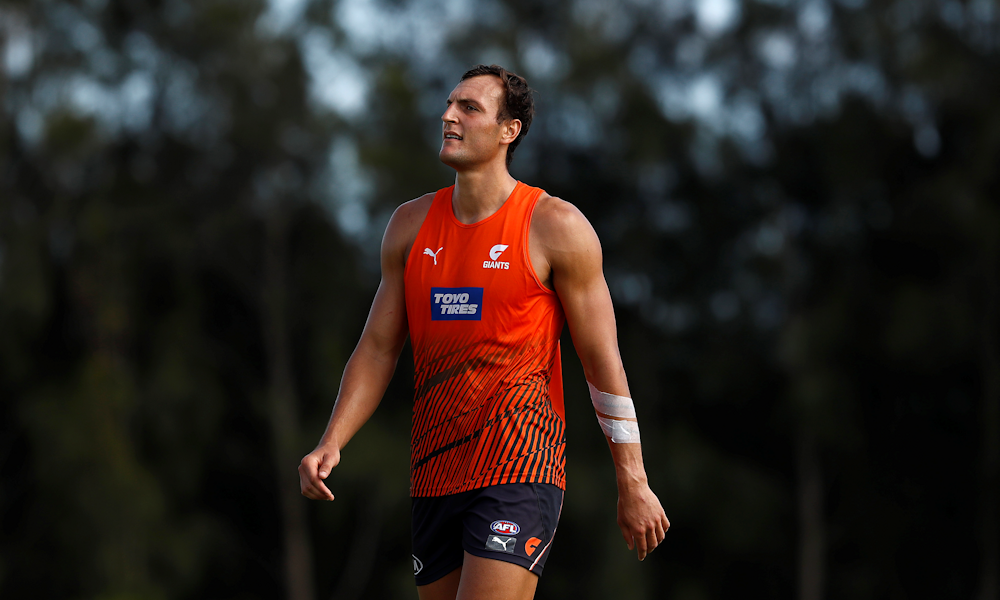 Name: Braydon Preuss
Team: GWS Giants
Position: RUC
Price: $367,000
Bye round: 12
2021 average: DNP
2021 games played: DNP
Predicted average: 75
Draft range: Bench ruck at best
Click here for 2022 Fantasy prices.
Why should I pick him?
Brayden Preuss is the scarlet pimpernel of AFL Fantasy: we almost see him in our teams every year, but never by Round 1 and in 2022 we hope he will rescue our ruck stocks at R2. Preuss has played 18 games with his highest average in 2017 of 67 from 8 games. From being behind Goldstein and Gawn, we hoped in 2021 Preuss would rise to the mantle of number 1 ruck at the Giants and deliver a score above 75. Twelve months on, and after a year of injury, we are hoping for Preuss to deliver once again.
The hope for Preuss is that he can at minimum score that 67 from 2017, and since he is priced at 43 that is a minimum 24-point upside. And this with no other number 1 ruckmen waiting to come back into the side. In 2021, Flynn and Briggs were often rested or dropped in favour of Mumford, which at least communicates the Giants do not believe Flynn or Briggs are going to be number 1 ruck in 2022, unless they have had a massive preseason.
Preuss's scoring after 2017 was a 3-game average of 50 in 2020 and a 7-game average of 56 in 2019.  But with a breakeven of 43, and if Preuss is named Round 1 he is close to full proof in terms of scoring. That 24-point hopeful rise might be significant unders as his TOG might balloon if GWS play only one main ruck and he may average closer to 80. If this is the case his average for a sub 400K player might be the largest increase for any player in that price bracket, let alone a ruckman.
Many coaches are concerned by percentage in team stats as it helps limit risk, and at this point Preuss is in 24% of teams and this will only rise if he is named R1. Therefore, you know lots of coaches are loaded up with Preuss (some coaches will see this as a great POD and therefore skip Preuss and place their risk on another line.)
Why shouldn't I pick him?
I am not totally sold on Preuss yet, as I think at his price point the problems could outweigh the potential positives. The obvious problem first, Preuss has played 18 games and zero in 2021. He is injury prone and therefore the Giants might use Preuss like their ruckmen from 2021, that is to rest Preuss after an initial block to give Flynn or Briggs a game and to prevent injury to Preuss.
He is priced at 367 K which means if he is rested you are either relying on R3 for cover or you need to upgrade, but if he is rested between R3-5 he will not have appreciated enough in coin to get to a ruckman you want in your side. Whilst his potential scoring might increase by a minimum of 24, so might Witts and at least with Witts, if he is rested you might be able to afford a better ruckman.
The second reason I am cold on Preuss (at the moment) is that there are players on other lines who could potentially score similar numbers but with equal or less risk: Brodie at 387K, Milera 378K and even Curnow at 347K is just as likely to score 70 as Preuss and since they are either defenders or forwards you will have more opportunity to trade them out in the advent of injury. Of that above list, if all are playing Round 1, Preuss is the third best behind Milera and Brodie (but of course you might start with all three).
The third reason is the Giants draw: these are the ruckmen he is potentially up against, Hickey/Ladhams, Nankervis, Witts, Darcy, Gawn/Jackson, Marshall/Ryder and O'Brien.  I really hope Preuss plays all those games, but there is little evidence to suggest that he will. Don't get me wrong, if Preuss is named Round 1, and it looks like Witts is going to get a chop out from Chol than I will probably have Preuss at R2.
If this is your plan you could handcuff Preuss with Jackson at 520 K in the forward line (Hayes at UTI and Comben/Edwards at R3) as he could rise from 62 points to 75 in 2022. But, is that an option you want to start the season off with, if it works you are a genius, if it doesn't start planning for 2023.
Deck of DT Rating.
QUEEN
Preuss is your typical long-term injury prospect with upside and risk who often sits in our sides in January. To stay there he needs to play in the preseason, be named Round 1 with limited desire for the Giants to give a chop out with Flynn/Briggs and just to help us Witts to have Chol chop out and just to help us more, for Brodie and Milera's (unless you go all three injury risks) position in their sides being obvious.  With the increase in salary cap, how many returning injured players do you want in your side?
FOLLOW US  ON TWITTER: @DTTALK for all things AFL Fantasy (and more). Got something to say about the deck or AFL Fantasy in general? Join the conversation and use the hashtag… #AFLFantasy.