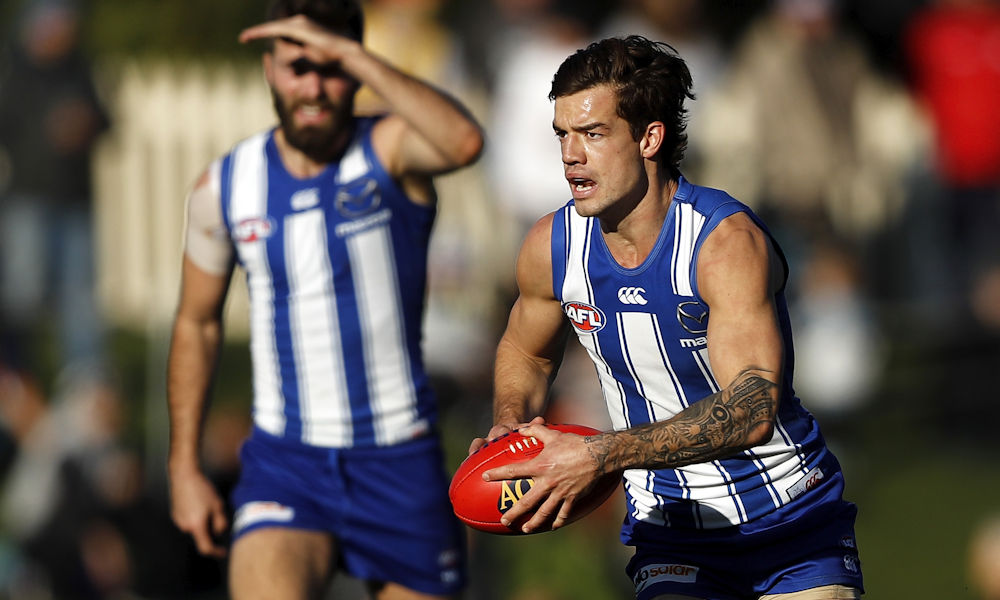 Name: Jy Simpkin
Team: North Melbourne
Position: MID
Price: $801,000
Bye round: 14
2021 average: 95.4
2021 games played: 22
Predicted average: 105
Draft range: 4th Round
Click here for 2022 Fantasy prices.
Why should I pick him?
One of the key components of being successful in AFL Fantasy Classic is being able to pick players in your starting squad that present value. Put simply, these players need to score in-line with the top 6-8 players in their lines, whilst also improving on their starting average. When it comes to midfielders, the players I have picked in the past have been priced in the 80's to low 90's, but have the ability to go 105+ and score close enough to the top 8 midfielders. These players fall into two categories.
The first are players who have demonstrated they can score like a top 8 midfielder in the past, but for some reason had a down season and are priced below their best. Last season, this was Tim Taranto who had averaged 114 before, but was priced at 94 due to the corona ball affected season. The other category is the young gun who is primed to break out, off the back of solid end of season form the previous year. Last year Sam Walsh was priced at 97 off the back of averaging 111 in the back half of the previous season. Both of these players would average 108 and 109 respectively and were key components in me coming 2nd in the competition last season.
Jy Simpkin's fantasy prospects have been steadily building, with averages of 49, 59.5, 66.7, 88.5 (adjusted) and 95.4 in the 5 years he has been in the competition. Last season, the 2016 first round draft pick became a full blown midfielder, averaging 79% CBA's whilst also taking his TOG from 77% to 83%. Even with Ben Cunnington taking big midfield minutes, Simpkin became the main man for the Kangaroos in 2021. With Cunnington now out, there is even more potential for Simpkin to break out. Unless he already has?
Simpkin's average of 95.4 in season 2021 was actually a tail of 2 halves. In the first half of the season when the Kangaroos were struggling, he was up and down like a yo-yo averaging 86. In the second half the young Kangaroos began to click, playing some decent footy that translated into some pretty handy fantasy scores. Simpkin played a massive role in this, averaging 105 in the back half of the season. If we take out a random tagged game of 49 against Sydney in round 22 (thanks Calvin), his average was 110 with a low score of just 96. Fantasy scores in the back half of the season are often good indicators of what we can expect to begin the next season and with Simpkin about to enter his prime at age 24 next season, I believe he is capable of being a 105+ midfielder.
Why shouldn't I pick him?
Was the random tagged game random, or is this more of what we should expect in 2022? With Cunnington's future unclear, Simpkin now becomes the main target for opposition clubs. If tags become more of a feature towards him next season, his floor becomes considerably lower which will affect his fantasy output. That combined with the fact he is priced at 95, he would need to go 105+ to score in-line with the top midfielders and prove a valuable pick, or else you are wasting a midfield spot. This average would have him inside the top 20 midfielders in the competition, which is not an easy thing to accomplish. Let's not also forget, the Kangaroos are still rebuilding off the back of only winning 4 games in 2021. It could be another tough year for the club, with fantasy scoring sometimes difficult if your team is getting flogged. Although we saw Laird and Keays both average close to 110 when playing for Adelaide, it is still a concern when your team is down the bottom of the ladder.
Deck of DT Rating.
KING
At this point in time, I am all in on Simpkin. Players like this are high risk, but the key to winning this competition is about taking risks and sometimes going against the norm. Off the back of a breakout season where he won his first Best and Fairest, I believe he has the tools to take his fantasy game to the next level, scoring in-line with the top 10-15 midfielders and proving to be a value pick in our starting squads.
FOLLOW US  ON TWITTER: @DTTALK for all things AFL Fantasy (and more). Got something to say about the deck or AFL Fantasy in general? Join the conversation and use the hashtag… #AFLFantasy.