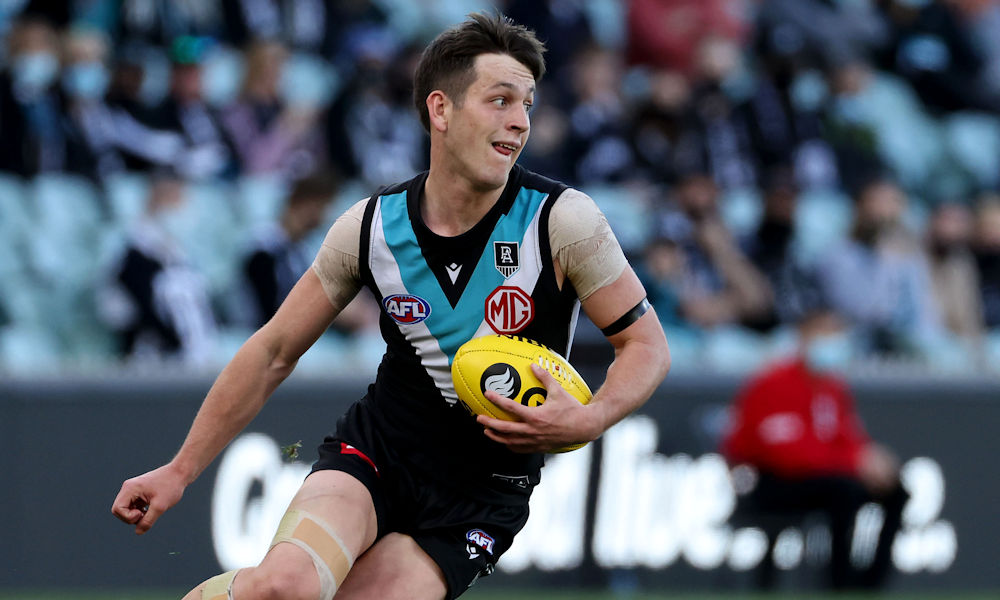 Name: Zak Butters
Team: Port Adelaide
Position: FWD
Price: $639,000
Bye round: 12
2021 average: 76.2
2021 games played: 10
Predicted average: 90
Draft range: Mid Rounds
Click here for 2022 Fantasy prices.
Why should I pick him?
Butters rolled into 2021 looking set to breakout. It was his 3rd year but he'd already made the 2020 AA extended squad and had cemented his place in Ports best 22.
After featuring in multiple 'tearing up the track' and 'more midfield time' preseason articles, Butters gave a promising showing in the preseason comp before notching up a 78 in round 1 followed by a 119 in round 2.
If you were, like me, sitting there watching this bargain but also somehow unique forward in your team at this time, you'd have been feeling pretty good about yourself.
58 the following week against West Coast in Perth? Ok, that wasn't ideal… 83 against Richmond the following week! Awesome!
Then it all went south. A syndesmosis injury was revealed in scans during that week which required surgery, Butters missed the next 12 rounds, only to return and injure his MCL against Melbourne, getting subbed at 3 quarter time. This time he only missed a week but was more subdued his first game back.
That all said, round 20, 21 and 22 saw scores of 88, 90 and 91 respectively and honestly that's what I'd be expecting as a baseline from a fully fit Butters this year.
As you can see, it was absolutely an injury interrupted season that derailed his 'breakout' but the bones are still there.
119 is a fantastic ceiling at his price and if he can hold the consistency of those 3 rounds above then Butters is definitely underpriced heading into this season.
Butters ticks so many boxes but I honestly believe the biggest Ace he has up his sleeve is what he brings to Port Adelaide. Last year with Boak, Wines and Drew sharing midfield duties it was easy to see those bulls as a bit one paced. Any opportunity Hinkley had to throw Butters into that mix was leapt at as he changes that midfield dynamic.
It's ridiculous to give that praise to a 3rd year player but I don't believe it's hyperbole. Anyone can see from the outside that when Butters is in that midfield, they become less predictable and more dangerous. Butters brings a willingness to take the game on and hit the more dangerous kicks out of the stoppage which is a lot harder for opposition defences to read.
The last reason I have for why to pick Butters is for the more cynical among us but still worth a mention. 2022 is a contract year for the young Victorian.
Why shouldn't I pick him?
The biggest 'What If..?' around Butters is his consistency. He had 3 scores in the 50's last year and while one was during his return from injury, the other 2 were while he was seemingly fully fit.
As mentioned above, Butters attributes change Port Adelaide's midfield dynamic and in both those games the opposition midfielders put time into Butters to ensure he didn't have space to kick.
This in turn shifted his kick to handball ratio and negatively affected his fantasy score.
The first hurdle for Butters to improve his consistency is to be able to work through those opposition set ups and still impact games by foot.
Butters is a really expensive midpricer this year and it could be a case of high risk for minimal reward.
While a 15 point increase on his average could happen, it may not be worth it considering guys like Zac Bailey ($610,000), Tom Powell ($574,000) and even his team mate Connor Rozee ($567,000) are all cheaper and capable of improving their averages to the same degree with less risk.
Deck of DT Rating.
JACK
Unfortunately Butters is still a Jack. He's showing glimpses and could very much be pushing for King status if all goes right by the end of this year.
At $639K it's definitely an awkward price point. Too pricey to be a midpricer, not pricey enough to be a premo but if you're sitting there with under $670k in your bank and needing a forward then he could certainly be a unique punt this year.
FOLLOW US  ON TWITTER: @DTTALK for all things AFL Fantasy (and more). Got something to say about the deck or AFL Fantasy in general? Join the conversation and use the hashtag… #AFLFantasy.