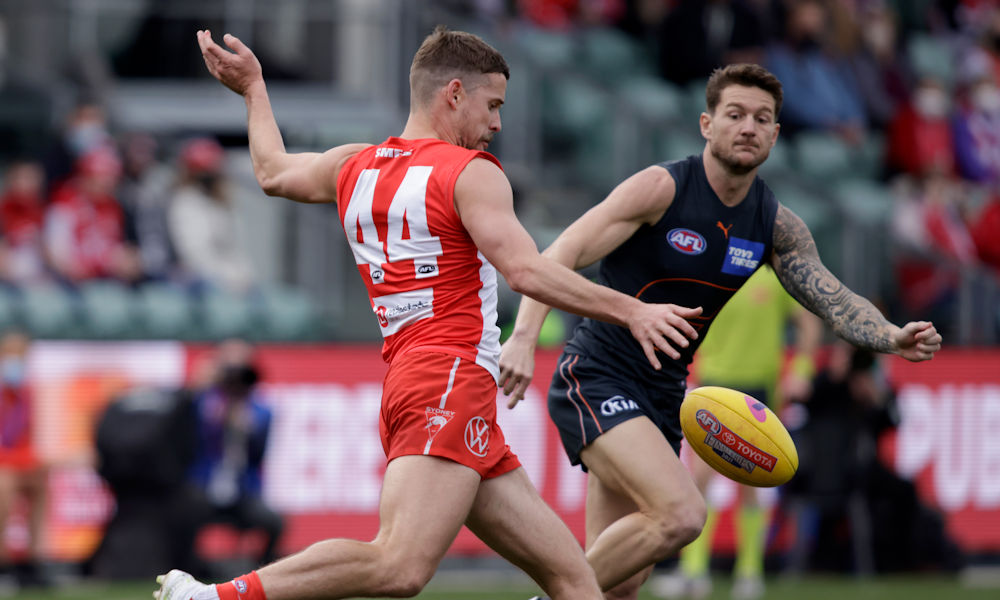 Name: Jake Lloyd
Team: Sydney Swans
Position: DEF
Price: $823,000
Bye round: 13
2021 average: 98.2
2021 games played: 21
Predicted average: 105
Draft range: Second round
Click here for 2022 Fantasy prices.
Why should I pick him?
Jake Lloyd is a consistently a high scoring premium who provides the assurance that allows you take calculated risks on Sicily, Milera, Crouch, Rowell, Preuss, Brodie and any other returning injured or under-priced player.  He averaged 102.8 in his last 5 games in 2021 who will finish between D1-6. This is the tale of Lloyd's journey to being a premium defender:
2021 with an AVG of 98.2 and a high score of 119
2020 (CB) with an AVG of 91.2 and a high score of 120
2019 with an AVG of 107.1 and a high score of 149
2018 with an AVG of 101.6 and a high score of 163.
Of the top 8 defenders from 2021 he offers the security blanket numbers which provide solace that many others do not, namely he is consistent (potentially unlike Hall and Ziebell) and he generally plays. He has the same basic form line as Crisp but is $31k cheaper and whilst on par with Stewart he is less prone to a defensive role and injury.
Also, Lloyd takes most of the Swans kick-ins which give him that 15–27-point bonus most weeks. In Round 23 he took 6 of 13 whilst in the Final he took 6 of 8.  A reason Lloyd takes most of the kick-ins is that he is rarely off the field. He consistently averages above 80% time on ground.
Whilst Lloyd's scoring was not affected by Jordan Dawson in 2021, it does mean Lloyd's role is under no pressure to change or be taken away by another player in 2022.  The Swans backline should be the same defensive 7 as last year as Dawson had transitioned to the wing. This means you can lock him in for 100. He might not rise massively in value, but at some point, during the season you will want him in your side, so just start him at D1 and relax for the season.
Why shouldn't I pick him?
Since he probably won't change a lot in price quickly you can pick him up after the bye for a similar starting price.  His first 4 weeks offer some hope that he might dip slightly in value: GWS avg 90.5, Geel 94.1, Bulldogs 98.6, and 91 against North. The best laid plans rarely work, but if they did, Lloyd has an excellent record at Marvel and would be a great buy for round 3, especially if he began with a 70 in R1 and dropped about 20-30 K.
At any rate, Lloyd will be priced between 800-850K for large parts of the season. Lloyd is your typical set and forget defender and with a small increase in salary cap, it means you could easily load up on premiums who will rise in value and get Lloyd after the bye.
When Lloyd does poorly score it's because of a dip in his kick-mark game, and in the GWS Final he scored 71 with only 4 marks. This is like his only low scoring game after the bye which was a 57 and a 1-mark game. Just to show the importance of kick mark to Lloyd's scoring, in Round 1 against Brisbane he scored 76 with 3-marks. Therefore, he might begin slowly against GWS.
Deck of DT Rating.
KING
Lloyd is a king defender, and the easiest decision is to buy Lloyd and set him up as D1.  He might not have as many 130+ games as Hall, but he is likely to remain in the team, more likely to be uninjured and you know the Swans game style will always want to see Lloyd kick the ball in and deliver it across half-back. Mr reliable for D1. He might drop a few k, but why squabble over it!
FOLLOW US  ON TWITTER: @DTTALK for all things AFL Fantasy (and more). Got something to say about the deck or AFL Fantasy in general? Join the conversation and use the hashtag… #AFLFantasy.