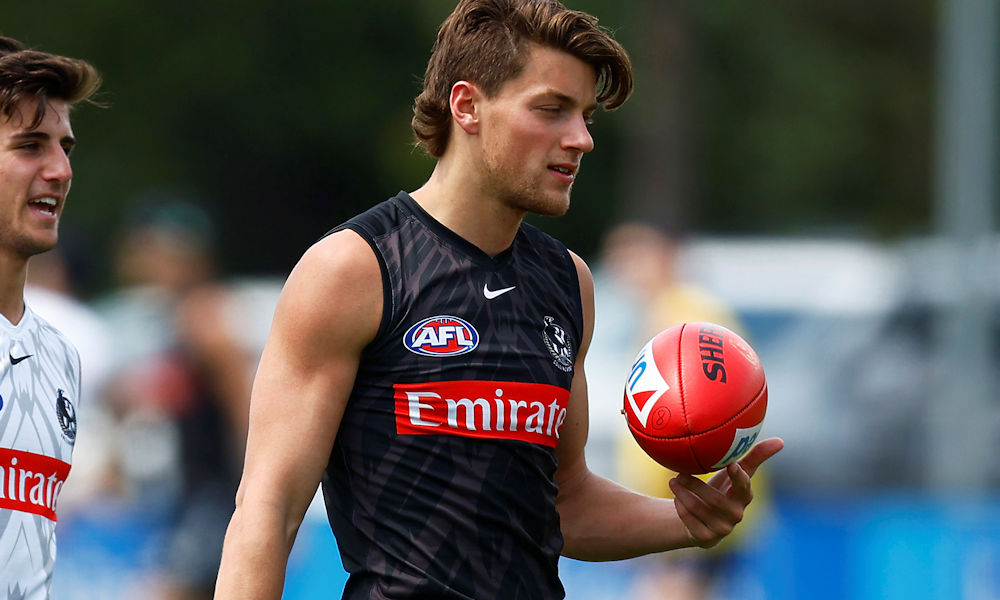 Name: Patrick Lipinski
Team: Collingwood
Position: MID
Price: $606,000
Bye round: 14
2021 average: 65
2021 games played: 9
Predicted average: 85
Draft range: Late rounds
Click here for 2022 Fantasy prices.
As we welcome in a new year, I can now officially say it is Lipinski SZN!
Why should I pick him?
Yes, I may have been spruiking Lipinski SZN for a couple years but with his move away from The Kennel confirmed in the off-season, it should be full steam ahead for the young midfielder.
Lipinski had always been starved of regular opportunities in the Bulldogs midfield, which is understandable when they possess players like Bontempelli, Macrae, Liberatore, Dunkley, Smith and Hunter. However, 2022 is a new year and Collingwood presents new opportunities for Lipinski.
It's close to ground zero for the Pies in 2022. The changing of the guard is here and Lipinski will be a huge part of this. Apart from Taylor Adams, the Pies lack any genuine gun midfielders. This is in no way meant to be at all disrespectful to Scott Pendlebury or Steele Sidebottom but the responsibility of the engine room should not rest on two players who will be in their 30's at the start of the season as Pendlebury will be 34 and Sidebottom 31 come Round 1.
I can see Pendlebury playing a lot more down back this season and we already started to see Sidebottom spend more time up forward in 2021. Guys like DeGoey, Crisp, Josh Daicos and Maynard will get their time through the guts but the door is firmly open for Lipinski to become one of their key midfielders.
2021 wasn't the best year for Lipinski who only managed 9 AFL games for a Fantasy average of 65. He started the year in the Dogs' best 22 but without a genuine position for him, he found himself on the outer halfway through the season. A natural inside midfielder, he went back to the VFL and played 4 games where he averaged 34 touches, 4 tackles and a goal a game for 119 Fantasy points. Something close to these kinds of numbers are something we could see from Lipinski at the Pies next season.
If you need any proof of Lipinski's ability to put up good Fantasy numbers at AFL level, all you have to do is look back to 2019 where he was getting regular midfield time when the Bulldogs were suffering some injury woes. He played 13 games in the back half of that season for an 85.5 average, which included two scores of 129. When given the opportunity he has the full fantasy package – he's a natural accumulator who tackles well and can find the goals.
Why shouldn't I pick him?
From a footy point of view, there is always a risk associated with a new coach at a Club and we just don't know what new coach Craig Macrae has planned. Will he throw some surprises up in that midfield? Will the evergreen Scott Pendlebury continue to be their prime mover? What does he think of Lipinski? A lot of these questions will be answered in the Pre-Season.
From a salary-cap point of view, he's awkwardly priced as a mid-only at $606k but for those wanting to be a little brave, break the mould and have a genuine point of difference in their midfield, I see that he can easily average 85+ this year.
Let's be honest though, I'm here from a draft and keeper point of view and I could not be more keen on Lipinski this season; the only issue is that many current owners have been banking on Lipinski SZN as long as I have.
This means he may not come cheap in a keeper league and we often see players who have shown some fantasy ability in the past go a lot higher in drafts when they move clubs. In a start-up keeper league or single season draft, I think he's a perfect M4-5 and in a keeper league he has plenty of value heading into his football prime.
Deck of DT Rating.
QUEEN
There is plenty of upside this year with Patrick Lipinski. He's shown glimpses of Fantasy ability in a good side and now that he heads to a club with more opportunities, it can be his time to shine. I'm expecting an average of 85 at a minimum but would not be surprised at all if that pushes into the mid 90's.
Thanks to Kaes from The Keeper League for this article.
FOLLOW US  ON TWITTER: @DTTALK for all things AFL Fantasy (and more). Got something to say about the deck or AFL Fantasy in general? Join the conversation and use the hashtag… #AFLFantasy.