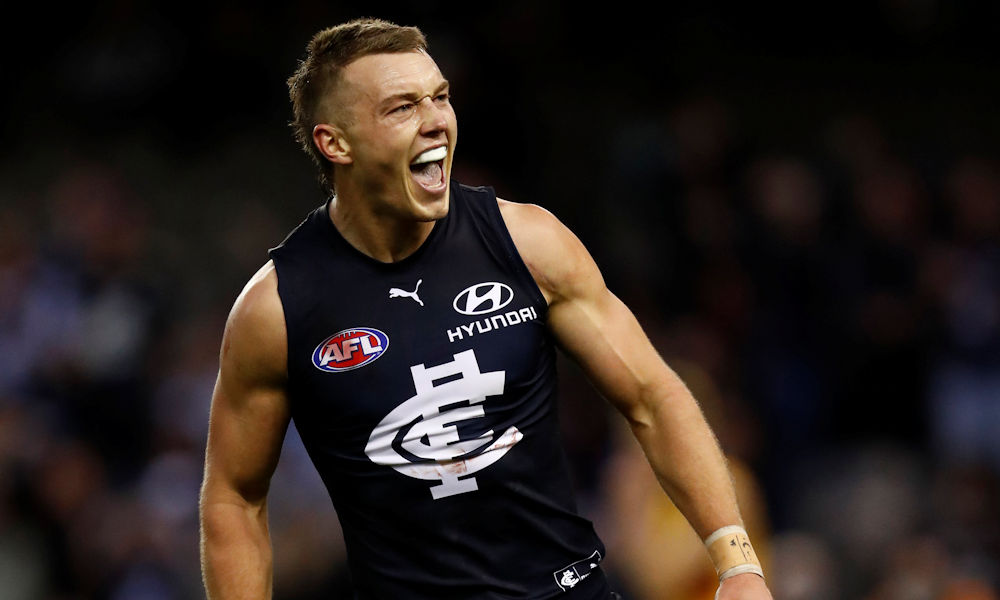 Name: Patrick Cripps
Team: Carlton
Position: MID
Price: $686,000
Bye round: 12
2021 average: 81.8
2021 games played: 20
Predicted average: 95
Draft range: Late
Click here for 2022 Fantasy prices.
Why should I pick him?
Bodacious… Not a comparison I throw around loosely and if you are unfamiliar with what I am talking about, YouTube the most dominant bull of all time. So… back in 2018 I was pretty excited about Crippa and his trajectory when he averaged a career high 109 in a season which included five scores of 130+, topped by a whopping 162. This was when he was at his dominant best, bigger, stronger and yes, even faster than those who tried to go near him, he was like a bull, the greatest bull of all time, hence the nickname.
That breakout followed two seasons of flirting with premium numbers, averaging 99 and 98 respectively and he backed up his career numbers with a solid 101 average. That gave him a four year stretch averaging 102 to show he is more than capable of mixing it with the triple figure midfielders.
In 2020, he averaged 94* where the years of carrying the team on his back started to show before last year he literally appeared to limp through the whole season, despite copping less opposition attention due to the continued rise of Sam Walsh, going on to average his lowest score since his rookie year at 82.
Despite his battles where he was almost unrecognizable at times due to obvious restrictions, he still showed the ability to mix it with the with elite scorers with 125 from 34 touches and two goals and 120 from 27 possessions and three goals in his two standout performances for the year.
He had a great stretch from round nine where he appeared to change his game in order to have an impact, laying 26 tackles over three weeks for an average of 110 in that time.
Why shouldn't I pick him?
The big fella looks cooked. He played 20 games in a season where the Blues were going nowhere so there was no injury serious enough to put him on ice for the year and he still averaged only 82.
In fact, after missing round 22, he came back for the non event in round 23 which was a bad decision (other than offering Fantasy coaches a bit of value in 2022). Get this, in that game vs GWS, he didn't manage one kick… not one. He had 17 handballs, one mark and one tackle for 34 points! I thought his six games with six kicks or less were bad,  especially the three games he managed just four, but zero?
If you look at trends, the last three years he has dropped by about 10 points per season. Now I know some Crypto experts would say that's the perfect time to buy, but its a worrying trend in any books.
At this stage Bodacious is resembling Ferdinand.
Deck of DT Rating.
QUEEN
Okay, Crippa is just 26 years old and an absolute bargain, priced almost 30 points below his best… He is in the prime of his career. I think he will thrive under Michael Voss and the game should start to come easier to him with the Blues bound to win more games, along with the increased support around him with the inclusions of Adam Cerra and George Hewitt. Sam Walsh is the number one target for the opposition now so Cripps will finally have the opportunity to play a complimentary role which is much easier to keep the scores ticking over. At this stage I'll be starting with the big fella and haven't given up home of a return to triple figures.
FOLLOW US  ON TWITTER: @DTTALK for all things AFL Fantasy (and more). Got something to say about the deck or AFL Fantasy in general? Join the conversation and use the hashtag… #AFLFantasy.