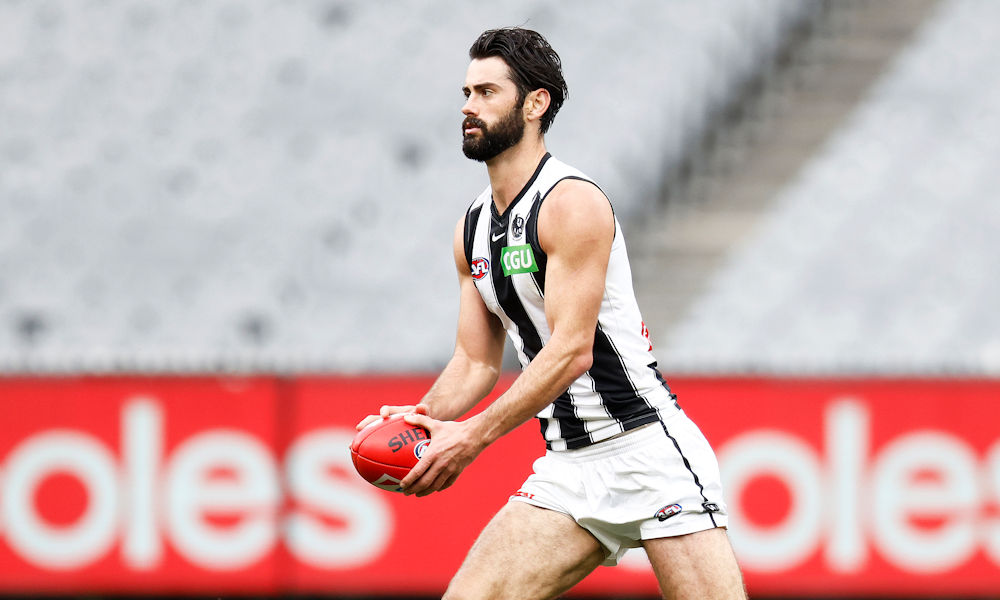 Name: Brodie Grundy
Team: Collingwood
Position: RUC
Price: $893,000
Bye round: 14
2021 average: 106.5
2020 games played: 20
Predicted average: 112
Draft range: First round
Click here for 2022 Fantasy prices.
Why should I pick him?
Anyone with Pig status has to be a serious consideration in AFL Fantasy. Grundy was awarded Fantasy pig status in 2019 off the back off his epic two seasons averaging 120 and 122; the best we've seen from a ruck.
Coronaball in 2020 saw him average 113.6 before he went at 106.4 last season. On simple numbers, there's around 15 points upside in the Ruck Pig if he can return the big scores that he delivered in the past.
Many put his lower-that-usual return last season down to the hangover some players have after signing long-term deals. Grundy signed for 7 years and he dropped his poorest average since 2017. He's returned to training hungry to become the best ruckman in the game again and dethrone Max Gawn. In the process, he's 'trimmed up' (should that be down?) by dropping three kilograms.
Prior to a neck injury that kept him out for two games across the byes last year, Grundy was averaging 115. He had pumped out five scores in his first 10 games at 120 or more, including his season-high 152. His injury score of 69 helped bring his average down as did the 72 and 61 he scored in the final two rounds… which you can take out, isn't that right Calvin? (For the record, if you did that his average would have been 115.1).
The main reason to pick Brodie Grundy is Fantasy Classic is that we usually hit round five or six saying we should've set-and-forget our rucks. Personally, you need one and Grundy is the favourite, for mine, to score the most points this year. Gawn was a couple of points better per game but there are questions on the role Luke Jackson has moving forward at the Dees.
In Fantasy Draft, I have no hesitation taking Grundy ahead of Gawn. But the big question is where he'll fall on draft day.
Rucks have enjoyed the ADP of No.1 for the last few seasons with Grundy holding it prior to Gawn last year taking the mantle. Things probably change a bit in 2022 with the slight drop off in scoring for rucks and the midfielders, especially in leagues with captains on, being safer options for the first few picks. In saying that, Grundy (and Gawn possibly) could still be 10+ points better than the next batch of rucks next season so it'd be warranted if he was in top 5 calculations.
Why shouldn't I pick him?
Digging into the stats, the biggest difference for Grundy last season was an increased presence of Darcy Cameron, albeit only slightly. DC played every game from round five on (Mason Cox was the man who fell out of favour there as the forward), and his percentage of ruck contests were up compared to what he did in 2020. Data below thanks to DFS Australia.
2021 Collingwood ruck contests (%)
2020 Collingwood ruck contests (%)
This could be a trend moving forward as a lot of clubs will be rocking with the two-ruck set up. Obviously it worked for last season's premiers Melbourne, and we know this is a copycat league.
Another key stat was in Grundy's Pig years, he had 88% and 89% time on ground. In 2020 it dropped to 82% and then last year to 81%.
Early on last season we discussed the demise of the rucks. While the panic that hit in over the first couple of rounds was founded to be a bit over the top, we know that Gawn and Grundy had a significant drop off from what they'd produced the couple of years prior.
Maybe 110 is a ceiling average for rucks these days? Are we better off finding value of guys like Sean Darcy or a bounce back from Reilly O'Brien as they may get close to what Grundy and Gawn potentially dish out. They can be sub-premium selections that could be your set-and-forget for a bit cheaper… or you can go with one of those guys and a super-cheap option like Jarrod Witts or Brayden Preuss who both appear in 26% of Fantasy Classic sides at the moment.
Deck of DT Rating.
ACE
I have no doubt that Grundy will be the best of the rucks in 2022… and I think there's upside based on what he can do – including what he was doing last year (you CAN take out those bad scores). He'll be 110+, so you're not going to lose out on starting with him in Classic shelling out $893k. Same goes for Draft. We can punt rucks as our good mates the Draft Doctors say, but if you have the opportunity to get Grundy in the first round … possibly after Tom Mitchell, Jack Steele and maybe Touk Miller, then jump on him. The Darcy Cameron stats are of concern. That is real but I'm willing to back in the Ruck Pig to win the mantle of the No.1 ruck in the game. Now he's had his crap year after signing a big contract, Grundy is ready to be a big Fantasy boy once again.
FOLLOW US  ON TWITTER: @DTTALK for all things AFL Fantasy (and more). Got something to say about the deck or AFL Fantasy in general? Join the conversation and use the hashtag… #AFLFantasy.