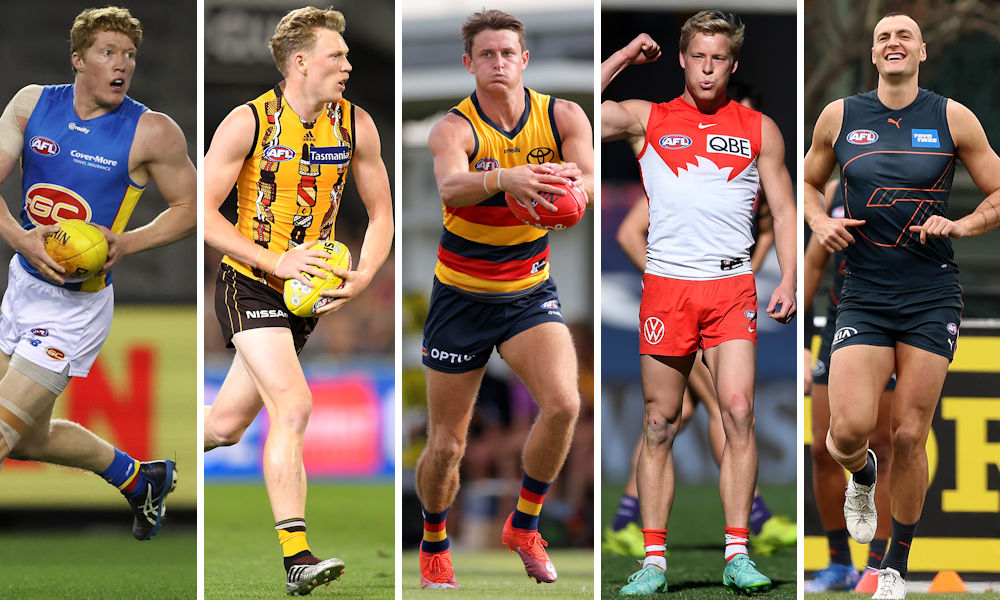 Players of interest based on their projected price due to either not playing in 2021, getting a discount or will be naturally cheaper for one reason or another. Have you got other names? Post them in the comments!
Details on how pricing is applied can be found on the 2021 price page. We believe the same formula will apply.
Matt Crouch (MID) – Will receive a 30% discount on his 2020 average of 88.3 (which is a personal best 110.4 BCV). This will price him at 77.3. While he might still be hampered with his groin injury during the pre-season, his averages from 2017-2020 read: 106.7, 104.8, 106.1, 110.4. Lock if fit.
Wayne Milera (DEF) – We were up and about last year as he was heavily discounted. Now, he'll be priced around 45 following his season out with a knee injury. One to monitor provided he is fit. A no-brainer at his price.
Mitch Hinge (MID) – Will be priced at 43.75 after playing just one game this year after being traded from the Lions. A shoulder injury put him out for the year.
Jackson Hately (MID) – Only played the three games this year so cops a discount and will be priced around 57.
Reilly O'Brien (RUC) – Will be priced at 86 after averaging 108.4 BCV in 2020 and 95.5 the year prior.
Cameron Rayner (FWD) – 30% discount and there was hope that he would be an improver this year. Priced at 47.
Cameron Ellis-Yolmen (MID/FWD) – Priced at 38.8 after having a year out of the game would make him a value pick… if he's picked.
Nakia Cockatoo (MID/FWD) – Priced at approx. 40 after getting four games this season. Probably unlikely to be an option as the upside may not even be as much as other rookies similarly priced.
Lachie Neale (MID) – Averaged 94.4 due to a few injuries meaning he'll be priced at that point. He hasn't returned an average of fewer than 100 points in a season since 2014. Don't forget his Brownlow year saw him average 122.5 BCV. Value even if he just hits his usual 'floor' of 100.
Patrick Cripps (MID) – 2021 return of 81.7 is his worst since debut season. Crippa only scored four tons this year with some absolute shockers in there. For someone who only four seasons ago averaged 109, somewhere between his 2021 output and that PB would make him a good option, but what will his role be?
Paddy Dow (MID/FWD) – Priced at 50. Nah, surely not?!
Caleb Marchbank (DEF) – Hasn't played for two seasons which attracts a 35% discount. This prices him almost rookie priced at 36.6 which is a long way from the 69.4 he averaged in his first season at the Blues in 2017.
Jordan De Goey (MID/FWD) – De Goat was a relatively popular pick last year priced at 80. He'll be priced at 84. For those who jumped on ride from the bye will know he averaged 110 for his last nine games. Hopefully he's still playing as a midfielder (and has FWD status) in 2022…
Scott Pendlebury (MID) – Gained FWD status last season and if he holds that, getting old mate Dependlebury priced at 84 (mostly thanks to injury) has to be a decent play considering what he has done in the past… yep, that's right, 11 previous seasons were averages of 100 with four of them over 110.
Reef McInnes (MID) – Didn't play, but was knocking on the door. Basement priced.
Will Kelly (FWD) – Basement priced.
Jordan Ridley (DEF) – Value priced at 80 as there's a 15 in his average and a couple of stinkers. Jake Kelly only helps his Fantasy game.
Jye Caldwell (MID/FWD) – Only played the two games due to a hamstring injury. He did come in for the elimination final and scored 41 points in the first quarter. If he holds FWD status, worth a look priced at 58.
Devon Smith (MID/FWD) – Remember when he averaged 108? He's priced at 65. Let go Warne Dawg.
Michael Hurley (DEF) – Might struggle a bit after 12 months out of the game (and being pretty crook), but will be priced at 52.8.
Caleb Serong (MID) – Third year breakout. Priced at 82. Averaged 94 in last eight rounds with scores of 118, 117 and 116 for the last three games.
Hayden Young (DEF) – Cops a small discount to price him at 64.9, but played the last five games of the season returning from the hamstring injury scoring 54, 72, 93, 86 and 91. Last four average of 86 is enough upside for me. Definitely a draft sleeper, but could be worth a Classic play as well.
Michael Walters (MID/FWD) – Priced at 62 after previous two seasons were at 91 and 93. The midfield time seems gone, but he's a lot cheaper than he should be.
Connor Blakely (MID) – Loves the Lowes tracksuit as sub… and as a result, has an average of 38 next to his name. He had back-to-back seasons averaging 90+ in 2017/18. Can he get a consistent game? If so, almost a must-have as long as he's not in the vest.
Patrick Dangerfield (MID/FWD) – The 86.7 average next to Danger's name is the lowest since 2011. Could be your F1 for a bargain price.
Mitch Duncan (MID) – Priced at 100.3. For a lot of coaches, myself included, this is where he's at. But with an injured 62, 71 on return and his final game ending on 8, that 123 average in his first seven games is mighty impressive. Imagine if he has FWD status too? Champion Data currently list him as a MID/FWD. Hmm.
Cooper Stephens (MID) – Basement priced. Pick 16 in 2019 draft.
Jarrod Witts (RUC) – It has been reported that Witts will be good to go for round one after his round three ACL. His 21% discount will have him priced at 68. Quite a few coaches jumped on last year priced at 80 and all was looking sweet with 83 and 110 in the first two rounds. If he's fit, then an option for an under-priced ruck.
Matt Rowell (MID) – Averaged 55.2 from his 12 games. No discount applied, therefore that's the price he's at. Not bad considering he averaged 110.6 from his first four games last year. Hopefully we can write off 2021 due to injury and the ball-magnet piglet can be a bargain buy.
Elijah Hollands (MID/FWD) – Didn't make his debut so will be basement priced. Scored 96 (27d, 4t) in his last VFL game this year.
Jez McLennan (DEF) – Basement price.
Stephen Coniglio (MID) – Only averaged 59 from 5 games this year, but his 15% discount will be applied to his 97.5 BCV average pricing him at 82.9. Still, value considering he did average that 97.5 in 2020 and 104, 110 the two years prior. Who knows, we might even get some FWD status next to his name next year?
Braydon Preuss (RUC) – 30% discount makes him priced at 43.8 which would make him a steal regardless of role. There's a thought the Giants will play a two ruck set up which will lower his ceiling, but at that price, he's the perfect R2 to roll through for the first part of the season.
Jacob Wehr (DEF) – On the watchlist last year, but where is he at in their plans? Most likely continues to be deep down the depth chart. Basement price.
James Worpel (MID) – In Worpedo's second season, he averaged 96.7 (no Tom Mitchell) and then backed it up with 96.5 BCV. With an average of 79 next to his name from his 20 games, he's naturally discounted. One to watch but will be MID only making him more late round draft relevant.
Jack Gunston (FWD) – Only playing one game sees his discount (applied to 2020 average) bring his priced at figure 55.7. There's a minimum of 20 points upside based on what he's delivered every year since 2013.
James Sicily (DEF) – The SicDawg will be discounted by 30% on his 2020 average of 87. This prices him at 60.7 which is well below what he did in the seasons leading up to his ACL injury last year (74, 96, 84).
Connor Downie (MID) – Rookie priced.
Finn Maginness (MID) – Priced at 37.
Joel Smith (DEF) – Priced at 29.3 and averaged 55.2 from 7 games in 2018.
Angus Brayshaw (MID) – Averaged 67 this year but scored 101, 74 and 95 in the finals. Yeah, nah.
Aaron Hall (DEF) – If you slept through last year and saw Hall priced at 108.9, you'd think he'd had one out of the box. There is some of that thought for me in the sense that surely he can't be let play that cheap game… and the Roos need to progress. Anyway, he's some value if you consider the 119 average from R7 and 124 in last six.
Jy Simpkin (MID) – Priced at 95, averaged 105 from round 11 on. Could continue his improvement.
Tarryn Thomas (MID/FWD) – Hopefully holds forward status as his 81 average seems unders considering what he was able to do in the back half of the season. He averaged 93 from round 10 on and 101 for the last eight rounds.
Pheonix Spicer (MID/FWD) – One game for 21, will remain basement priced.
Jacob Edwards (RUC/FWD) – Basement priced.
Jackson Mead (MID) – Still waiting for debut. Basement priced.
Dustin Martin (MID/FWD) – Fingers crossed he bounces back from his kidney injury. While most think he's not a Fantasy relevant player, his 81.2 average is his worst since his debut season. Dusty averages 93 for his career.
Rowan Marshall (RUC/FWD) – Previous two seasons returned averaged of 99.1 and 96.5, a couple of low scores has him priced at 89.2 which isn't a true reflection considering his 103 average from round 16 on which included scores of 122, 139, 118 and 117.
Nick Coffield (DEF) – There has been hope that Coffield would be a Fantasy guy, especially for Draft. In 2020 he averaged 77.5 BCV which was pointing towards a nice trajectory. Being priced at 61 due to injury affected games would see him as a sleeper in draft if he play like he did in R23 when he had 21 disposals, seven marks and 99 Fantasy points.
Jack Bytel (MID) – If Bytel can find himself a regular spot in the team, then his 49.2 average should see plenty of improvement as he was vested in five of his 13 games.
Isaac Heeney (FWD) – If the 'more midfield time' talk is real, then we can consider the rollercoaster that is Heeney due to his 76.1 average next to his name. This is his poorest since 2016. Heeney has averaged 90+ in three seasons.
Ben Ronke (FWD) – We all remember that 7 goal performance in his third game for 121 back in 2018, but Ronke has only played five games in the last two years. His discount will have him priced at 41.8. Might not be cheap enough considering he feels like a 50-55 type operator.
Will Gould (DEF) – Basement priced… still.
Andrew Gaff (MID) – "He somehow gets to 110" – Calvin every pre-season. Priced at 97 this year, could you do it again? I don't think so. Gaff has a ceiling, but that head tilt can see some ordinary scores. Could be a masterstroke if he can go to the 110.6, 111 and 108.8 (BCV) of the three years prior.
Tim Kelly (MID) – Averaging 96 in first 10 rounds, Kelly started the season pretty well… but scores of 33, 36, 67 and 28 brought his average right down to 84… which is even lower than his debut season. Prior to 2021, he hadn't missed a game.
Elliott Yeo (MID) – Can he get back to his best with a full pre-season? If so, there's 20+ points upside based on previous seasons where he's averaged over 100 including that 106.7 from 22 games in the Eagles' premiership year.
Isiah Winder (DEF/MID) – Basement priced.
Willie Rioli (FWD) – Receives 35% discount after missing last two seasons. Priced him at 41.5 after averaging 63.8 in 2019.
Adam Treloar (MID) – Injury affected season to average 87.1… his lowest return since debuting in 2012. In each of his previous seven seasons, Treloar averaged over 100 including 2019's 113.6. More mouths to feed at the Dogs, but there were some excusable scores that have lowered his average and he could hit 100 again. Could he have FWD status as well? If so, one of the biggest locks of the year.
Josh Dunkley (MID/FWD) – Started the season averaging 116 from first six games, without dropping below 100. Averaged 63 on return to have him priced at 91.5. In 2019 he averaged 111. Champion Data was still calling him MID/FWD at the end of the season.