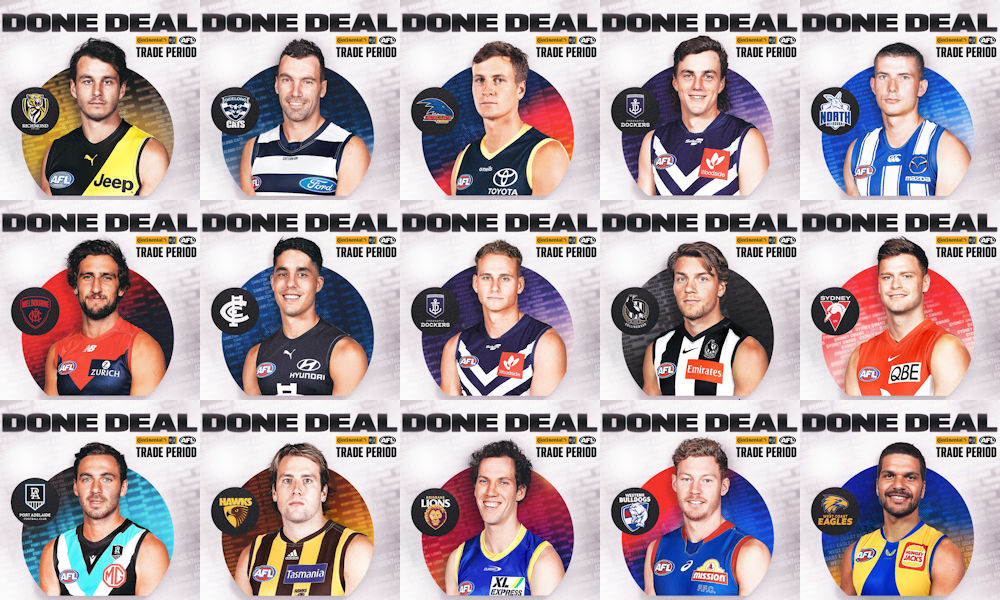 The 2021 AFL Trade Period is underway and Warnie takes a look at every move from free agents to team-to-team trades with his AFL Fantasy glasses on. Discuss your thoughts in the comments!
Projected prices are based on last season's formulas. At this stage we are calculating the figures based on the 2021 salary cap of $13,000,000 and the magic number of 7637 with the sane discounting applied as per previous seasons. These prices are approximate. Wherever a previous average has been applied, the multiplier used for the average has been adjusted. At this stage we don't know what the 2022 salary cap is for the season proper and therefore the Fantasy Classic salary cap.
LATEST UPDATE: 7:35pm, Wednesday 13 October
---
PETER LADHAMS TO SYDNEY
2021 AVERAGE: 72.7 (15 games)
2022 PROJECTED PRICE: $555,000
FANTASY VERDICT: Hickey will be the No. 1 ruck… Sinclair and Naismith are on the books as well. They're all old which will likely open the door for Ladhams to be their go-to guy in the future, but unlikely next year. Ladhams may continue to play a similar role as he did with Port for the time being. The 23-year-old's numbers were boosted when Lycett was out (eg. this year he scored 98, 95, 103 and 73 when he was the main man). All of this is probably irrelevant as the RUC/FWD is unlikely to get the chance to be the Swans' king pin next year. PASS.
MAX LYNCH TO HAWTHORN
2021 AVERAGE: 61.5 (2 games)
2022 PROJECTED PRICE: $357,000 (24% discount)
FANTASY VERDICT: Being priced at 46.7 would make you think about Lynch if he was to get opportunity, but Big Boy McEvoy and Ned Reeves are also there in the mix at the Hawks. Obviously Big Boy is coming to the end… so Lynch could be a look for a Keeper League stash but Reeves showed a bit in the games he played this year. PASS.
JORDAN CLARK TO FREMANTLE
2021 AVERAGE: 56.3 (8 games)
2022 PROJECTED PRICE: $503,000 (6% discount applied to 2020 average)
FANTASY VERDICT: As he only played 8 games, his 6% discount is applied to 2020's BCV average of 70… so he's priced at 10 point more than his output this season. That said, there's a vest affected score in there (his other three don't count as he didn't hit the park). With likely DEF status still, he'll be one to watch as his 68.5 that he's priced at could see him as some value… but for those who picked him this season, like me, you'd be scarred and unlikely to want to put yourself through that again… even at greener pastures that will no doubt present more opportunity. PRE-SEASON WATCH.
JONATHON CEGLAR TO GEELONG
2021 AVERAGE: 76.4 (12 games)
2022 PROJECTED PRICE: $583,000
FANTASY VERDICT: Another piece in the ruck merry-go-round. Cats need to fix ruck and Ceglar definitely helps and takes over from Stanley as their No. 1 man but being priced at his highest point and the volatility of job security means, at this point of the off-season, he's a hard sell in Fantasy. Hopefully he holds RUC/FWD status to give him some relevance in Draft. PASS.
DARCY FORT TO BRISBANE
2021 AVERAGE: DNP
2022 PROJECTED PRICE: $349,000 (30% discount applied to 2020 average)
FANTASY VERDICT: Adds ruck depth at the Lions, sitting behind Oscar McInerney. The 28-year-old has played just 8 career games, with 5 in 2020 at an average of 52.2 (62.25 BCV). Expect him to play as a forward when in, especially as Hipwood is recovering from ACL. With clubs liking two-ruck set ups at the moment, all this move really does is makes Big O less appealing in Draft. If Big O is injured, Fort could be worth a crack for a few weeks due to the bargain price. PASS.
JORDAN DAWSON TO ADELAIDE
2021 AVERAGE: 88.8 (22 games)
2022 PROJECTED PRICE: $678,000
FANTASY VERDICT: Dawson has been a consistent Fantasy performer the las three season, missing just three games and averaging 83, 83 (BCV) and 89. Many coaches, including Roy, will have fond memories of his Grand Final score of 158 to be the Norm Smith Medallist for quite a few Fantasy premiers. After the bye, Dawson averaged 100 which put him in the top few defenders… and according to the Champion Data positions, he's still listed as a DEF. Fingers crossed this remains in place for 2022 despite playing a lot of his time on the wing. There will be a decent flow on effect for both the Swans and Crows due to this move and will be one to monitor in the off-season. HUGE CHANCE TO BE TOP 6 DEF.
PATRICK LIPINSKI TO COLLINGWOOD
2021 AVERAGE: 65 (9 games)
2022 PROJECTED PRICE: $551,000 (3% discount applied to 2020 average)
FANTASY VERDICT: One of the 'more opportunity' moves of the trade period that we've been waiting for. Lipinski had his best Fantasy return in 2019 when he averaged 85.4 from 13 games which included three tons (2x 129 in that). He wore a vest four times this year with two of them being non-playing games. It's a shame he didn't get on in one of those as he would end up being a bit cheaper for us. Lipinski will get a small discount on his 2020 BCV average of 74. While there is some hope for some FWD status to be added to his MID only that he was in 2021, Champion Data finished the season calling him a MID. PRE-SEASON WATCH.
CALLUM COLEMAN-JONES TO NORTH MELBOURNE
2021 AVERAGE: 57.7 (8 games)
2022 PROJECTED PRICE: $592,000 (6% discount applied to 2020 average)
FANTASY VERDICT: The issue with CCJ being a Classic option is that he only played 8 games and therefore qualified for a 6% discount… but this will be applied to his 2020 average of 66 (82.5 BCV) meaning his priced at figure will be 77.6. You'd be very much paying overs for him as he didn't even score above that figure this year in his eight games. Possibly a late round pick, or a Keeper stash, in a deep Draft. PASS.
ROBBIE TARRANT TO RICHMOND
2021 AVERAGE: 60.3 (10 games)
2022 PROJECTED PRICE: $461,000
FANTASY VERDICT: Good pick for the Tigers, but will remain irrelevant for us Fantasy coaches. PASS.
SAM PETREVSKI-SETON TO WEST COAST
2021 AVERAGE: 61.3 (13 games)
2022 PROJECTED PRICE: $468,000
FANTASY VERDICT: Eagles have said they are keen to add him to the MID and FWD mix at the club. One to watch in the pre-season as he's priced well below what he offered two seasons ago averaging 77.7 from 22 games. Will be available as a DEF next season. DRAFT WATCHLIST.
LEWIS YOUNG TO CARLTON
2021 AVERAGE: 50.1 (7 games)
2022 PROJECTED PRICE: $348,000
FANTASY VERDICT: Cops a 9% discount to be priced at 45.6. While he played as the second ruck on occasion, he'll still most likely remain as DEF only. PASS.
TIM O'BRIEN TO WESTERN BULLDOGS
2021 AVERAGE: 57.8 (18 games)
2022 PROJECTED PRICE: $441,000
FANTASY VERDICT: We don't usually like a key position player, and realistically I still don't think TOB will be in my Classic or Draft calculations, but this was interesting from Braydon on Twitter. "This interests me… TOB is priced at 58 after splitting his time at key position forward and back. Last 5 average of 75 and last 3 84 as an intercepting defender". His round 22 game this year, against the Dogs at York Park, saw him score the first ton of his 96 game Fantasy career thanks to 10 marks and 24 disposals. The key part of his game, playing back, was his six intercept marks and and 14 intercept possessions… probably an insight into potential role for Bulldogs. INTERESTING, BUT STILL A PASS.

ADAM CERRA TO CARLTON
2021 AVERAGE: 87.3 (18 games)
2022 PROJECTED PRICE: $667,000
FANTASY VERDICT: Cerra put up some great numbers in 2021, continuing his upward trend of Fantasy numbers over the last three years (61 > 82.5 BCV > 87). His average is somewhat hampered by an injured 17, which taken out, makes his season average 91.5. I wouldn't be keen to start him at a new club in Classic, but a pre-season watch on what the Blues' game plan is under Voss will important to see what his potential output would be for Drafting purposes (and how it may affect other midfielders in the Navy Blue). DRAFT RELEVANT.
WILL BRODIE TO FREMANTLE
2021 AVERAGE: 51 (4 games)
2022 PROJECTED PRICE: $352,000 (18% discount)
FANTASY VERDICT: Starved of opportunity, Will Brodie has been someone on the radar with Fantasy potential. In 2019 he played eight games averaging 88 as a midfielder with a top score of 142. He managed just four games this year with his fourth being in the sub-vest and scoring a season-high 67. VFL form was epic with an average of 117.4 from nine games. If the Dockers are playing the former No. 9 pick, we're picking him. Brodie will be priced at 46.1 making him a bargain for what his potential is. Hopefully he's still MID/FWD, but even as MID-only, he's in. LOCK IF BEST 22.
LUKE DUNSTAN TO MELBOURNE
FREE AGENT – Wednesday October 6
2021 AVERAGE: 94.5 (12 games)
2022 PROJECTED PRICE: $722,000
FANTASY VERDICT: There's no doubting Dunstan's ball winning ability and therefore Fantasy prowess, but the move to the Dees is a baffling one on the surface. Yep, he's looked after himself with a two year deal but it will be interesting to see exactly where he fits in the hierarchy at the reigning premiers. The retiring Nathan Jones wasn't in the best 22, either was Aaron vandenBerg who is moving on. You'd think he goes ahead of James Jordon, but even still, he was the sub in the Grand Final. You're not touching him in Classic at this point due to being a fringe player, but Draft will have some interesting thoughts with that average next to his name. FREE AGENT PICK IN DRAFT IF HE GETS A RUN AT IT.
JEREMY FINLAYSON TO PORT ADELAIDE
2021 AVERAGE: 55.3 (13 games)
2022 PROJECTED PRICE: $422,000
FANTASY VERDICT: Another forward for the Power? Wowee. While I can usually find something to say in regards to players' Fantasy stocks when they are priced 15 points cheaper than their best, I won't be with Finlayson. Good get for Port, and on the cheap, but doesn't really change much for our Fantasy thoughts apart from what opportunities could open up at GWS. More on that later in the pre-season. PASS.
NATHAN KREUGER TO COLLINGWOOD
2021 AVERAGE: 45 (2 games)
2022 PROJECTED PRICE: $261,000 (24% discount)
FANTASY VERDICT: Recruited as a key forward, Kreuger was played as a key defender in the VFL this season averaging 62 in his three games thanks mostly to his 7.7 marks per game. He managed two AFL games in rounds 20 and 21 where he scored 39 and 51 playing in defence. It'll be a battle for Kreuger to find a spot in the Pies' backline, but if he does, he'll be rookie priced (that is priced at approx. 34) and worth a look if he's getting a game. CASH COW IF DESPERATE (AND PLAYING).
GEORGE HEWETT TO CARLTON
FREE AGENT – Saturday October 2
2021 AVERAGE: 63.9 (20 games)
2022 PROJECTED PRICE: $488,000
FANTASY VERDICT: Waiting for Roy to talk about the Blues' new recruit going into the midfield… but if that is a possibility, then Hewett will be worth monitoring over the pre-season. He's played some midfield time as a stopper, but he looks like he's keep DEF status going into 2022 (he's a no-go if MID only). Hewett averaged 18 disposals, 4 marks and 3 tackles this year and finished the season strongly averaging 80 over the last six weeks with a decent up tick in numbers post-bye. The former Swan only has 6 tons to his name in his 120 career games and even with some of his bigger games (30 disposals versus GWS in R18, 28 versus NM in R22), he didn't hit triple figures. The thing that we'll be looking at is his tackling following the Elimination Final where he had 13 and racked up 106 points doing jobs in the midfield. PRE-SEASON WATCH.
MABIOR CHOL TO GOLD COAST
2021 AVERAGE: 60.5 (10 games)
2022 PROJECTED PRICE: $462,000
FANTASY VERDICT: It sounds like Jarrod Witts is tracking for round one, so Chol will be second banana to their No. 1 ruck… but he'll most likely have much better job security than he did at the Tiges. Primary role will be as a key forward, but is unlikely to be a Fantasy option… even if he is the main man in the ruck. PASS.
JAKE KELLY TO ESSENDON
2021 AVERAGE: 63.6 (20 games)
2022 PROJECTED PRICE: $486,000
FANTASY VERDICT: Jake Kelly isn't going to be on any lists this pre-season for Classic … or Draft as his career high average has been 67 (even though he did pump out a few fieldable scores this year including a season high 104 versus the Dons and seven 75+ scores). The real Fantasy relevance of Kelly's move to Essendon is what it means for other members of the back six. I immediately thought of Jordan Ridley who should be freed up. We know that he started the season in cracking form averaging 108 over the first month before a first quarter concussion. Priced at 80, Ridley will be a consideration in Classic and will be bumped up pre-Draft lists. PASS.
KEY OFF-SEASON DATES
AFL Free Agency period
Friday, October 1 – Friday, October 8
Continental AFL Trade Period
Monday, October 4 – Wednesday, October 13
Delisted Free Agency period
Wednesday, October 3 – Monday, October 15
NAB AFL Draft
Wednesday, November 24 – Thursday, November 25
NAB AFL Pre-season and Rookie Drafts 
Friday, November 26
Discuss the trades and any Fantasy value you find in players at their new club in the comments.