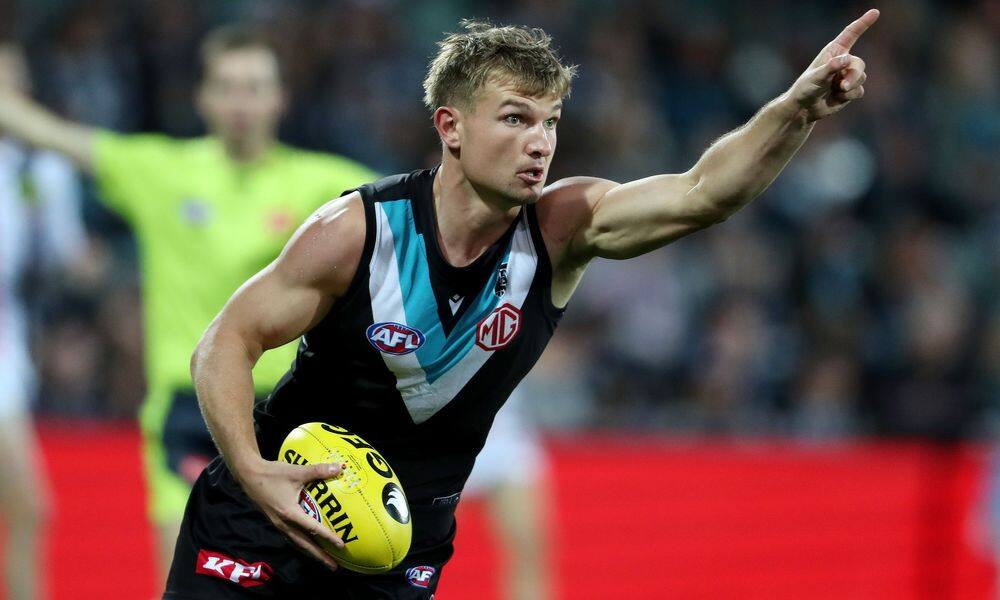 The value of finding a diamond in the rough match up is more critical than ever as with only 2 weeks to go you only have to see them back up against one other opponent, like our warning with Jack Silvagni last week.
Two weeks is about as long as you want if you are speculating on an under-priced player with your first trade in order to upgrade to a premium with your second. This week in each game we'll throw up two match ups: a player to score heavily and a player to trade in as the under-priced player. For example, from my team, I could get rid of Ridley for Rioli/Nash to go Kelly/Hunter to a Wines type.
Richmond v GWS
The likely Friday night game means the EME loop for owners of Peatling and Briggs plus a decision on trading in the role change of Daniel Rioli.  Since his move to half back 5 weeks ago he has slowly become a prominent ball user with his last 3 games of 83, 69 and 99. A 431K FWD, you could sell an under-performing FWD like Hunter to invest elsewhere.
Richmond have always conceded high scores to mids and half-backs (Brayshaw 156, Cerra 138, Ryan 107, Hall 126, LDU 115, Simpkin 114, Danger 118 and Guthrie 117) so avoid GWS forwards, but Whitfield and Taranto (assuming he stays in the midfield) are good VC options. The only other legitimate smokey options I think are too expensive in Prestia and Graham.
Brisbane v Collingwood
A lot depends on Neale, as it was reported widely after the game regarding their 100% win percentage without Neale in 2021 and the midfielder fantasy scores in those games, especially with McCluggage ( 714 K AVG 101), who scores in the 7 games without Neale are 119, 110, 121, 97, 81, 74 and 109. He scored well when Neale played and Neale didn't score well, but his meat map is more centralized when Neale is out which at least means he has more opportunities.
Collingwood's forward pressure game is often average with Scrimshaw dominating last week and therefore Rich is an excellent option. For Collingwood, the usual suspects score well whether they win or loose which is great for Fantasy with the only real smokey being the soon to be retired Chris Mayne who at 718 K is no bargain, but with these scores in his last 6 (103, 109, 84, 110, 93, and 94), he could be a POD in your league finals.
Geelong v St Kilda
Looking for a Geelong bounce back in this game and it was interesting to see Guthrie handle a tag after Dangerfield's injury last week. He scored 102 and if Danger is out then Ross might run with Guthrie, which makes his high end scoring less likely. The POD if Danger if out is Menegola, 638 K MID.  Menegola is mister fixit like Blicavs, he can play mid, forward, wing and his scoring tapers depending on how defensive his role, but he can score 129 (and also 58).
The other smokey is Selwood who at 560 K is an almost sideways from Byrnes and with that 29 against Richmond in his rolling average it looks bad, but outside of that he has gone 81, 92 and 104. St Kilda were awesome last week and the same three we mentioned last week are the same three this week, Steele, Marshall and the smokey Zak Jones.
Suns v Essendon
It would be hard to make any outlandish suggestions here, like buying Peter Wright, and so the simplest suggestion is if you can get Miller or Fiorini, do so. I cannot bring myself to buy Powell who scored 136 and is a 530 K DEF, as he scored 42 the week before, but he is certainly looking an improved player.  Since Essendon give up midfield scores the speculative pick would be Noah Anderson at 537 K who as the third midfielder can sometimes get off the chain in free wheeling games, but he can also go missing for a half.
For Essendon, a lot will depend on whether you hold your nerve with Ridley and Parish, which against the Suns seems a good option. Parish is not going great since the tag came to him, but the Suns didn't close tag Walsh so they probably will just run with Parish and Merrett at stoppages rather than around the ground.
Hawthorn v Bulldogs
Like Rioli, this is where a role change throws up a speculative pick: Conor Nash, a 344 K FWD who since coming into the Hawthorn midfield has scored 95 and 92. This is where you could take a risk in your league and punt an under performing fwd premo in order to upgrade to an uber premium midfielder. Even if he scores poorly like he has done previously, at least you get an uber premium midfielder as consolation and hey Hunter only scored 66.
The interesting dilemma at the dogs is with Smith/Hunter owners and whether now with both Dunkley and Treloar back, they become sells, even to Treloar who scored 90 first game back and scored 6 tons in a row earlier in the year. I am always mindful of high impact running players second up after a long break and whilst he could score 110, at 658 K, he is a risk. Smith was back too 74% GT with his heat map showing him back on the wing.
North v Swans
Let me throw a stupid comment out there, but there may be some in this predicament. Can you sell a high performing player in order to get a similar premium on another line because of a match up? I think you can for your league finals. For example, you could risk selling Aaron Hall, 839 K FWD/DEF, if you can get Miller or Steele.
The reasoning is, will Hall outscore those players this week? And the Swans against defenders can curtail scoring. These are the scores by defenders against the Swans: Highmore 87, Heppell 95, Wilson 93, Perryman 85. My team is not able to affect such a trade, but you could for example go Hall to Nash and Byrnes to Miller or some variation like it, if you have a rookie type still on ground.
Melbourne v Adelaide
I am not a Clayton Oliver owner, but seeing the Hutchings tag curtail his scoring and the potential of a Keays/Schoenberg tag makes him not a buy this week. The wet made it a dour affair with forward pressure machine Neale-Bullen scoring 111, but he is not a trade in.  Salem scored 79 in difficult conditions and at 626K is a good choice against Adelaide. There are no trade ins for Adelaide.
Port Adelaide v Carlton
This is where I might throw my upgrade hope, from Tim Kelly to Ollie Wines.  Carlton cannot stop midfielders scoring heavily, and after Wines had a relatively quiet game, of 95, he might go big again.  The trades for Carlton will be dictated by Walsh's fitness, but Newman at half back should get a lot of plus 6's. If you don't have the cash then Boak or the incredible Willem Drew who scored 110 from 59 % GT, but it was a heavily contested game and he made 10 tackles, but he and Amon are the real Fantasy stars at Port this year. The other option has to be Butters who we mentioned last week. Could you pocket nearly 300 K from Hall and then upgrade a 600 K mid to Wines or a 700 K (like Walsh or Brayshaw) to Miller.
Eagles v Fremantle
No Brayshaw should mean even more time on ground for Cerra and Serong, but it could also mean high midfield scores for Eagles midfielders like Kelly (who I still might sell), Gaff, Sheed, Yeo, Redden, and maybe the returning Shuey.  The Eagles game was in tough conditions and maybe the Dockers can have a few high scorers, especially with forward pressure. They were terrible against the Lions, and none are worth the risk, but if you love the dockers against a tired Eagles side, then maybe Taberner might kick a bag, 387 K FWD who has a season high 98, but with some low and injury games.
Upshot: Scored 2410 and ranked 2019. This week, if Briggs can get 70 plus then an under performing Hunter to Nash and one of Miller or Wines. Good luck everyone. A shout out to the pig Rockliff, you won me the title last year with some snoutish work, well done on your fantasy career.