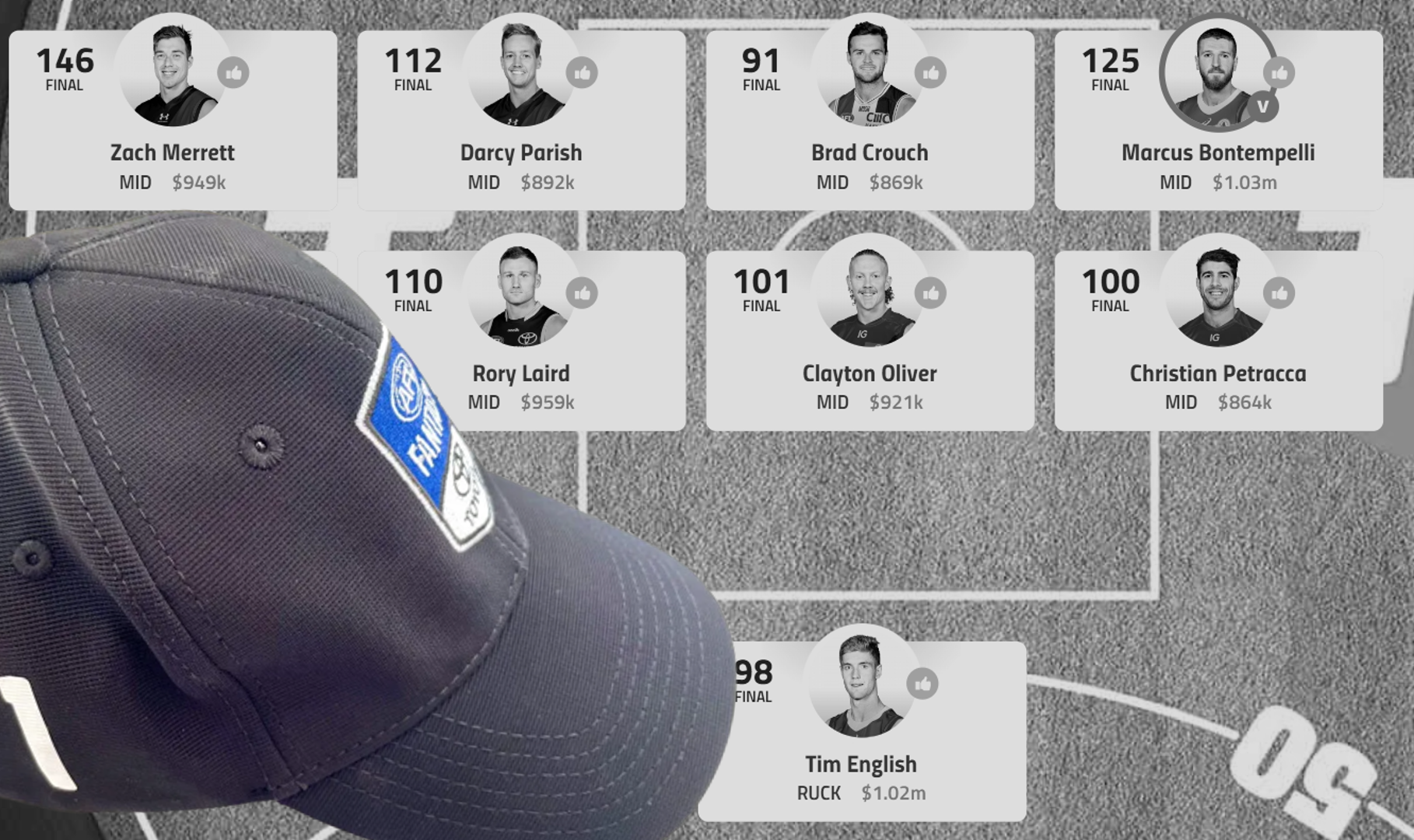 The AFL Fantasy season has come to a close and we once again see our peers rewarded for an outstanding season – receiving the famous top 100 hats. I've missed out again, and although I have 3 AFLW hats, I still haven't dominated the men's competition. I'm sure a lot of you are still desiring a hat of your own! Before we get started on our 2024 research, we first have to reflect on the best coaches of 2023. What was their starting squad? When did they reach the top 100? Which players helped them reach the top? Understanding how they reached the top 100 will give us valuable knowledge for next season. Time for a deep dive into some Hat Stats!
Starting Squads
The most important part of the fantasy season is selecting your 30 players to fill your starting squad. While that might look a little different in 2024, we can still see how the hat winners went about it. I've collected data for the top 10,000 teams in AFL Fantasy 2023 to determine the players that helped our top 100 teams vs the competition. Here are the most popular players picked for Round 1 among the hat winners:

The hat winners all started with popular picks like Tim Taranto, Will Ashcroft, and Harry Sheezel. The big differences to the rest of the competition were players like Will Day (+55% in top 100), Josh Kelly (+51%), Errol Gulden (+46%). But it was the highest-priced midfielders like Rory Laird and Andrew Brayshaw that were less popular, with the hat winners hunting for more value in the midfield:
Successful coaches were comfortable to pass on the high ownership of Rory Laird and spend up in the rucks: Rowan Marshall owned by all hat winners and 71 with Tim English. Value midfielders in Luke Davies-Uniacke, Caleb Serong and Marcus Bontempelli dominated selection. It also allowed the hat winners to spend up in the forward line, with 97 starting 4 of Dunkley, Taranto, Rozee, Coniglio & Gulden (26 started all 5).
It is crucial to remember that every season of AFL Fantasy will have different challenges, valuable positions and starting structures. We are highly unlikely to receive the same quality of forward premiums in 2024. Stay alert when creating your starting team to look for where to spend your cash. The important theme here is that our top 100 teams were all very similar. 24 players were started by at least 70 hat winners. You don't have to be massively creative as the season is a marathon and not a sprint. So who did the top 100 trade in?
Trading
We had a record amount of trades in 2023 with our top 100 coaches making the most of them. The keys to the top 100 were the 22 players that every hat winner owned at some point of the season:
We can break down the entire season by looking at when certain players were traded in (on average). Comparing the top 100 ownership to the top 10000 ownership, we can measure the success of each trade target. As the season progresses we see the players that helped the top 100 win a hat, and others that hindered progress.
Looking at the start of the season, Andrew McGrath had the worst differential, meaning that few hat winners owned him. James Worpel was a success, started by 87 of the top 100. Early targets Jack Ziebell and Jayden Hunt were crucial in rebounding roles. Coaches fell behind by trading in Bulldogs midfielders Jack Macrae and Bailey Smith. Post-byes, we see the importance of recognising scoring potential, with Marcus Windhager moved to half-back, Christian Petracca without teammate Clayton Oliver, and Luke Jackson as a #1 ruck.
Moving up the ranks
I wrote a lot about rank movements in last year's version of this article and I am keen to compare to 2023. The most popular statistic was the required ranks each week and can be used a benchmark for your own team's progress towards a hat in 2024. Where do you need to be ranked each round to have a chance of reaching the top 100?
After Round 1, a coach who eventually won a hat was ranked at 33,998th position. Comparing to last season's average ranks, the Round 1 average of 6705 was much smaller than 11978 last year. Last year, Round 2 had a much bigger jump, so it was much more consistent after that. The main takeaway for me is that rankings were tighter this year, it seems it was harder to make up ground compared to 2022.
Like last season, the hat winners slowly fill up the high ranks as the year progresses. This means that many high ranked teams at the beginning of the season fall away as the better squads catch up. We can look at which ranks are 'safe'; ranking positions where no team higher than them missed a hat. Way2GoodM8 was ranked 1st overall at Round 8 and went on to win a hat, but the team in 2nd finished without a hat at 180th. Similarly, 68th in Round 23 missed out on a hat by 31 points, meaning only the top 67 were 'safe'.
What I learnt from this season
There are so many things to do with this data, but I hope I have provided you with a decent overview of the key ways our hat winners were successful. For my own team, I've learnt a few things I want to remember for 2024:
Squad balance across positions isn't that important

We found that season variation in positional availability means some lines present much more value
I spent up on starting 4 premium midfielders, and missed out on Errol Gulden (for the ENTIRE season!)

Rankings were tighter in 2023

You need to be a step ahead, trading in on future output rather than past performance.
Don't be afraid to get a younger player rather than someone who had a good season a few years ago.
I spent the final 13 weeks of the season in the 2000s ranks.
Got suggestions for further insights you want me to look into? Comment down below or reach out on Twitter/X, @jaiden_popowski. Cheers for reading!