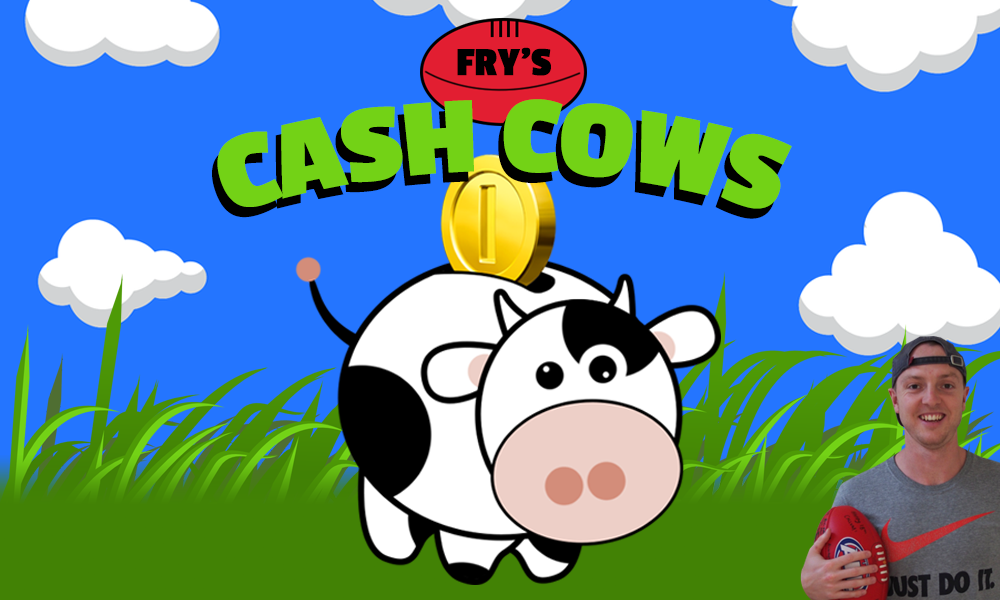 18 down, 5 to go!
Just when we thought this season couldn't get any more complex, coaches are now left reeling after a tumultuous weekend, both on and off the field. The mission to remove our remaining rookies on the field became more difficult thanks to a bunch of injuries and COVID interruptions to premium players – forcing coaches to consider sideways trades rather than stereotypical upgrade/downgrade manoeuvres. With the fantasy finals on the horizon, every team is going to be in a different position, but a handful of cash cows have emerged to aid our final few weeks of trading.
Rookie/cash cows are usually defined as players who are priced at $300,000 or lower
If you missed out on the 2021 Rookie Guide I wrote prior to Round 1 check it out here!
---
Mooooving On
With just 5 rounds left in the fantasy season, coaches should be doing everything they can to remove those last pesky rooks from their field for a capable scorer. It's wise to maximise cash and start ditching some of those cash cows on your bench as well. Here's a list of the popular trade out targets you could axe before Round 19 kicks off.
Fattened cash cows
Caleb Poulter, Magpies ($437K, AVG 63, BE 112)
Deven Robertson, Lions ($449K, AVG 63, BE 80)
Joel Amartey, Swans ($362K, AVG 59, BE 60)
Miles Bergman, Power ($457K, AVG 62, BE 80)
Trent Bianco, Magpies ($372K, AVG 60, BE 33)
Injured/non-playing rookies
Matt Flynn, Giants ($446K, AVG 70, BE 80)
Tom Highmore, Saints ($419K, AVG 58, BE 56)
Jai Newcombe, Hawks ($307K, AVG 58, BE 16)
Harrison Jones, Bombers ($307K, AVG 43, BE 51)
Anthony Scott, Bulldogs ($288K, AVG 42, BE 50)
Cash Cow King – Round 18
Happy Monday! Jeremy Sharp is the Round 18 NAB @AFL Rising Star ⭐️

Well done Sharpy 👏

👉 https://t.co/GHpWiScKCX pic.twitter.com/590eu9al9b

— Gold Coast Suns (@GoldCoastSUNS) July 19, 2021
Some unlikely heroes emerged as the top rookie scorers last round, as Ollie Henry (76), Jack Payne (91) and Trey Ruscoe (77) led the charge with Eagles midfielders Luke Edwards (76) and Connor West (76) also in the mix. However, despite some solid contributions from the rest of the field, second-year Sun Jeremy Sharp (123) was the runaway Cash Cow King this week, snagging a Rising Star nomination for his troubles. Sharp gathered 30 touches and 10 marks in just his 6th game of AFL footy and he'll now hold down a spot at M7-M8 for a large number of coaches to close the season.
Loading ...
Round 19 Rookie Rankings
DEFENCE
After a few weeks of knocking on the door, Blues backman Liam Stocker ($433K, 72, BE 56) has finally managed to crack the top-3 rotation! Stocker posted the second 70+ score of his season to vault into the rankings and just one score under 50 in his last 6 matches is an encouraging sign from Carlton's cash cow. Miles Bergman ($457K, 46, BE 80) and Nik Cox ($404K, 39, BE 68) retained their places, despite sliding backwards in value. I'm still clinging to a small hope that Bergman will earn a Rising Star nom this year and he's the clear No. 1 DEF rookie in my eyes, even though he hasn't topped 60 points in his last three outings. The situation is a more drastic for Nik Cox owners with the Bombers defender quickly bleeding cash, making him a priority to get off your field.
Top-3
Miles Bergman (Power)

Liam Stocker (Blues)

Nik Cox (Bombers)
After a stellar rookie season, Tom Highmore's ($419K, 58, BE 56) campaign appears to be over with the St Kilda intercept defender breaking his hand last time out against the Power. He's a clear trade out candidate with the likes of James Madden ($295K, 23, BE 51) and Connor Idun ($370K, 59, BE 79) both stalling in value as well.
Owners of Brandon Walker ($251K, 22, BE 41) and Martin Frederick ($209K, 21, BE 48) would love to see their scores increase and there probably isn't much point axing them to make a small amount of cash this late into the season. Harry Edwards ($307K, 32, BE 28), on the other hand, could be given the flick to make a quick $130K and there's still room for Leo Connolly ($253K, 46, BE 18) and Dons debutant Sam Durham ($186K, 49, BE 8) to grow, meaning there's no rush to remove either of them from your squad. Yet.
Best of the Rest
These players may or may not be in the selection mix this week, but be sure to keep them on your 2020 watchlist in case they burst onto the scene. In no particular order:
Matthew Ling (Swans, $219K)
Kye Declase (Demons, $170K)
Will Gould (Swans, $170K)
Charlie Ham (Kangaroos, $170K)
Jacob Wehr (Giants, $170K)
Will Collins (Eagles, $170K)
Jordan Boyd (Blues, $170K)
Joel Jeffery (Suns, $170K)
Patrick Parnell (Crows, $170K)
Bailey Laurie (Demons, $228K)
James Peatling (Giants, $170K)
Isaac Chugg (Magpies, $170K)
Daniel Turner (Demons, $170K)

MIDFIELD
I might be giving in to recent bias, but after his MAMMOTH score against the Bulldogs, Jeremy Sharp ($399K, 123, BE -9) now finds himself atop the midfield rankings. The consistency of James Jordon ($540K, 69, BE 83) makes him an easy pick to end the season as the best rookie from 2021, but Sharp's 123 points last weekend has forced my hand and helped him leapfrog Jordon. The sophomore Sun is only in 12% of sides right now and it's fair to say those coaches will continue to play Sharp in their MID group until the season ends. There was pressure from a number of players outside the top-3 to crack the rotation, but Lachie Bramble ($362K, 73, BE -1) fought off all-comers thanks to his solid 73 points fuelled by 18 touches and 5 marks.
Top-3
Jeremy Sharp (Suns)

James Jordon (Demons)

Lachie Bramble (Hawks)
A handful of coaches axed Trent Bianco ($372K, 74, BE 33) from their lineup last week, but another solid 70+ score means he'll continue trending upwards in value. The same could be said for West Coast pair Luke Edwards ($326K, 76, BE 23) and Connor West ($202K, 76, BE -10) with the Eagles debutant emerging as one of the most appealing trade targets last round. Edwards, West and unused Hawks medical sub Jai Newcombe ($307K, DNP, BE 16) all have the ability to score in decent chunks and I'd have some confidence keeping them around until a trade is absolutely necessary.
Riley Garcia ($239K, 41, BE 6) hasn't been scoring at the same clip, but hopefully he can push his price north of $300K to make himself a decent trade chip. Other popular names including Ryan Byrnes ($452K, 54, BE 63), Tanner Bruhn ($235K, 51, BE 21), Will Phillips ($299K, 52, BE 33) and Charlie Lazzaro ($313K, 55, BE 29) could all be moved on now that we've reached the pointy end of the season – especially if they're chewing up space on your bench. Lastly, the lofty breakeven's of Caleb Poulter ($437K, 12, BE 112) and Port Adelaide's Jed McEntee ($170K, 2, BE 60) means it's wise to trade/ignore the pair of cash cows. Both entered last round as the medical sub and playing just 46% and 8% of the game respectively means their breakeven has ballooned out of control.
Best of the Rest
These players may or may not be in the selection mix this week, but be sure to keep them on your 2021 watchlist in case they burst onto the scene. In no particular order:
Jackson Mead (Power, $170K)
Cooper Stephens (Cats, $170K)
Reef McInnis (Magpies, $226K)
Brody Kemp (Blues, $170K)
Zane Trew (Eagles, $170K)
Nathan O'Driscoll (Dockers, $218K)
Luke Valente (Dockers, $170K)
RUCK
The triumphant return of Ned Reeves ($290K, 49, BE -1) for the Hawks gave coaches a serviceable R3 to target and a negative breakeven should see the young ruckman continue to climb in value. It's worth noting that Jon Ceglar doesn't appear on Hawthorn's injury list this week and it seems like Reeves handled himself well enough last round against Max Gawn and Luke Jackson to hold his spot in the side. Chris Burgess ($487K, 45, BE 47) revealed his true colours with just 45 points against the Bulldogs and I won't be expecting him to right the ship this week vs. Brisbane. Trade him away while you can and if Burgess is still on your field I'd make moving him on a necessity.
Top-2
Ned Reeves (Hawks)

Chris Burgess (Suns)
Sadly, a shoulder reconstruction for Matt Flynn ($446K, 71, BE 80) means the 2021 season is over for the GWS ruck prodigy. A lot of coaches had 'jumped ship' before his latest setback and those who still own Flynn can cash him in now that his year is done. Brisbane's Tom Fullarton ($231K, 38, BE 18) came into their side last week to support Oscar McInerney and while 38 points won't set the world on fire, he's still increasing in value for over 20% of the competition.
 Best of the Rest
These players may or may not be in the selection mix this week, but be sure to keep them on your 2021 watchlist in case they burst onto the scene. In no particular order:
Sam Hayes (Power, $170K)
Jacob Edwards (Kangaroos, $170K)
Alex Mirkov (Blues, $170K)
Ned Moyle (Suns, $170K)
Max Heath (Saints, $170K)
Lachlan McAndrew (Swans, $170K)
Kalin Lane (Lions, $170K)
Aiden Begg (Magpies, $170K)
FORWARD
Another strong score late in the season has seen Errol Gulden ($464K, 74, BE 54) jump into the No. 1 FWD slot after he started the season as a pure MID player. The Sydney prospect has strung together some solid performances since he returned to their lineup, averaging 68 over the last month of footy. He and Deven Robertson ($449K, 58, BE 80) are the best duo when it comes to production in the forward line this late in the season, with the Lions cub slowly decreasing in price thanks to his 29-point effort in Round 17.
Trading out the pair is still the optimal strategy and coaches who are stuck fielding multiple rookies this late into the season would likely trust Gulden and Robertson over someone like Joel Amartey ($362K, 40, BE 60). Callum Sinclair is set to miss this weekend's game due to COVID protocols, but once he's available I won't be shocked if he ends the Amartey Party and reintegrates himself into the Swans' senior side.
Top-3
Errol Gulden (Swans) 

Deven Robertson (Lions)

Joel Amartey (Swans)
Following his 95-point game against North, Cody Weightman ($417K, 57, BE 60) has come back down to Earth with scores of 35 and 57 in his last two. Trading him out is the smart tactic this late into the season and you can throw Josh Treacy ($343K, 29, BE 52), Archie Perkins ($365K, 43, BE 38), James Rowe ($389K, 58, BE 55) and Alec Waterman ($356K, 33, BE 52) into the same boat as viable players to ditch. A solid effort in game #2 means Jamarra Ugle-Hagan ($270K, 60, BE 28) might be given a lifeline for those who invested in him and basement priced Hawk Emerson Jeka ($196K, 14, BE 25) could be held onto as a bench emergency – providing he holds his spot in Hawthorn's team.
Jeka's teammates Jacob Koschitzke ($349K, 33, BE 57) and Tyler Brockman ($299K, 33, BE 48) have done their job and should be moved on, but fruitful scores from Ollie Henry ($248K, 76, BE 0) and Trey Ruscoe ($220K, 77, BE -1) means they can be trusted for another few weeks to climb in price. Speaking of Collingwood, a pair of Pies will play in their first AFL game this round with Jack Ginnivan ($170K, DNP, BE 24) and Anton Tohill ($170K, DNP, BE 24) set to debut. Small goalsneak Ginnivan (65.5 AVG from 8 VFL games) is my favourite of the two, but I wouldn't expect him or Tohill (49.1 AVG from 7 VFL games) to score at an amazing rate.
Best of the Rest
These players may or may not be in the selection mix this week, but be sure to keep them on your 2021 watchlist in case they burst onto the scene. In no particular order:
Ely Smith (Lions, $170K)
Jackson Callow (Hawks, $170K)
Nakia Cockatoo (Lions, $243K)
Cooper Sharman (Saints, $170K)
Ash Johnson (Magpies, $170K)
Maurice Rioli (Tigers, $170K)
Elijah Hollands (Suns, $258K)
Sam Philp (Blues, $203K)
Jake Bowey (Demons, $230K)
---
FOLLOW ME ON TWITTER: @SportsbyFry for all things AFL Fantasy (and more)! Feel free to hit me up with any questions you have throughout the season. Good Luck! ✌️