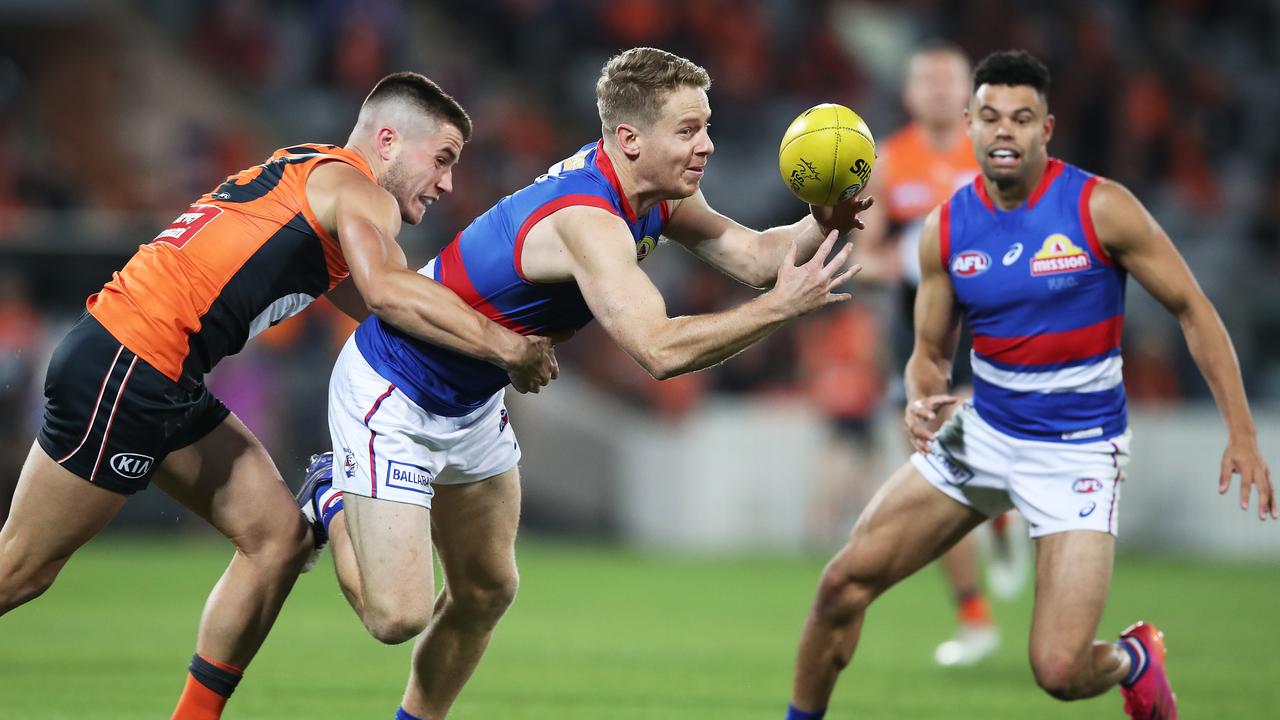 Last week I thought the rucks would take about 20 seconds to discuss because no one is chasing a POD in the ruck unless you are sideways trading from Flynn to Bryan. But with Gawn's less than awesome display against Goldstein, just maybe there are some options for the rainy day if Gawn or Grundy get injured or if you're looking for an interim step from Flynn to the top two.  Here are the POD rucks, namely rucks with 5% ownership or less,
RUCKS
Rowan Marshall 3.47% 707K with a BE of 108 and an AVG of 93. The main advantage for Marshall is he's DPP Ruck/FWD, and his consistency of averaging 90-95 even with Ryder in the team. And he plays the Suns this week who have conceded a truck load of point to Rucks.  St Kilda has a run of 4 games after the Suns game at Marvel and the R14 bye.  His foot injury had meant a disrupted preparation, but he is a proven scorer and would be a good FWD option with DPP flexibility. Personally, I feel as a FWD his price will always be around 700-740 K and therefore he can be bought at any time, but with 4 games at Marvel maybe he could prove valuable if Gawn/Grundy get injured.
Tim English 3.33% 595 K with a BE of 117 and an AVG of 74. Like Marshall with DPP, but unlike Marshall he hasn't yet found the consistency, although his avg is affected by the injury score of 50.  A tough run of games after Carlton makes English a tough option and he is only viable if Martin is out for a period of time.
Nick Bryan 1.58% 195 K with a BE of -4 and a 1 game AVG of 67.  He passed the eye test, but in the end it will depend upon Phillips's availability. However, if he is chosen again, he could be a good swap for both of Meek and Flynn for a short-term cash grab.  He might play the mummy this week or Flynn, one is a nightmare, the other is a buy. At least by playing each other you can straight swap if Flynn rested again.
Tom Hickey 2.62 % 525K with a BE of 56 and an AVG of 79. Who would have thought, even as a Swans supporter I am more surprised with Hickey than I am with Warner, Campbell, and Gulden. However, his next two opponents are Grundy and Gawn.  What I find more interesting are ruckmen scores against Hickey: Stanley 45, Mumford 88 (Hickey injury), Wright 50, Nankervis 66, O'Brien 48, McInerney 76.  Maybe, instead of buying Hickey don't captain Gawn or Grundy.
Upshot: Bryan as a sideways trade for Flynn or Meek is the only option. Marshall and English are only factors at their prices if they are the main ruck. Grundy is gold and Gawn, if you don't have him is a wait as he will drop good cash this week against the ruck nemesis Hickey. Every other ruck, including O'Brien, could be downgraded to Bryan so you can buy Gawn in 2 weeks.
FORWARDS
Looking into the FWD's makes you realise most of the POD's are POD's because they have a history of getting injured or inconsistent scoring, and therefore all of the POD FWD's are short term cash grabs based on cash generation and Cal's Scale of Hardness. This is the long list before we pluck the eyes of 5, H. McKay, Bosenavulagi, Hall, Heeney, Daicos, Hunter, Higgins, J. Cameron, Bailey, Owies, Mihocek, Rozee, Atkins, Walters, Weller, Billings.
Aaron Hall 3% 575K with a BE of 38 and an AVG of 82. Hall has disaster plastered across his back. Nearly every fantasy player has been stung by a Hall injury or omission, but here is the big but. Aside from the injury affected games of 11 and 35, he has scored 99, 123, 143 and he plays Collingwood. I can't bring myself to do it, as he is likely be injured on 25. But with most of these FWD's I think we are looking at cash and games- next 4 games Coll, Haw, Ess, St K….very tempting, especially if it is an upgrade from a Rowe type of player.
Josh Daicos 3% 522K with a BE of 58 and an AVG of 66. I tossed up between a trade with Daicos/ Bolton v Sidey/Farrar and went the losing score. But, Daicos did exactly what we wanted to see last week- in the centre. He is a great buy for a 4-6 week stretch. Round 14 bye, but with a tough stretch after the initial game against North might be a cause for concern, but for me, a legitimate sideways from Gulden if you don't have red dots to cover.
Lachie Hunter 3% 653K with a BE of 110 and AVG of 83. Watched his game last week and his role did change significantly from an 80-90% split in the forward half to a 50-50.  He is definitely a speculatory buy this week, but for me there are easier options (Josh Kelly), but Hunter rarely misses a game through injury. When most will go Kelly, Hunter is a gamble worth considering if you don't have too many Dogs already. He has 3 out of the next 4 games at Marvel against Carlton, St Kilda and Melbourne. Who is willing to pull the trigger, you just know that if he scores 110 everyone will be upgrading a rookie to Hunter next week?
Jack Billings 1% 644K with a BE of 106 and an AVG of 89. Billings' frustration to fantasy coaches has returned, but his FWD status at least makes him a conversation piece. Has a great run of games and seemingly can score irrespective of position, for example his season high of 122 he played 60-40 between defensive and forward half. St Kilda do like to use their wingers and so Billings has ample opportunity to get the ball. His next run of games has St Kilda play 4 in a row at Marvel after the Suns game this week.
Connor Rozee 2% 465K with a BE of 55 and an AVG of 62. I thought I'd throw in a player we talked about before the start of the season, but with form and injury fell off the radar.  Whilst the R12 bye makes him a tough buy and his ceiling is not as high as others, if you're stuck around the Gulden price point Rozee could be a quick hit and grab. 3 games at Adelaide and a fourth v Collingwood before the bye. If ever Rozee is going to go on a 4 round AVG of 90 plus, this is it.
Upshot: All have value and disaster in equal measure. I might revisit my Plan B trade plans last week of Daicos, Bolton and or J. Kelly, however if you a gambler than Hunter or Rozee are options.
Last week was okay, 2020 with an overall ranking of 786. Good Luck everyone, this looks like moving week to me- Round 8 with the potential of limited omissions and good POD's in all lines means trades will be very different.