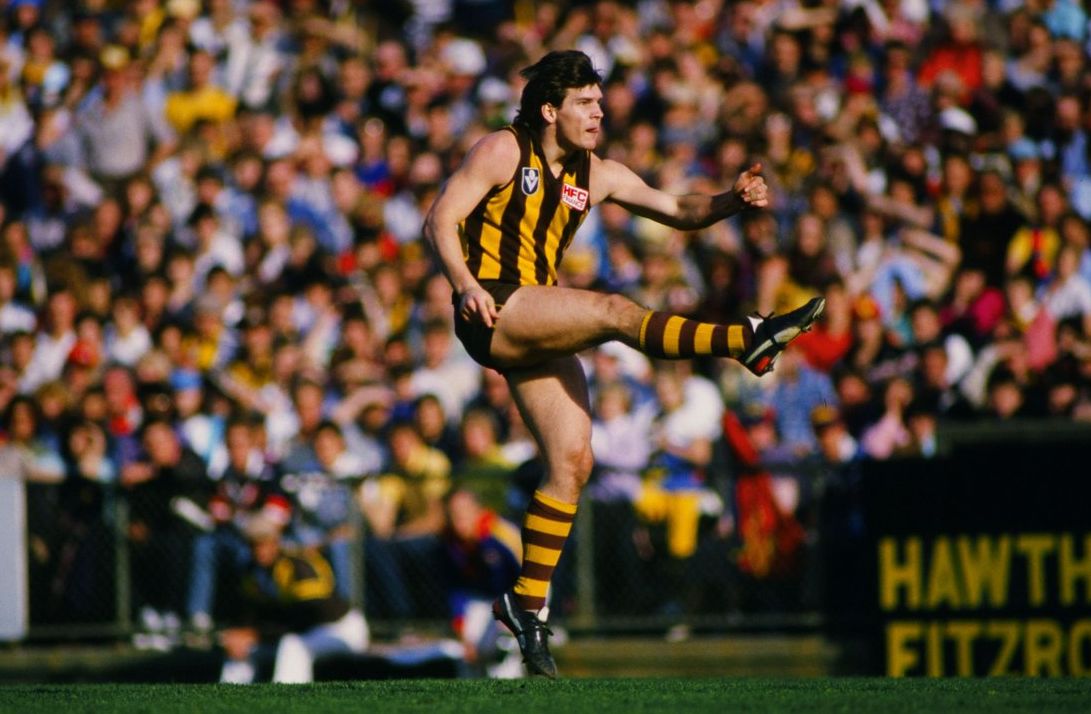 For many of us, AFL football wouldn't be the same without fantasy footy. Yet believe it or not, there was a time when fans didn't spend hours obsessing over player stats, role changes and the like, in pursuit of fantasy glory in whatever their preferred format might be.
However, just because fantasy footy didn't exist, doesn't mean we can't take a look back in time to see how some of the players from the past, would of performed in fantasy football if it did exist when they took to the field.
In each week of the 2021 season, we'll delve into historical statistics to find a player of the past who would've excelled from a fantasy perspective in the corresponding round of football, and that player will be named our Fantasy Flashback 'Player of the Round'.
In Round 7 of the 1992 season, Richmond travelled to Waverley Park to take on the reigning premiers in Hawthorn in what would be a pretty miserable day for the Tigers, ending up on the wrong side of 25.22.172 to 14.9.93 score line. The Hawk's score of 172 would be their highest score of the season and the 17 goals kicked that day by Jason Dunstall would give the Hawthorn and VFL Legend the highest fantasy score ever recorded and deservedly earns him the Fantasy Flashback's Player of the Round for Round 7.
Dunstall's tally of 25 kicks, four handballs, 18 marks and 17.5 goals would have left him just one goal short of Fred Fanning's record of 18. However, it would have given him an incredible 243 fantasy points had fantasy existed back in 1992.
The 1992 season was by far the best of Dunstall's career. He kicked 145 goals for a run-away win in the Coleman Medal, was named the AFL's MVP and Hawthorn's best and fairest, earned his third All Australian jacket and finished second in the Brownlow Medal to Footscray's Scott Wynd. This on-field success would also have been reflected in a fantasy average of 110.3 – the highest of his career.
Unlike many tall forwards, Dunstall would have been a pretty solid fantasy performer in his first three seasons averaging 71.5 from 16 games in his debut year, followed by 64 from 22 in his second and 75.6 in his third.
However, in his fourth season in 1988, Dunstall would've gone from a solid fantasy option with some promise to an elite fantasy forward with an average of 100.6. He would have backed that up with 107.2 in 1989, before dropping down to 79.1 in a bit of an injury interrupted 1990. This was followed by a decent 84.6 and two consecutive 100 plus seasons – 110.3 as previously mentioned in 1992 and 101.7 in 1993.
A 97.3 season in 1994 would have been the last of Dunstall's days as an elite fantasy forward, however in the next two he would have recorded pretty solid averages of 74.1 and 76.7, before finishing his career with 51.7 from just eight games in 1997 and 66.7 from 13 in his final season in 98.
This would have given Dunstall a career fantasy average 82.8 and if the last two injury interrupted seasons are ignored, an average of 86.8. Even more impressive, over the course of his most successful seven seasons, Dunstall would have averaged an elite 97.2 fantasy points.
There is no doubt Dunstall would have been a much sought-after player in all fantasy formats, however now that we have covered the three big full forwards of the 90's in Dunstall, Tony Lockett and Gary Ablett Snr, who would have been the best from a fantasy perspective.
As mentioned above, Dunstall's career average would have been 82.8 and his most successful period came over seven years at an average of 97.2 points per season. Ablett Snr's career average would have been higher with 87.5 over his 248 games, although his best seven seasons would have produced a slightly lower average of 95.6. Tony Lockett would have had a career average of 88.2 and a best seven-year period of 94.6 fantasy points per game.
As can be see from the above there really wasn't a lot between these three legendary 90's forwards from a fantasy outlook, and all would have been considered elite forwards in their own right. However, if I had to take just the one, it would be hard to go past Dunstall with his record fantasy score of 243 and imagining the C next to his name.