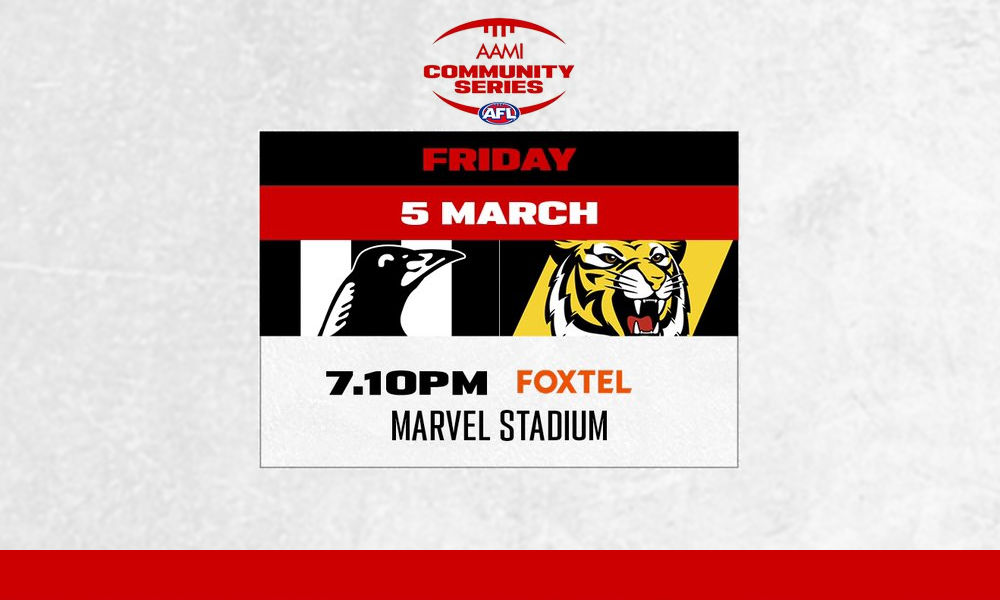 Although this contest was just a pre-season hit for both clubs, there were a number of developments to come out of the game for fantasy coaches. From a team's perspective, Collingwood appeared to want to move the ball more quickly, with fewer disposals. The Magpies have been amongst the top fantasy scoring teams in recent seasons, which could change if this game style continues.
Final CBA's – Bolton 24, Dusty 19, Edwards 15, and Collier- Dawkins 8. Pendles and De Goey 19, Elliott 10 and Sier 10, and Daicos 8. #SuperCoach #AFLFantasy #AAMISeries

— Fantasy Freako (@FantasyFreako) March 5, 2021
Who's missing: Taylor Adams, Brody Mihocek, Chris Mayne
Jordan de Goey (FWD, $605)
At $605 in fantasy classic, de Goey isn't cheap, and this and the lack of certainty of his role sees his ownership in fantasy classic sitting at a lowly 2%. However, I dare say this will change following his performance against the Tigers. He was by far Collingwood's most damaging player and spent the majority of his time in the midfield, racking up an impressive 125. If you can take Taylor Adams (who was interviewed at half time) at his word, de Goey's increased midfield minutes are set to continue in the season proper.
Scott Pendlebury (MID, $805)
Just behind de Goey as Collingwood's best, Pendles did what he has done more consistently that any other player over the last decade amassing another fantasy ton. Having never relied on pace to impact games, age seems to be a non-factor for the Magpie's Skipper and with 124 against his name against the Tigers, he looks to be heading for another 100+ averaging season in 2021.
Jack Crisp (DEF, $726)
One of Collingwood's best, picking up 29 disposals for 90 fantasy points. Started the game off slowly having only eight of those points at quarter time, but really came into his own after half time. At over 700k and a high break even of 97 in Round 1, even Crisp's consistency makes it hard to look at him as a starter in classic, although will go high in draft leagues.
Brayden Sier (MID, $402)
Although, slightly disappointing in Collingwood's scratch match against Geelong last week, Sier looked a lot better tonight. Attended plenty of centre bounces and appears at this stage Buckley is going to give him a decent opportunity to nail down a spot in their best 22. If you're after a mid-priced player in your midfield, Sier is definitely an option on this performance.
Jeremy Howe (DEF, $669)
Considering his long lay off from the game, Howe was really solid against the Tigers scoring 76 from just 67% TOG. Can only see him getting better in coming weeks as he gains more confidence in his leg, but at this stage, even with his discount in classic is probably more a target in draft.
Isaac Quaynor (DEF, $503)
Outshone early on by John Noble (who is similar in price in classic and around the same ADP in draft), Quaynor got better as the match progressed and finished with an impressive 84. After only nine appearances in his career to date, he appears to have locked down a spot in Collingwood's best 22 and should only improve from here on in. With a break even of only 66, Quaynor could be a mid-priced option in defence.
Draft watch: John Noble, Brayden Maynard, Josh Daicos
Who's missing: Bachar Houli, Dion Prestia, Tom Lynch
Jayden Short (DEF, $694)
Jayden Short quite simply had a night out. Having never scored over 110 in AFL fantasy – apart from a COVID affected 100 in Round 6 against Sydney last season, Short gathered 43 disposals on his way to a mammoth 171. The Tigers obviously want the ball in his hands as often as possible and that was certainly the case tonight as he picked up disposals at will, while the new 'standing the mark' rule looks like it could suit him too. However, as good as Short was tonight, Richmond were missing Houli and as Cal's Scale of Hardness will tell you, Collingwood are one the easiest teams for opposition defenders to score against.
Dustin Martin (FWD/MID, $713)
As he has done in previous seasons, Dusty spent time in both the midfield and forward lines scoring 60 from just 64% TOG. In what was in essence just a practice match, it was to be expected Martin would not impose himself as he will in the season proper. Primed for the season opener against Carlton.
Josh Caddy (MID, $506)
Once quite a relevant fantasy player, Caddy has disappeared into obscurity in recent seasons, and while his score of 125 from 27 disposals playing on a wing will more than likely be an outlier rather than a sign of things to come in 2021, he does have a break even of only 66 in Round 1, and at least deserves a nod here.
Toby Nankervis (RUCK, $556)
Nank only played 35% of the game and came off at half time, so his score of 38 was actually quite decent under the circumstances. He did have the better of Grundy while he was on the park and he has been a solid fantasy performer in the past, but he has had his injury concerns and is probably more relevant as late draft selection rather than fantasy classic.
Shai Bolton (MID/FWD $625)
Wasn't a big night for Bolton, with just 49 points from just 16 touches. TOG can't be used as excuse either as he spent only 15% of the match on the bench. Spent time forward and through the midfield as he did in 2021 so was just a poor night.
Kane Lambert (FWD, $598)
As is often the case with Lambert, you barely notice him during the game and his fantasy score can surprise you. At the half time break he was sitting on 57 and finished the game with a solid enough 85. Perhaps it's this apparent invisibility during games that puts fantasy coaches off or his steep price, but whatever the reason not even Richmond fans are keen, as his ownership in fantasy classic is at zero percent.
Draft watch: Jack Graham, Nick Vlastuin, Liam Baker